Greta Thunberg tells Donald Trump to chill amid US vote count rants
- Greta Thunberg recently told Donald Trump to chill, after Trump demanded vote counting to be stopped
- Her message to Trump comes years after Trump first said the Swedish environmental activist should chill
- Twitter users were left laughing out loud by the Twist of events, sharing their thoughts on the micro-blogging app
PAY ATTENTION: Click "See First" under the "Following" tab to see Briefly.co.za News on your News Feed!
Donald Trump recently received a bit of his own medicine after seventeen-year-old Swedish environment activist Greta Thunberg told him to chill, the same thing he told her back in 2019 in a tweet.
"So ridiculous. Greta must work on her Anger Management problem, then go to a good old fashioned movie with a friend! Chill Greta, Chill!," wrote Trump in a 2019 tweet.
Thunberg, who waited for the perfect opportunity which arose this year amid the US 2020 election buzz. Responding to a tweet in which Trump is throwing a fit about what he describes as rigged vote counting, Thunberg told Donald to chill, almost quoting the exact words he first said to her.
"So ridiculous. Donald must work on his Anger Management problem, then go to a good old fashioned movie with a friend! Chill Donald, Chill!," she wrote.
The hilarious tweet garnered over 1 million likes and received thousands of retweets and comments from tweeps who completely stan with Thunberg on the chill thing. Read a few of their comments below.
@SeanHarry wrote:
"Congratulations Greta! You just made my day! That was the ultimate burn! You have certainly gotten the last laugh over the hideous ogre. Keep doing what you are doing!"
@tajhmahal1 said:
"She has every right to address the bully. We are proud of her."
@leei_317 said:
"Love how he started this out of jealousy for her success."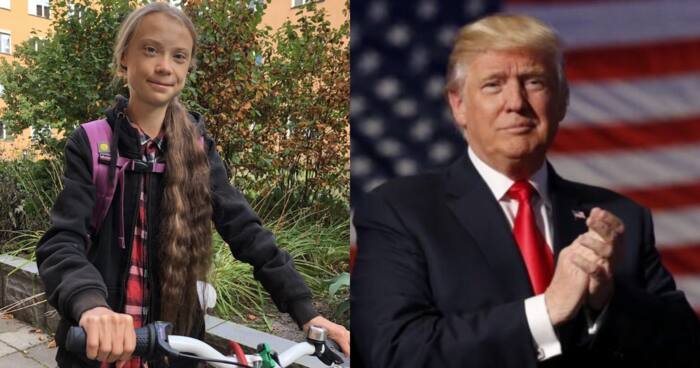 In other Briefly.co.za political news, while it's too soon to be certain it seems as if current US President Donald Trump may not be fairing well. The indications at the moment point to Trump needing to move out of the White House and Economic Freedom Fighter MP Mbuyiseni Ndlozi seems pleased.
Taking to social media, Ndlozi fired shots at the US President, more than hinting that he had encouraged racism in his country:
"Humbling anti-black racism anywhere in the world is a victory for blacks anywhere in the world."
Ndlozi explained that this is the exact reason why 'we want Trump to lose, continuing to say that:
"This is why we want Trump to lose. His victory in 2016 gave confidence to right-wing racists even here in South Africa; white racist pomposity will tremble when Trump loses!"
Enjoyed reading our story? Download BRIEFLY's news app on Google Play now and stay up-to-date with major South African news!
Source: Briefly.co.za