Election 2020: Kim Kardashian celebrates Biden's win, followers react
- Kim Kardashian took to social media to post a celebratory photograph of the Biden-Harris victory
- The superstar posted a pic of the winners of the US election with blue heart emoijs, hinting that she loved the democratic result
- Fans and followers were a bit sceptical and took to the comments with their responses and opinions
PAY ATTENTION: Click "See First" under the "Following" tab to see Briefly.co.za News on your News Feed!
Kim Kardashian-West took to social media to post a photo of the victorious president-elect and vice-president-elect, Joe Biden and Kamala Harris.
The international celebrity accompanied the photo of the winners with blue heart emojis, indicating that she was happy with the candidates and the Democratic result.
Followers were glad to see Kim's support of the Biden campaign but were sceptical about the nature of her support. Kim K famously worked with Donald Trump while he was in office and her husband, Kanye West, decided to run against both Biden and Trump in the 2020 elections.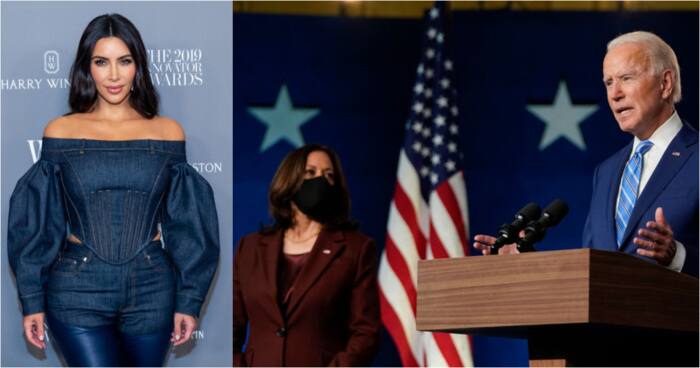 Kim's fans and followers responded to the tweet with a variety of comments. Some cast doubts about whether Kim even voted for the Biden presidency and questioned whether her loyalties lay with hubby, Kanye, or Donald Trump.
Other commenters were annoyed by Kim only endorsing Biden and Harris after they had declared victory and implied that she could have done so sooner.
@MAXcollective: "I feel like you don't get to post this after watching your husband assist in democracy damage."
@cameron_kasky: "Flashback to when Kanye West tried to stop this, like, a couple days ago."
@RachelllllAnnn: "If there's one thing Kim knows how to do it's play the field. How you gonna support all three candidates at once? Lmao."
@TheOnlyDetox: "Did you vote for your husband or just borrow the sticker?"
@awkward_duck: "How courageous of you to do this AFTER they've won."
@JasmynBeKnowing: "Not you publicly endorsing after the fact. Giiiirl."
In other Kardashian-related news, Briefly.co.za recently reported on a Twitter follower tweeting that Khloe Kardashian and her famous family had not done enough with their platforms prior to the election.
Khloe Kardashian has clapped back at a Twitter user who alleged that the star and her famous family had not done a sufficient job of voter-encouragement during the election. The tweep replied to one of Khloe's tweets and wrote that she had not seen any of the Kardashian-Jenners posting about the election or using their platform to encourage fans to go and cast their votes.
Khloe responded to the follower by saying that she and the rest of the Kardashians had been very involved on their platforms and had been posting constantly.
Khloe also added that the fan should fact-check before she went online making false statements. Khloe's full response was:
"My family and I have encouraged the importance of voting, registering to vote and using your platforms. We have been posting for weeks and weeks where people can register. Where people can vote. We have made it super simplistic and easy. Please be fully informed before you make untrue claims"
Enjoyed reading our story? Download BRIEFLY's news app on Google Play now and stay up-to-date with major South African news!
Source: Briefly.co.za