Paula White: Trump's spiritual adviser who predicted victory for him
Paula White, a 54-year-old American preacher, prominently became a cynosure in Africa when she led Donald Trump in an impassioned payer session after it became clear that the US president might lose out in the presidential contest against Joe Biden.
PAY ATTENTION: Click "See First" under the "Following" tab to see Briefly.co.za News on your News Feed!
74-year-old Trump sought re-election into the Oval Office after a turbulent first term characterised by controversial policies peaked by poor handling of the Covid-19 crisis and the #BlackLivesMatter movement.
On Wednesday, November 4, it became clear that Trump might lose the magic to his Democratic challenger, a former senator who was announced as the winner of the presidential election last weekend.
Sensing a defeat, Trump went spiritual with White, a televangelist known as the US president's spiritual adviser, in a prayer session seen in a viral video.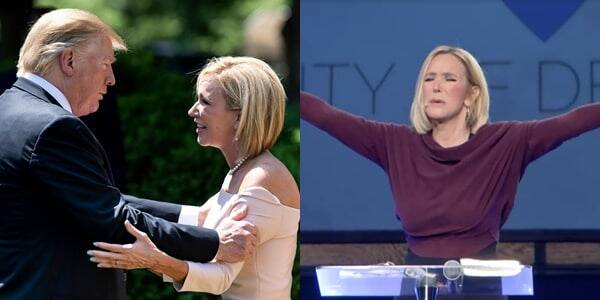 White was noticed praying to God on Thursday, November 5 even as Trump's team vowed to sue all states for "still counting votes" two days after the casting of ballots ended.
In the video, White was heard saying "I hear the sound of victory" as she prayed fervently to God to make way for Trump who is likely set to become the 11th president to lose re-election in US history.
"I hear a sound of victory. The Lord says it is done. For I hear, victory, victory, victory. Angels are being dispatched right now... Angels have been dispatched from Africa right now... They're coming here, in the name of Jesus."
Interestingly, White prayed in a different language but what really caught the attention of most Africans following the US election was her declaration that "angels have been dispatched from Africa", a continent of countries Trump himself once rubbished as "sh*tholes".
Meanwhile, Briefly.co.za highlights seven facts about White, whose prayer has now become a topic of interest in South Africa
1. Paula White is an American preacher, author and televangelist.
2. She is the exponent of prosperity theology, a controversial religious belief which claims that material prosperity is a sign of God's grace.
3. In November 2019, she was appointed as a special advisor to the Faith and Opportunity Initiative at the Office of Public Liaison.
4. Along with other televangelists, White has made millions of dollars through the prosperity gospel.
5. In 2019, she adopted a popular "fire for fire" prayer popularly used by the Mountain of Fire and Miracles Ministries in Nigeria.
6. White has been married three times with her first marriage taking place when she was a teenager.
7. She has been accused of heresy, partly because she doesn't believe in the Holy Trinity.
In other Briefly.co.za Trump news, rapper Cardi B is among American celebrities who have stayed vocal on social media amid the country's bid to elect a new president. Hours after major media outlets declared Democratic Party candidate Joe Biden as the president-elect, the rapper took to her Instagram page reacting to the news.
Cardi in the video attempted to give a brief explainer about the reason for the incumbent president, Donald Trump, losing the presidency to Biden. According to the WAP crooner, Trump lost in the election simply because his supporters were getting completely out of hand.
Cardi B also alluded that God had a role to play in Biden defeating the US president. Also addressing Trump's supporters, the rapper said they should understand that the president-elect has no intention of kicking them out of the country. She said Biden would still care for every American regardless of who they supported during the elections.
Enjoyed reading our story? Download BRIEFLY's news app on Google Play now and stay up-to-date with major South African news!
Source: Briefly.co.za