Exclusive: Taxi rank busking guitarist builds home from donations
- A taxi rank busking guitarist has managed to save the proceeds from his performing to build himself a house
- Raymond Nathi is well known in his area and surrounds since he started busking in 1998
- The 45-year-old is feeling positive and thankful about the construction of his very own house with his hard-earned money
PAY ATTENTION: Click "See First" under the "Following" tab to see Briefly.co.za News on your News Feed!
By Yvonne Silaule - Freelance Journalist
Taxi rank comic busking guitarist, Raymond Nyathi managed to save every coin both taxi drivers and commuters give him, to build himself a house from tickling them with his funny lyrics and the sharp playing sounds of his acoustic guitar.
The 45-year-old well known in Mpumalanga, Limpopo and Gauteng, started busking in 1998, moving from one taxi rank to the next. He also extended to households, churches and hospitals where he would ask to perform for them for a small donation; the house to house performance was an emotional cause when they would sometimes turn him away, defying him and his music.
"I have been well received by taxi drivers, they allow me to stand at the door of a taxi, with my mask on, and perform without being shamed. My music makes people laugh and that is where the donations are prompted." says the busker.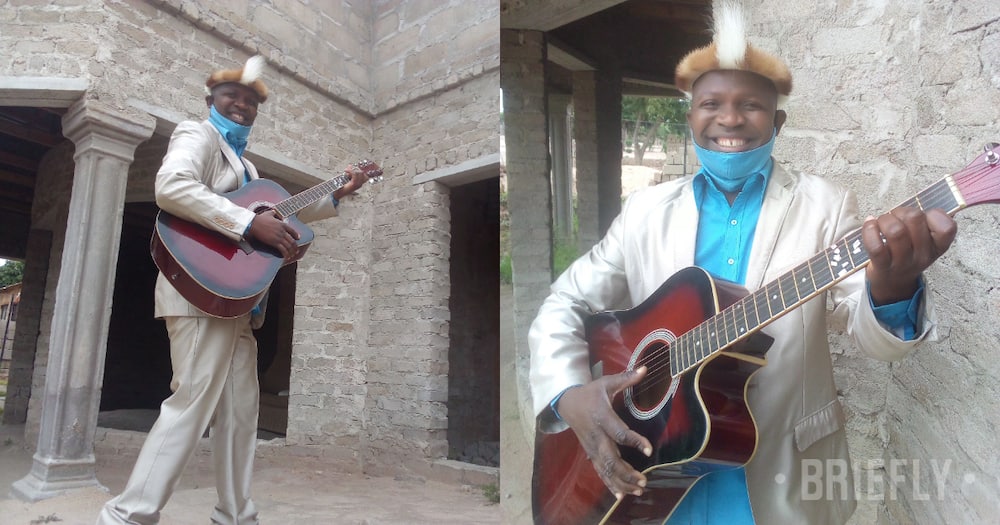 When performing his comic music, the busking guitarist receives small donations most coins. Those who enjoy his music would donate food when they lack a coin, something he says strengthened to save the money donated and upgrade from a dilapidated RDP house he had been living in for years.
"I have been living in an RDP house for 20 years and it is one of the first RDP houses since 1994, its walls have tired up and I know that sometimes it takes a lot for a busker like me to save up for a house with all the prices that have escalated." says Raymond.
Raymond says he treats the guitar street performing as his job as it is the only income he has. Every morning he leaves his house at 6 o'clock every morning and returns in the evening, this way he was able to lay-buy cement one by one.
"It is about focus as it is hard to find a job these days especially if you are above 40 and the pressure for building this house for me as an artist is that one of these days I might get lucky and get a surprise visit from broadcasters and they want to take pictures of me for media purposes; when that happens, I need to well represent myself because regardless of how you make living, the world still expects the best from you." Nyathi said.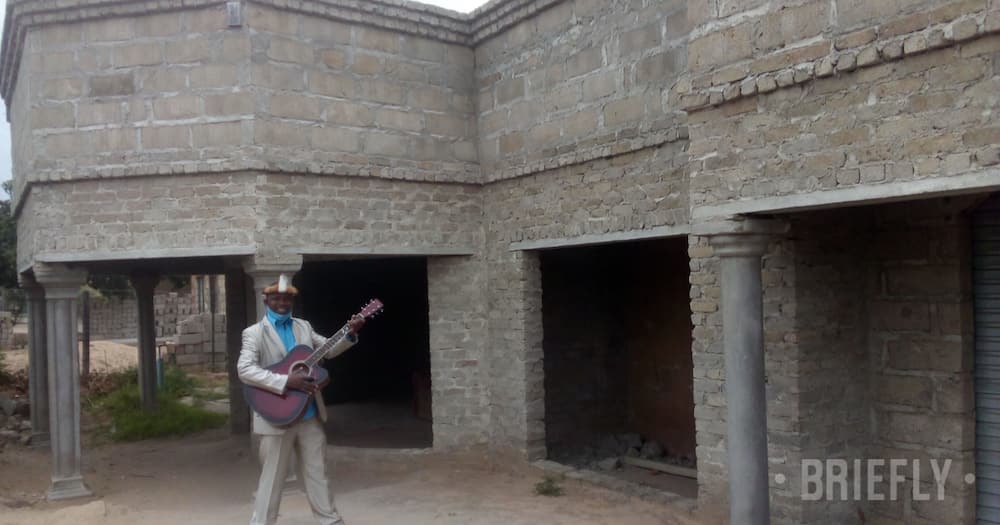 He added that he would like to divert from the norm where most artists die without nothing to show of what they lived for, except for just a one roomed shack that they lived in.
"I continue to deny myself the pleasures of the world like partying and other things that cause unnecessary costs. It has taken me everything to put my house together and to make it not to look like the old house I lived in for a long while,"
Nyathi says the he is positive that the construction of his house will eventually be complete as he has already come a long way.
In similar news, Briefly.co.za previously reported that a social media user who goes by the handle @NdivhuweniM flexed on Twitter flexed over his house he built.
He shared some advice with the rest of Mzansi: "Rule no. 1: Build a house at home first (Limpopo) before buying a house in the surbubs" He is seen in the post standing in front of an impressive house, the pride etched on his features.
Briefly.co.za discovered that men like @NdivhuweniM are the reason ladies like Olwethu Leshabane think that Limpopo is the place to find husbands. Apparently, according to Olwethu , the best husbands are found in Limpopo.
Enjoyed reading our story? Download BRIEFLY's news app on Google Play now and stay up-to-date with major South African news!
Source: Briefly News