Exclusive: The World of Birds lead singer chats all things music
The World of Birds is local band based in Cape Town. The indie group recently released their EP. The four-piece grouphave been gaining a solid following around the world over the last 12 months, having toured South Africa extensively and supporting Norwegian synth-pop stalwarts A-ha throughout Europe. The band's leader singer Nic Preen recently sat with Briefly.co.za to chat all things music.
PAY ATTENTION: Click "See First" under the "Following" tab to see Briefly.co.za News on your News Feed!
1. How was The World of Birds formed? Please also take us through how the name came about
It began as my (Nic Preen) solo expedition after Al Bairre. I was a fan of brothers Conor & Ben McCarthy from other local Cape Town acts such as Cute Couple, Aztech Sapphire and Oracles and asked them to come on board as producers. We then toured as Nic Preen & The World Of Birds until eventually and too much excitement from any designer working with us at the time, became The World Of Birds.
Preen means to clean a bird and the band being fans of The War On Drugs and the bird sanctuary of the same name it was happily decided on. Admittedly some would say it's still too long. We're often referred to as 'The Birds' by friends, fans and foes.
2. Congrats on dropping your EP recently. What was the inspiration behind this one?
We had a track with Red Robyn out called '2020' that was doing well and Ben had begun writing another with her. From one lead to another and then after Multiple tours with Ash (Red Robyn) and just being around each other all the time making music, we decided to pour it all into this one EP ' Before The Sun Comes Up '.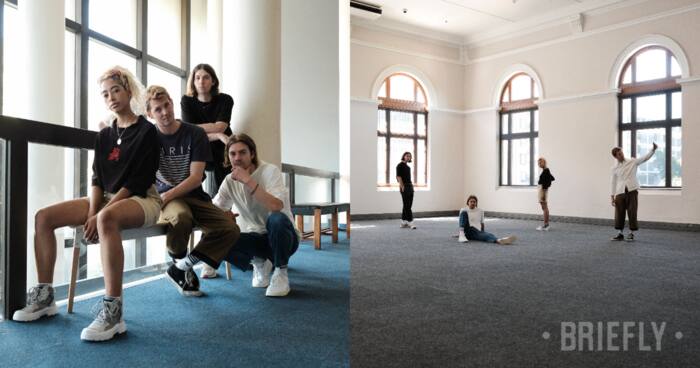 3. Yellow Brick Road is such a jam - but we can't quite place a genre for it. How would you describe your sound?
No idea! That's a good thing! We'd like to try remain as genre listen as possible so as to not pigeonhole ourselves into any expected genre (eish, the name lends itself to so many puns, apologies) .
Initially when hearing Ben play the chords on piano I thought it sounded like some american-red-paper-cup-party like song and so I started sing- rapping over it. Which was a nightmare. Rappers have to write double the amount of lyrics due to the speed at which they perform. That wasn't fun. I felt like it was three songs in one. I digress. Let's say the genre is red-paper-cup genre.
4. What else are you currently working on?
Next EP! We have time for it! 'Before The Sun Comes Up' was just the start of a new body of work from the birds. This one really inspired us to start perfecting our sound I think.
5. What are some of the lessons you have learnt about the entertainment industry thus far?
It's very volatile! Working with creatives can be tough. Try not to hold grudges when things don't go your way. See things from others stand points. Don't get too emotional or attached. Drink a lot of water.
6. Artists have had a lot of adjusting to do given this pandemic that has plagued the world, how have you guys been affected by it with regards to your craft?
We lost our biggest source of revenue and one of our favourite aspects of the work. No live performances have been incredibly tough on us.
7. Do you believe that the world is headed towards more virtual events and concerts in a post Covid-19 society?
No. I did one during lock down and it was enjoyable but nothing beats the real thing. I love watching live music on youtube much as the next guy but once you've seen it you've seen it. It's like watching a comedian do the same jokes over and over. Most musicians, especially in this day and age don't improvise so it's very cut and paste. Maybe it will work out for the musicians who do but to the rest and the majority, who are often the bigger ticket sellers, no I don't think so. It won't for us. We're very backing track heavy. We're closer to a DJ in some circumstances. Who wants to tune in to see a DJ. People actually do that. Maybe I'm ignorant.
8. What are your views about reopening the entertainment sector amid rising infection numbers and the prospect of a second wave of Covid-19?
It's tough. I can't say and respect any of whom make those kinds of decisions. Two losing circumstances I don't have the know on which to debate.
9. What advice can you give other bands who are pushing and trying for their big break in the industry?
It used to be play as many shows as you can and get in front of as many people as possible. That's obviously not the best thing you can do right now but when it is again. That's what you should do. In the mean time! Create as much enjoyable content promoting your music as well as yourself and something I try remind myself and my band constantly is don't take yourself so seriously.
Enjoyed reading our story? Download BRIEFLY's news app on Google Play now and stay up-to-date with major South African news!
Source: Briefly.co.za