Whoopi Goldberg tells Trump campaign to stop whining and move on
- Whoopi Goldberg offered her take on Donald Trump refusing to concede the election race on the show for which she is a co-host, The View
- The icon's opinion was that the ousted president should have gracefully received the news he had lost and give a concession speech
- Whoopi also said that the campaign and the supporters need to accept his loss and "suck it up" like Hilary's did in 2016
PAY ATTENTION: Click "See First" under the "Following" tab to see Briefly.co.za News on your News Feed!
Whoopi Goldberg has added her voice to the famous frenzy of celebrities that are calling for Donald Trump to accept the election results.
The entertainment icon was performing chat show duties for The View, on which she is one of several co-hosts, when she made the comment that Trump and his supporters need to act in the same way as previous election losers.
Whoopi drew specific comparison to the 2016 election as she reminded the audience about how Hilary Clinton's campaign conceded the race and all of her supporters had to simply accept the result and move on.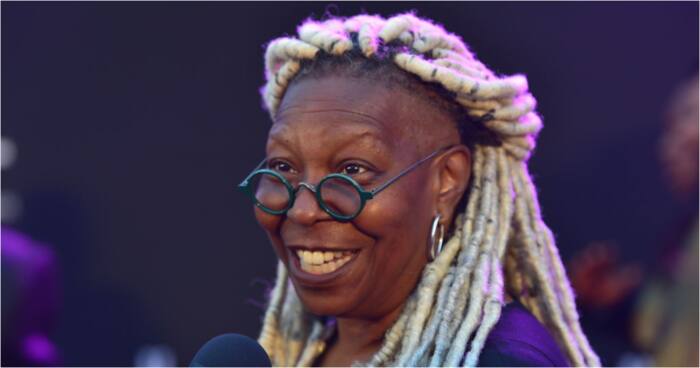 Whoopi was quoted by DailyWire as saying:
"Now, I just want to bring something up right now. I want to say to all those people who don't believe that Americans actually got out and voted, let me say this to you," Goldberg said.
"When you-know-who was elected four years ago, Hilary Clinton didn't say, 'Hey, wait a minute, this doesn't feel right, stop the count.' She didn't say, 'This isn't right, I'm not going for it.' She didn't say any of that. So, all of you, suck it up. Suck it up like we sucked it up."
In other celebrity-related news, Briefly.co.za recently reported on fans of Khloe Kardashian bringing an old interview back around in which the star calls herself a polygamist.
Kardashian fans know that Khloe is currently attached to baby daddy, Tristan Thompson, but all the chatter around her decision to get back with her cheating ex had fans doing deep dives into Khloe's relationship history archives.
Khloe joked about Tristan Thompson's cheating scandal in a recent episode of Keeping Up with the Kardashians and fans were reminded of another time she answered questions about a partner's infidelity.
The celebrity appeared on The Ellen Show back in 2015 and discussed her relationship breakdown with Lamar Odom. The star said that she was in the process of divorcing Odom but that she had found out about him being unfaithful throughout their marriage.
The 2015 interview from The Ellen Show sees Khloe discussing how she began dating James Harden while waiting for her divorce from Odom to be finalised.
Since Odom was having medical struggles at the time, Kardashian chose not to fast-track the separation. She jokingly had an exchange with host Ellen DeGeneres about how she felt like a polygamist since she had a boyfriend and husband at the same time:
"I'm just gonna say I'm part of polygamy now. I have a husband, I have a boyfriend. That's a way easier thing to say." Kardashian said.
"OK, you're a polygamist," DeGeneres confirmed.
"I'm a polygamist," Kardashian agreed.
"No, I think that's many husbands, isn't it?" DeGeneres then added. "No, you have to marry your boyfriend in order to be a polygamist."
Enjoyed reading our story? Download BRIEFLY's news app on Google Play now and stay up-to-date with major South African news!
Source: Briefly.co.za