- The Hawks are expected to arrest ANC Secretary-General Ace Magashule if he fails to hand himself over soon
- Legal and political experts have weighed in on the upcoming fraud and corruption case
- The imminent arrest of Ace Magashule has divided the court of public opinion
PAY ATTENTION: Click "See First" under the "Following" tab to see Briefly.co.za News on your News Feed!
By Lwazi Nongauza: Freelance journalist
Fraud and corruption are likely to be some of the serious charges ANC Secretary-General Ace Magashule will formally face in his first court appearance on Friday in the Bloemfontein High Court.
This is in relation to R255 million tender which was meant to eradicate asbestos roofs in 2014. Millions of rands were spent on the project in Free State and Gauteng but the asbestos was never removed.
Magashule was the Free State premier at that time and according to various media reports, the Hawks' warrant of arrest describes Magashule as allegedly one of the masterminds behind every illicit financial transgression that took place under that project.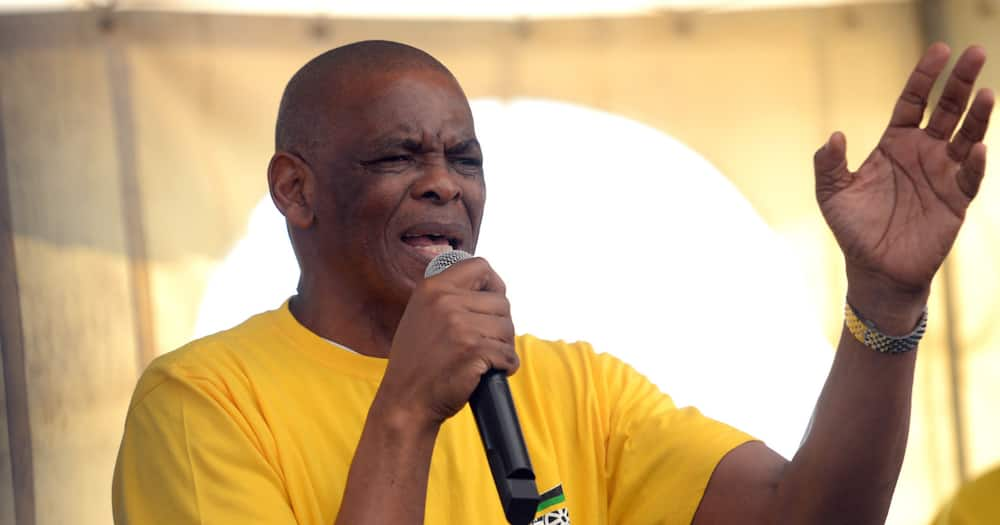 Experts weigh in Ace Magashule case
In a bid to understand both the real and perceived public implications of this case, Briefly.co.za spoke with a legal expert, Advocate Madidima Mannya, and political analyst Professor Tinyiko Maluleke.
According to Advocate Mannya, the high profile and public interest nature of this case will not influence how it is handled but its outcome is likely to be contested inside the court, on the streets, on social media and on various public platforms.
"Legally speaking, there is nothing special or unique about the case. The suspect's social influence means nothing in court. Therefore, the court presiding officers will or should not bow to any external public commentary pressure.
"Ideally, that is the right thing to do, but honestly I am afraid how the already divided public court of public opinions will receive the outcome of the case. The suspect's supporters and opponents' clashing views are likely to cause more social divisions.,' said Advocate Mannya
On the other hand, political analyst Professor Tinyiko Maluleke acknowledged that Magashule might be facing a legal case but because of the position he holds at the ruling party, legal authorities must know how to carefully handle his possible long-term prison sentence.
''I know that the secretary-general of the ANC is facing legal charges but I hope the legal experts who will be dealing with this case will appreciate the fact that whatever they do, in handling this case, will ultimately set a standard norm on how high profile cases will be dealt with in future.
''It doesn't really matter what the court will say or present as evidence, some South Africans are already thinking that Magashule's imminent arrest is one of the dirty tricks by the Cyril Ramaphosa ANC faction.
"So, whether this is true or not, politically we all need to accept that even if Magashule were to be acquitted, this case will fuel ANC internal battles and unfortunately affect the political deployment and governance operations of our country.''
South Africans question Hawks, claim Magashule is receiving special treatment
Some South Africans are already questioning whether or not the Hawks are giving Magashule special treatment.
They claim that the Hawks know where Magashule stays and works, therefore instead of making a public statement, they must (as they do to all suspected) go and arrest him.
Some Magashule supporters have criticised the Hawks for taking sides in what they call "ANC internal leadership battles".
Despite being angry about the warrant of arrest, they also applauded the Hawks for at least affording him an opportunity to voluntarily present himself to the relevant police station instead of being publicly embarrassed in "Hollywood fashion" as some suspects have been subjected to.
Earlier, Briefly.co.za reported that Pieter-Louis Myburgh, the journalist who penned the report announcing the imminent arrest, quipped that:
"A warrant of arrest has been issued for the ANC's secretary-general, Ace Magashule, in connection to the R255-million asbestos audit contract in the Free State. This time it is for real, we don't do fake news."
Upon hearing of the arrest warrant, Magashule, who was campaigning for the ANC in Ward 130, had only this to say:
"I have not done anything wrong, I am a law-abiding citizen."
Enjoyed reading our story? Download BRIEFLY's news app on Google Play now and stay up-to-date with major South African news!