- Ace Magashule says ANC members must not divide the party in his name
- The embattled ANC secretary-general says he will not step down amid calls for him to do so
- Ace Magashule is not having sleepless nights over the warrant of his arrest, he told Briefly.co.za
PAY ATTENTION: Click "See First" under the "Following" tab to see Briefly.co.za News on your News Feed!
By Wisely Manzini - Freelance journalist
"Bring it on."
This is how the beleaguered ANC secretary-general Ace Magashule reacted to the warrant of his arrest in connection to the R255-million asbestos contract in the Free State. Magashule is expected to appear in court on Friday.
In an interview with Briefly.co.za, a nonchalant Magashule said:
"I'll present myself to the authorities on Friday. This is a war and I'm not prepared to retreat at this point. The enemies of the revolution will rejoice if I retreat. The target is the ANC, our task is to defend it with all what we have."
The warrant of Magashule's arrest was confirmed by the Hawks in the Free State, ending weeks of speculation.
This stemmed from a multi-million-rand tender awarded to controversial businessman Edwin Sodi during Ace Magashule's tenure as the premier of the Free State. He held the post of premier from 2009 until 2018 when he took up the full-time position of secretary-general at Luthuli House, the ANC's headquarters.
Unshaken, Magashule told Briefly.co.za that he was not having sleepless nights over the warrant of arrest.
"You must understand that this is politics. Sometimes you face enemies even from within. But victory is certain. We will not surrender," he said.
Pressed on who the enemies from within were, he said:
"One day you'll see them. I'm not going to mention names."
His warrant of arrest has pitted ANC members against each other, with one side having rushed to his defence while the other was gunning for his head.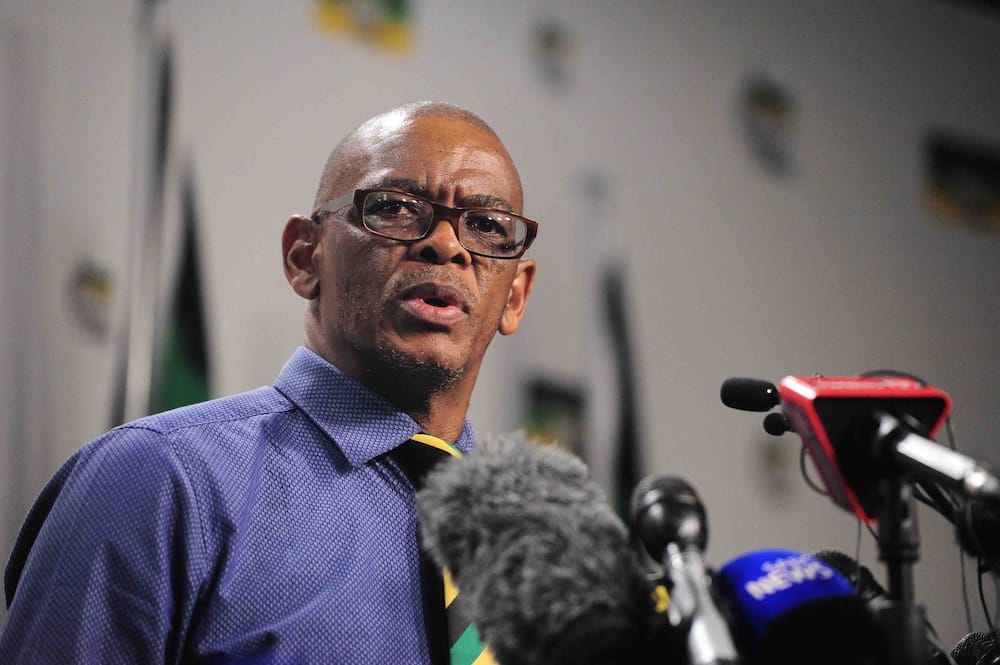 "I don't want the ANC members to be divided by this warrant of arrest. Not in my name. My duty as the secretary-general is to unite all members of the ANC," charged Magashule.
Magashule had previously lamented the series of arrests conducted by the Hawks in full glare of the media, dubbing them "Hollywood-style" arrests.
Expanding on this, he said:
"When you ask people to hand over themselves to the authorities, they will comply. What I'm against is when law enforcement authorities invite the media when they go to arrest Magashule. That's completely uncalled-for."
Magashule, a staunch ally of former president Jacob Zuma, said some inside the ANC were bent on dividing the party. Factions, he said, crippled the work of the ANC of improving people's lives, especially the downtrodden.
Responding to calls for him to step down amid the charges he faced, Magashule said the words "step aside" and "step down" are being misused for political gains.
"I'm not going to step down. I was elected by the branches of the ANC in 2017, and I'll not step down," he said.
The ANC has a long-standing policy that members who faced charges were not eligible to stand for any leadership position. Magashule's supporters have viewed the charges against him as a deliberate ploy to block him from contesting leadership positions when the party held its 55th elective conference in 2022.
He wouldn't be drawn into commenting about the R250 he gave to an elderly woman during his door-to-door campaign in Soweto on Tuesday ahead of the by-elections on Wednesday, saying it was a "non-issue."
On Wednesday, the ANC held a virtual media briefing following a late evening meeting of the top six on Tuesday that discussed Magashule's arrest.
During the briefing, ANC deputy secretary-general, Jessie Duarte, said ANC members were allowed to support Magashule in their personal capacities when he appears in court on Friday.
UMkhonto we Sizwe Military Veterans have thrown their weight behind Magashule, saying his arrest was politically motivated.
Experts weigh in on warrant of arrest
Meanwhile, in a bid to understand the real and perceived public implications of this case, Briefly.co.za spoke with a legal expert, Advocate Madidima Mannya and political analyst Professor Tinyiko Maluleke.
According to Advocate Mannya, the high profile and public interest nature of this case will not influence how it is handled but its outcome is likely to be contested inside the court, on the streets, on social media and on various public platforms.
"Legally speaking, there is nothing special or unique about the case. The suspect's social influence means nothing in court."
On the other hand, political analyst Professor Tinyiko Maluleke acknowledged that Magashule might be facing a legal case but because of the position he holds at the ruling party, legal authorities must know how to carefully handle his possible long term-prison sentence.
''I know that the secretary-general of the ANC is facing legal charges but I hope the legal experts who will be dealing with this case will appreciate the fact that whatever they do, in handling this case, will ultimately set a standard norm on how high profile cases will be dealt with in future."
Enjoyed reading our story? Download BRIEFLY's news app on Google Play now and stay up-to-date with major South African news!