- President Cyril Ramaphosa has once again addressed South Africa on the government's plan to tackle the Covid-19 pandemic
- Speaking to the nation on Wednesday evening, Ramaphosa noted that infections have declined significantly
- The President warned citizens that a second lockdown would be on the cards unless individuals take responsibility for their actions amid the pandemic
- The restrictions on liquor and international travel are set to be relaxed soon
PAY ATTENTION: Click "See First" under the "Following" tab to see Briefly.co.za News on your News Feed!
President Cyril Ramaphosa has addressed SA on the government's plan to tackle the Covid-19 pandemic amid a national lockdown.
Wednesday saw Ramaphosa informing citizens on the path forward after intensive meetings with the National Coronavirus Command Council and Cabinet on the situation.
Speculation has been rife that South Africa would follow other nations and impose a second bout of hard lockdown restrictions.
The President noted that the rate of infections has steadily decreased, warning that it must be acknowledged that the pandemic has taken its toll on South Africa with deaths rising above 20 000 on Wednesday.
While infections seem stable, Ramaphosa noted that it has been demonstrated across the world how quickly the situation can become out of hand, prompting the imposition of second lockdowns.
Ramaphosa warned that citizens need to pay attention to a number of areas in order to avoid a resurgence.
The situation in the Eastern Cape, which has seen a dramatic and 'concerning' spike in infections was highlighted as a major issue in the fight against the virus.
Ramaphosa confirmed that the 'Resurgence Plan' will be implemented to avoid a massive wave of infections.
Teams will be deployed to the Eastern Cape in a bid to reduce the rate of infections, with Ramaphosa saying that the situation in the province should be seen as a 'wake up call'.
The festive season was also highlighted as a major concern by Ramaphosa, a time where activities that are the norm ( if not handled responsibly) could spark a resurgence.
The President urged citizens to play their role in the efforts to get the pandemic under control and avoid a second lockdown.
"What I'm asking of each and every one of you this evening, is not something new. It is something that must be done."
Ramaphosa announced that the current State of Disaster has been extended by another month, to 15 December.
The President expressed his alarm over increasing instances of citizens going to large gatherings without practising social distancing or wearing masks, dubbing them as 'super spreader events' and slamming them as dangerous.
Ramaphosa lauded a vaccine as a 'game-changer', confirming that the government is in talks to acquire an effective vaccine for the African continent.
Dr Zweli Mkhize and other citizens have been appointed as part of a task team aiming to acquire this vaccine in order for it to be accessible and to fundraise the billions this endeavour would require.
Agreements, according to Ramaphosa, are already in place to see an effective vaccine produced on South African soil.
Ramaphosa recognised that select industries are still unable to operate fully due to restrictions, but announced that efforts are underway to provide some relief.
The Level 1 restrictions will be amended to allow for normal trade-in liquor as well as international travel restrictions will be lifted in line with preventative measures.
The President announced that five days of mourning for both the victims of Covid-19 and Gender-Based Violence, with the national flag flying at half-mast from 25-29 November.
Citizens were called upon to wear black in recognition of the grief that 'we share as a nation' and to show SA's determination to overcome the virus.
Ramaphosa noted the passing of Auditor-General Kimi Mkwethu on Wednesday, commenting:
"During his time as Auditor-General, Mr Mkwethu served this country with dedication, with distinction and with great integrity. Our thoughts and prayers are with his family at this time of great sorrow."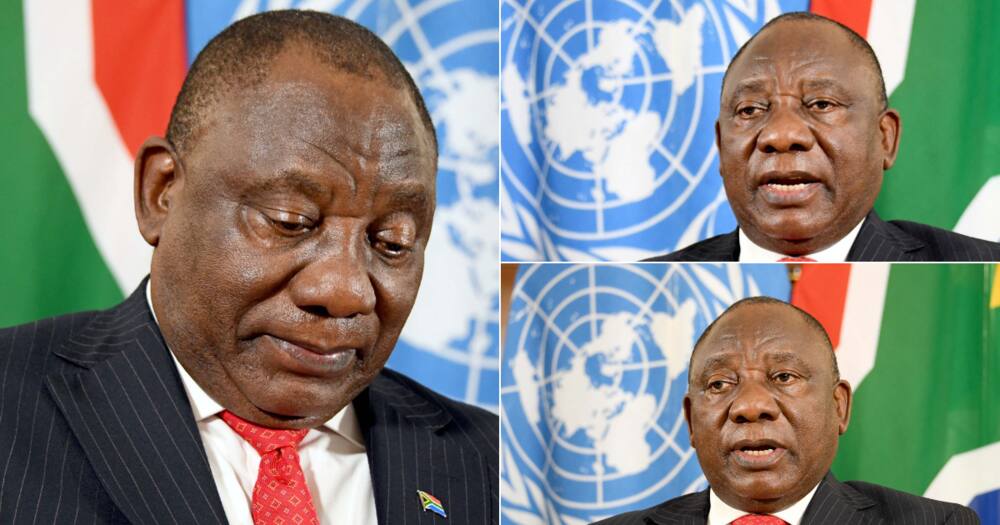 Earlier, Briefly.co.za spoke to Director of the Institute for Futures Research at Stellenbosch University Dr Morne Mostert, who commented on the possibility of a second lockdown:
"The first hermetic form of the lockdown was already an error in judgement. While that appeared to show strong leadership at first, it had almost no longer-term advantage and will cause significant longer-term harm."
Mostert warned that attempting to manage the crisis by trying to avoid the problem was not an effective approach:
"In a sense, the format of the first lockdown has made another complete lockdown not only unlikely but untenable. The South African economy simply cannot afford a return to Level 1."
Enjoyed reading our story? Download BRIEFLY's news app on Google Play now and stay up-to-date with major South African news!