- Megan Thee Stallion took to social media to announce that her debut album Good News is set to drop next week on 20 November
- The artist has already had a spectacular 2020 after the global success of WAP, on which she collaborated with Cardi B
- Fans of Megan were ecstatic to hear that her album was about to be released and took to social media to voice their excitement
PAY ATTENTION: Click "See First" under the "Following" tab to see Briefly.co.za News on your News Feed!
As if having a global chart-topping hit was not enough, Megan Thee Stallion is also releasing her debut album this year.
The rapper took to social media to post about her record, Good News, being released on 20 November and that it was now available on pre-order.
Megan's fans were so excited by the news that they jumped into the comments section to congratulate her and mention how ready they are for her debut record to drop.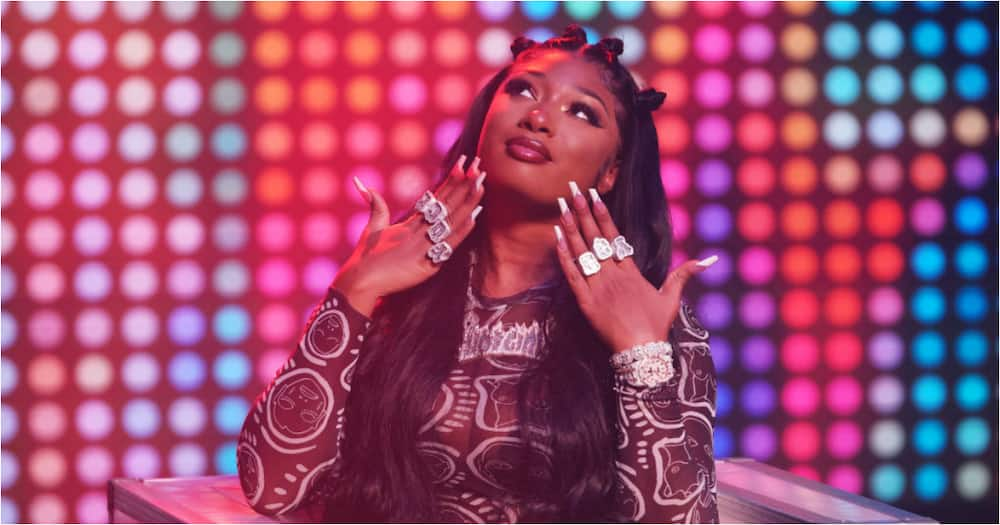 Megan Thee Stallion announced her drop in the captions:
"Hotties , I first want to say thank you for riding with me, growing with me, and staying down with me since my first mixtape Rich Ratchet! Through this rough ass year we've all been having I felt like we could all use a lil bit of good news. So with that being said MY OFFICIAL ALBUM 'GOOD NEWS' IS DROPPING NOVEMBER 20TH, PRE ORDER WILL BE AVAILABLE TONIGHT."
The artist posted a series of pictures to Instagram with the announcement of Good News dropping and fans took the opportunity to have their say in the comments section:
@lilkimvideos_: "YESSSSS MEG CONGRATULATIONS"
@itzkevinsis: "ALREADY PRE-ORDERED"
@theestallionshoove: "AHHHH I'M SO EXCITED"
Briefly.co.za previously reported on how the hit single WAP by Cardi B and featuring Megan Thee Stallion would not be winning a Grammy any time soon.
Fans of Cardi B's hit-single WAP feat Megan Thee Stallion were disappointed to learn that the song would not be taking home any trophies at the 2021 Grammys. The track has been a global hit but has no chance of winning a Grammy because Cardi and her team did not submit it for consideration.
Some interpreted the news as a complete mistake and thought that Cardi B had accidentally missed the submission window and cost her work a nomination. That would have been a tragedy since the song broke a streaming record in its first week of being released and is undoubtedly one of the hits of the year.
But, as with many moves in the music industry, it seems keeping it out of the Grammy-race was a strategy. Variety.com reported that the rapper decided to instead submit WAP for consideration in the 2022 Grammy Awards season. The decision was supposedly meant to coincide with the release of a new album that Cardi will be dropping around the same time and build hype for that.
Despite not being eligible for a Grammy this time around, Briefly.co.za reported on the other records that the hit song managed to break in 2020.
Cardi B has made history yet again with her new single featuring Megan Thee Stallion. The hit track, WAP, debuted at #1 on the Billboard Hot 100. An excited Cardi took to social media to share her success with fans and thank all who were involved in the accomplishment.
The controversial bop has broken multiple records including the highest streaming first week by a female artist, the highest streaming first week of 2020, and one of the top three hip-hop streaming debuts of all time. Cardi now has four #1 songs on the Hot 100 chart.
Enjoyed reading our story? Download BRIEFLY's news app on Google Play now and stay up-to-date with major South African news!