- A petrol attendant saved the day when he repaired a lady's car bumber
- She took to social media to heap praise on the kind and helpful attendant
- Social media users followed suite and showered the attendant with praise and shared their own experiences
PAY ATTENTION: Click "See First" under the "Following" tab to see Briefly.co.za News on your News Feed!
@TharWTF took to social media to heap praise on a petrol attendant who didn't hesitate to help her and fixed her bumper.
Mzansi followed suite and heaped praise on the hardworking and helpful attendant, sharing their relations to the incident.
She captioned the post with the following:
"My bumper was falling and wow didn't they come through for me "
This is what Mzansi had to say about the amazing attendant:
@ThatoTheLady:
"I've never met a rude, lazy petrol attendant."
@JayNtuli_SA:
"You were lucky."
@akhilekid2:
"Well done to the guys, well represented. Good man are still available out there ladies, you just need to stop judging us with our hustle."
"Ndimile"
@Ronnie_Mugove:
"Me too, these guys are great. They call you grootman, chit chat with you, someone is cleaning your window screen, the other one checking your water and oil while the other one pouring petrol. Great human beings."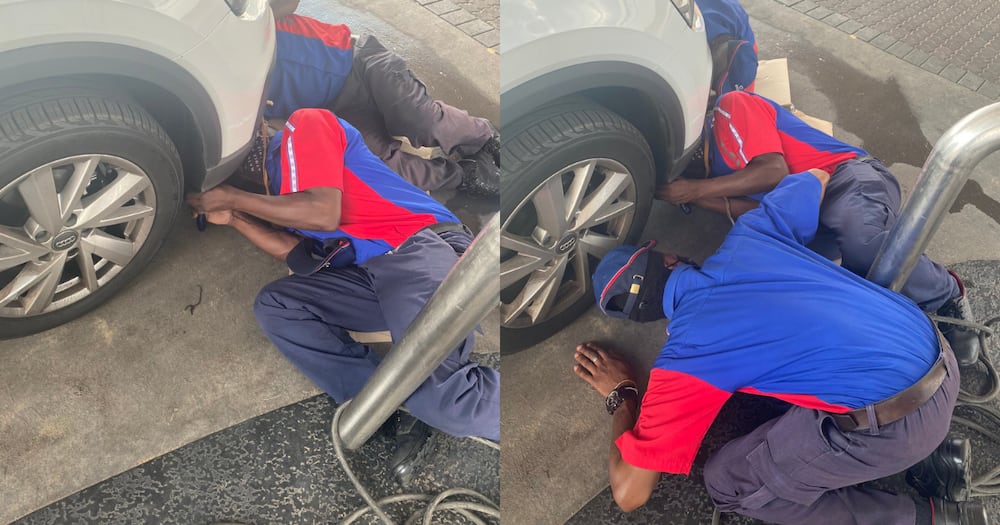 Earlier, Briefly.co.za reported that an amazing petrol attendant by the name of Clement has received a heartfelt thank-you message from Laine Herman. According to Laine, she went to a Total petrol station as the "low oil" signal has appeared on her dashboard.
After sorting out the issue with her oil, her car then refused to move. Laine had to pick her children up from school and had no one in the area to assist her. Clement asked if she knew how to drive a manual car and before you know it, he had parked his car next to hers.
Not only did Clement allow Laine to use his car to pick up her children and drop them off at home, but he also organised a tow-truck and someone to fix the car. Laine is more than grateful for the help she received and shared so on the #ImStaying group on Facebook.
In other news, Caileen Cornelson Henry was on her way to pick up her daughter at work when she realised the car needed petrol.
According to a post detailing the events on the #ImStaying Facebook page, Henry stopped at the Engen garage on Christiaan DeWet Road in Johannesburg when she realised she had forgotten her bag at home.
Without her wallet, Henry could not pay for the petrol and she really needed to pick up her daughter.
She asked the petrol attendant if she could come back to pay after picking up her daughter. The kind petrol attendant, Nicholas, used his own money to help Henry.
She said:
"We returned to the garage to repay the attendant and give him the little I had to just say 'Thank you for rescuing me'."
Enjoyed reading our story? Download BRIEFLY's news app on Google Play now and stay up-to-date with major South African news!