- DA leader John Steenhuisen has asked South Africa not to judge him on the colour of his skin
- He explained during a virtual meeting why he believed that he was the right person to lead the Democratic Alliance
- Steenhuisen told of his dream for South Africa and the people who wanted to make SA great need to reach out across to each other across the political divide
PAY ATTENTION: Click "See First" under the "Following" tab to see Briefly.co.za News on your News Feed
It was Martin Luther King, Jr who made the impassioned plea in his famous speech that one-day people could be judged by the content of their character rather than the colour of their skin.
The DA leader, John Steenhuisen, asked South Africa to do the same. He answered questions during a virtual meeting, one of which was about him being a white male and weather that makes him a suitable leader for the party.
He asked South Africans not to judge him by his skin colour, adding that this is what apartheid did - judged people based solely on the colour of their skin. He instead said that he could chose to step aside and do nothing or do everything within his power to address the inequalities created by South Africa's racist past.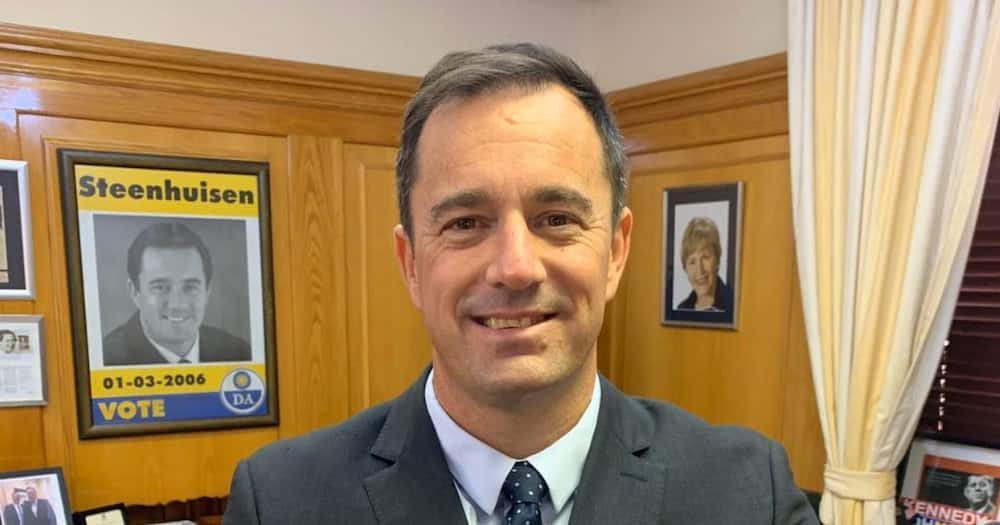 Steenhuisen reminded people that the Democratic Alliance is the most diverse party in the country both in race but also religion and each member was dedicated to making the country a better place.
He has his own dream of making South Africa a better country and acknowledged that there are people within all political spheres who share his dream.
In conclusion, he asked South Africans to reach out, for political parties to reach out and work together to help South Africa reach its full potential and show the world what a great country it can be.
Earlier, Briefly.co.za reported that the Democratic Alliance recently 'unanimously' affirmed that it is committed to championing the Constitutional right of all citizens to study in their mother language at public schools and universities across the country.
The party, at the DA Congress, agreed that it was imperative that South Africans be allowed to obtain an education in their chosen language:
"The Congress unanimously resolved that "the right to mother tongue education where reasonably practicable is a non-negotiable and fundamental element of the Bill of Rights, and is no less important than any other constitutional right."
Enjoyed reading our story? Download BRIEFLY's news app on Google Play now and stay up-to-date with major South African news!