Ace Magashule's refusal to step aside is testing the ANC's policies
- The ANC's "stand aside" resolution is just as much on trial as Ace Magashule
- The resolution was adopted in December 2017 and was accepted this year in July by the NEC
- It has been examined legally and has been sent back to the NEC, however, the case with Magashule has wide-reaching political ramifications
PAY ATTENTION: Click "See First" under the "Following" tab to see Briefly.co.za News on your News Feed!
Ace Magashule was released on R200 000 bail after he appeared in court on Friday. He remains in his position within the ANC as secretary-general.
This is in stark contrast to the ANC's new anti-corruption policy which states that party leaders facing serious charges should step aside from their state and party positions.
The resolution was adopted by the party in December 2017 but appears to be taking a flexible approach to the policy. The NEC adopted the resolution in July this year.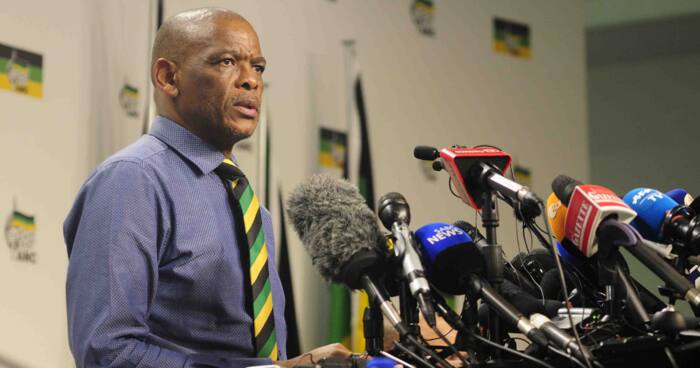 The "stand aside" rule was placed under legal scrutiny and was meant to have been examined by the party's national working committee but will instead be sent back to the NEC until further action is taken according to the Mail & Guardian.
Jesse Duarte revealed this during a press briefing on Wednesday after the news of the Hawks warrant of arrest for Ace Magashule was made public.
"The NEC has reviewed that decision. It has taken the view that we need to take serious legal counsel based on the fact that some comrades were charged, but charges were withdrawn after they were asked to stand aside from office," she said. "We are still seized with this. The next NEC will discuss the matter."
The situation was complicated and hade serious political ramifications.
"There are huge tensions in the Free State and other parts of the country. We cannot be party to creating any further division. We have to respect the NEC decisions," she said.
Earlier, Briefly.co.za reported that ANC secretary-general Ace Magashule's supporters have been warned to not undermine the ANC's leadership. ANC spokesperson Pule Mabe says that strong action will be taken against Ace's supporters who undermine the ANC's ability to lead.
This was on Friday after some of Magashule's supporters were seen burning t-shirts that had President Cyril Ramaphosa's face on them.
"The national officials of the ANC have already issued a statement to the members of the ANC on how they are really supposed to conduct themselves around this," said Mabe.
In addition, Briefly.co.za had an exclusive interview with Ace Magashule where he said that following:
"Bring it on."
This is how the beleaguered ANC secretary-general Ace Magashule reacted to the warrant of his arrest in connection to the R255-million asbestos contract in the Free State. Magashule is expected to appear in court on Friday.
In an interview with Briefly.co.za, a nonchalant Magashule said:
"I'll present myself to the authorities on Friday. This is a war and I'm not prepared to retreat at this point. The enemies of the revolution will rejoice if I retreat. The target is the ANC, our task is to defend it with all what we have."
Enjoyed reading our story? Download BRIEFLY's news app on Google Play now and stay up-to-date with major South African news!
Source: Briefly.co.za