Raymond Zondo rebukes claims over close ties with Jacob Zuma
- Deputy Chief Justice Raymond Zondo says that he is not friends with Jacob Zuma, despite claims of a close relationship
- The State Capture Inquiry chairperson insists that the former president never attended any personal functions or visited his home
- This comes as Zondo responds to Zuma's application for his recusal on Monday morning
PAY ATTENTION: Click "See First" under the "Following" tab to see Briefly.co.za News on your News Feed!
Deputy Chief Justice Raymond Zondo has distanced himself from Jacob Zuma's claim that the pair share a close bond.
Zondo, speaking in response to the application for his recusal as State Capture Inquiry chairperson, detailed a long list of reasons why the two men do not share any friendship.
Zondo explained that he had interacted with Zuma and other ANC leaders in KwaZulu-Natal during his time as private practice, but denied that he had served Zuma himself.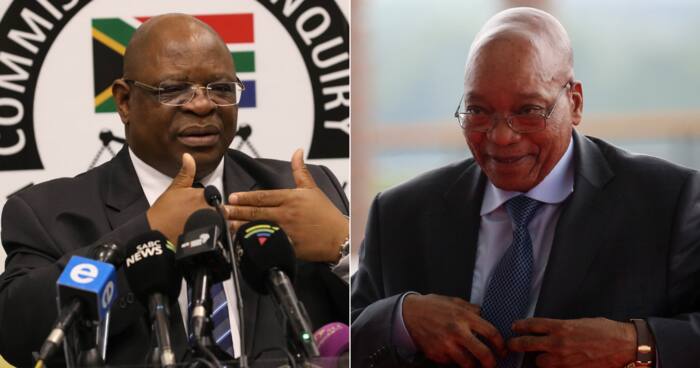 In addition to this, Zondo detailed how Zuma had never attended any private events including funerals and celebrations as a friend and that he himself had also never received any invitations.
Zondo slammed Zuma's claim that he had been concerned that his ascension to the bench was linked to his ties with the president, pointing out that Zuma had only been an MEC at the time and not the leader of the nation.
Advocate Sikhakhane addressed Zondo, saying that there is a narrative in South Africa, which has seen Zuma viewed in a negative light when he appears before the commission.
Sikhakhane claims that when the ex-president arrives, people think "here is the men that messed up our country".
Sikhakhane insists that he is not accusing Zondo of having prejudged Zuma, commenting that:
"I am not insinuating that you have prejudged Zuma, but it is comments in Zuma's absence that makes me believe people have come here to 'lynch him'."
Sikhakhane further explained that justice is about treating those you hate humanely, continuing to say that:
"Even if he is at the bottom of the pecking order in terms of people we like, it is how we treat him that matters."
Earlier, Briefly.co.za reported that Deputy Chief Justice Raymond Zondo is facing an application for his recusal from the State Capture Inquiry after ex-president Jacob Zuma lodged his bid for Zondo's removal.
Zuma explained that he had sought legal advice from Zondo's firm at the time, adding that Zondo and Zuma's sister-in-law had had a child together and therefor shared a close family tie as well.
Zuma claimed that this would be a conflict of interest despite this occurring long before Zuma tied the knot with Thobeka Madiba.
Enjoyed reading our story? Download BRIEFLY's news app on Google Play now and stay up-to-date with major South African news!
Source: Briefly.co.za