- The drama concerning a matric dance held by Brackenfell High School students is far from over
- The Economic Freedom Fighters have vowed to protest outside of the Western Cape school later this week
- EFF leader Julius Malema seems poised for actions, eagerly saying 'bring it on'
PAY ATTENTION: Click "See First" under the "Following" tab to see Briefly.co.za News on your News Feed!
The calm experienced by Brackenfell residents following dramatic events last week was evidently just the silence before the storm.
The Economic Freedom Fighters have mobilised Red Beret members to march in Brackenfell on Friday.
The party had earlier threatened a 'complete shutdown' of the region last week after violence broke out during a peaceful protest.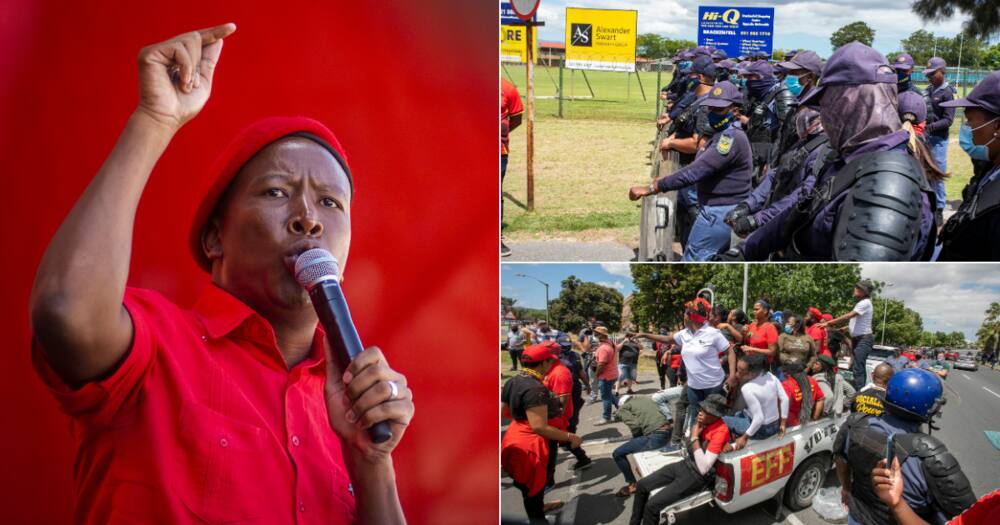 The fallout from this incident, which saw the EFF, parents and residents clashing was intense and now the party wants to pick up where it left off:
"We did say that the terror attacks in Brackenfell will not go unanswered. On Friday we will descend and ensure that nothing operates. They have pushed us, and they must prepare to be pushed harder. The WC EFF protest against racism this Friday at Brackenfell High School at 10am."
EFF leader Julius Malema himself seems eager to be on the ground for what promises to be an intense response to the last protest:
"Invitation accepted, bring it on!"
The unrest is in response to a party that was perceived to have been hosted by the school for white matric students.
However, the school and Western Cape Department of Education has refuted claims of racial segregation, pointing out that the event had been privately organised.
Nevertheless, the backlash has continued and allegations of racist behaviour have emerged as students come forward to share their experiences at the school.
The situation has even garnered input from President Cyril Ramaphosa himself, who had surprisingly thrown in his towel with the EFF on the subject.
Earlier, Briefly.co.za reported that the Presidency had issued a statement, in which Ramaphosa described the incident as deeply regrettable and called on all involved to 'act responsibly':
"At this most important and difficult time for matriculants not only at Brackenfell High School but around the country, the spectacle of parents and protestors coming to blows at the school gate is deeply unfortunate."
The President defended the EFF's involvement by pointing out that citizens have the right to engage in peaceful protest:
"It is the right of every South African to engage in peaceful protest, and any actions to suppress the right to freedom of expression, particularly through violence and intimidation, must be roundly condemned."
Ramaphosa says the violence on Monday reminded the nation of a time before democracy:
"What happened today brings back hurtful memories of a past we should never seek to return to."
Enjoyed reading our story? Download BRIEFLY's news app on Google Play now and stay up-to-date with major South African news!