- Joe Biden said Donald Trump is supposed to help him hit the road running by cooperating and sharing plans he has on how he intends to vaccinate Americans aginst COVID-19
- According to Biden waiting for January 20, 2021, when he will be sworn in as president, will position him over one month behind in the fight against the disease
- As of Monday, November 16, two vaccines (Pfizer and Moderna) had been touted to have at least 90% efficiency in preventing COVID-19
- Donald Trump has maintained he is the bonafide winner of the recent poll and insisted Biden's victory was aided by stealing of ballots
PAY ATTENTION: Click "See First" under the "Following" tab to see Briefly.co.za News on your News Feed!
US president-elect Joe Biden has warned more people will lose their lives to COVID-19 should President Donald Trump continue frustrating smooth transfer of power.
Biden said Trump's refusal to concede defeat of the Tuesday, November 3, the presidential election would not only stall US economic recovery but also deal a blow to the fight against COVID-19 which has already claimed lives of at least 252,000 Americans.
According to Biden, Trump was obliged to help him hit the road running by assuring peaceful transition and brief him about plans he has to vaccinate Americans against the ravaging pandemic.
Waiting for January 20, 2021, when he will be sworn in as president, Biden said will position him over one month behind in the fight against the disease.
"More people will die if we don't coordinate. A vaccine is important but is only useful after you vaccinate. But how do we get over 300 million Americans vaccinated? What is the game plan? We also need to cooperate with the WHO and the rest of the world in doing this.
If we have to wait until January 20 it puts us behind over a month and a half. So it is important this is done with coordination, now," said Biden.
As separately reported by Briefly.co.za, Trump has contested Biden's victory in court claiming that the former vice present "won the election by stealing ballots".
Hardly a day after the election day, Trump declared himself the winner of the polls and has since the been tweeting that "won the election".
He has been accused of blocking Biden's team from accessing intelligence and funds earmarked for transition and has suggested that he may not leave the White House for Biden come January 20.
As of Monday, November 16, two vaccines (Pfizer and Moderna) had been touted to be having at least 90% efficacy in preventing COVID-19.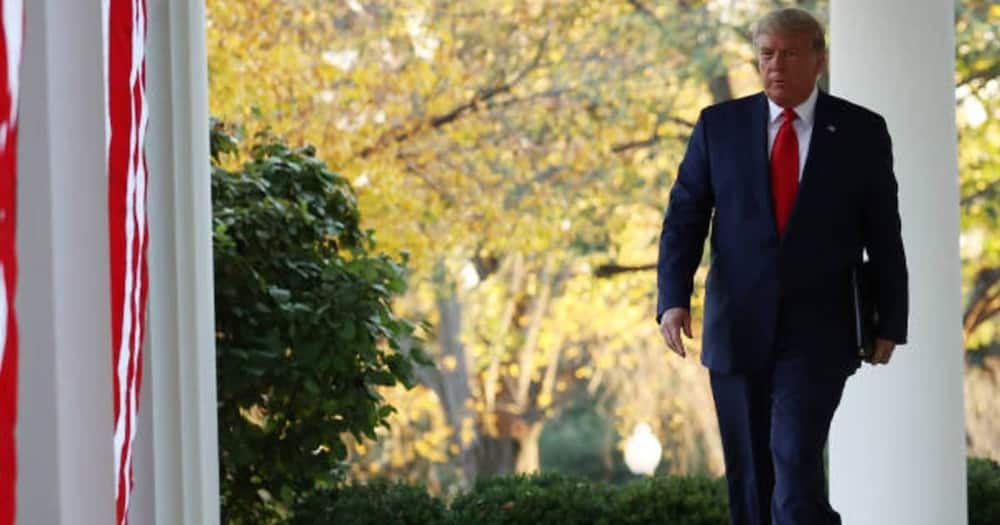 Biden described the breakthrough as good news stating it brought the world "one step closer to beating this virus".
He, however, continued to tear into Trump for jeopardising the war against COVID-19 and turning mask-wearing into a political affair.
Briefly.co.za also reported that former US president Barack Obama delivered a stinging rebuke of President Trump's refusal to accept defeat and described it as one more example of how Trump has been breaching basic democratic norms and hurting Americans.
"He should put the country first. He is just a public servant occupying an office on a temporary basis. He needs to accept to pave way for transition.
I would still scold such a character, even if it was my daughter if she refused to concede defeat during sports claiming that the other team stole victory," said Obama.
Enjoyed reading our story? Download BRIEFLY's news app on Google Play now and stay up-to-date with major South African news!