- The application for Deputy Chief Justice Raymond Zondo's recusal continued at the State Capture Inquiry continued on Monday
- However, proceedings stalled with Zondo explaining that he needed more time before passing judgement
- In the meantime, Jacob Zuma signalled that he would be unavailable on Wednesday for testimony
PAY ATTENTION: Click "See First" under the "Following" tab to see Briefly.co.za News on your News Feed!
Former president Jacob Zuma's application demanding Deputy Chief Justice Raymond Zondo's recusal as the chairperson of the State Capture Inquiry continued on Monday.
However, proceedings were shortlived with Zondo explaining from the onset that he would require more time before passing judgement on the matter.
The commission chair commented that he still needed to examine documentation before he could make a ruling.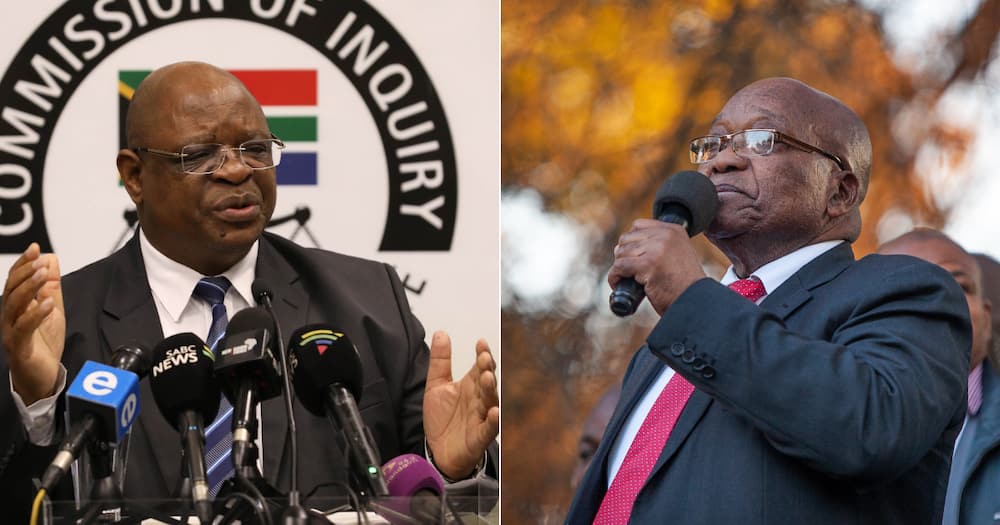 Advocate Musi Sikhakhane, Zuma's lawyer, explained that the former president would be unable to attend the proceedings on Wednesday.
This is due to Zuma attending the funeral of an unknown individual on this day, explained the attorney.
While Zuma would be absent on Wednesday from proceedings, Sikhakhane commented that the ex-president would return the following day to the inquiry.
The matter has been in the spotlight this week after Zuma claimed that Zondo presiding over the matter would constitute a conflict of interest.
The ex-president claimed that the pair shared a close relationship, including Zondo fathering a child with Zuma's sister-in-law.
Earlier, Briefly.co.za reported that Zondo had refuted these allegations, insisting that the pair shared no real relationship outside of a vague work tie decades ago during the Deputy Chief Justice's time in private practice.
Zondo had advised the ANC, of which he was a member, during this period of time and as a result, had met with Zuma present with party leadership.
Further than this, Zondo denied that either man had invited the other to family events including funerals and celebrations.
Zondo had explained that Zuma had only met his wife, during political events which formed part of his duty and had never been to his home.
Zuma's legal team had argued that comments made during the testimony of other witnesses had frightened the ex-president, resulting in the perception that the inquiry was 'not a good forum' for the ageing politician.
Enjoyed reading our story? Download BRIEFLY's news app on Google Play now and stay up-to-date with major South African news!