Gauteng taxi strike: Lesufi makes plan for matric students amid delays
- Gauteng taxi drivers have gathered in droves on Wednesday morning to protest
- Panyaza Lesufi has granted matric students in the province a gap to arrive at school
- In addition to this, a woman is believed to have been hijacked by protestors
PAY ATTENTION: Click "See First" under the "Following" tab to see Briefly.co.za News on your News Feed!
Striking taxi drivers brought the N1 North between Johannesburg and Pretoria to a near-complete standstill by blocking the highway on Wednesday morning.
A bus, hijacked by protestors in Orchards near Pretoria, has been the focus of a search for a female driver.
It remains unclear whether or not the driver had made it out of the bus before it was stolen, with colleagues still struggling to reach her.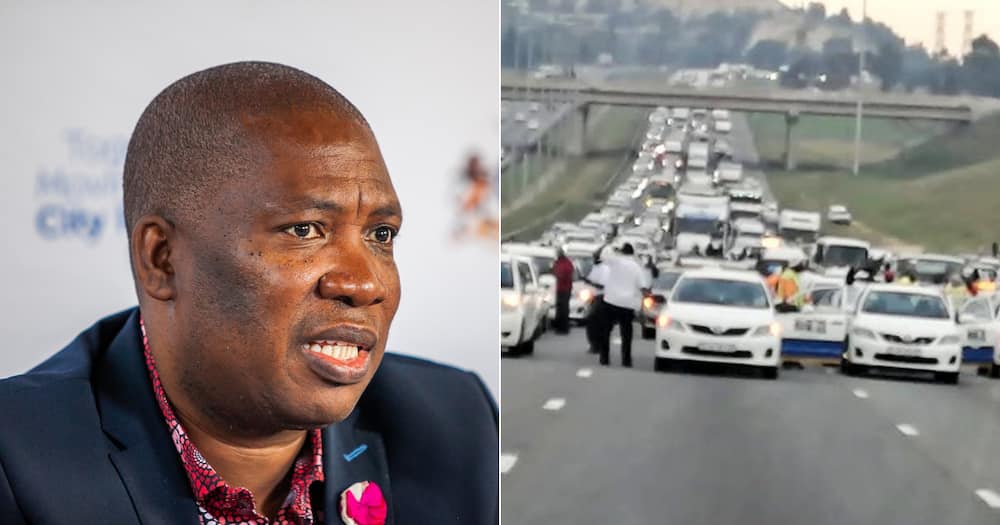 The City of Tshwane has confirmed that passengers had been forced off of the bus while it was on its route.
This has prompted the metro to recall all bus services to due security reasons while the National Taxi Alliance insists that the protest is a peaceful one.
Meanwhile, Gauteng Education MEC Panyaza Lesufi has granted matric students a grace period to arrive for their exams:
"Kindly take note of this arrangement if you're affected by the Taxi Strike. All learners will be given a maximum of an hour to arrive late. You can also write your exam at any school closer to you."
Lesufi explained that bus operators have been informed to pick up learners in uniform at no cost, although it seems unlikely at this stage that they will be operational.
Hundreds of members are set to congregate in Marabastad in Pretoria today, expected to march to the Transport Department and onwards to the Union Buildings to hand over a memorandum.
The government is being asked to explain why the Covid-19 relief fund that was promised to the sector has not yet materialised.
Taxi Association spokesperson Theo Malele made it clear that violence was not endorsed by the group:
"We do not condone that, this is not what we agreed on. We agreed that we will lead the roads to Pretoria, where we will present our grievances and this we will do peacefully. This is not in our nature."
Earlier, Briefly.co.za reported that taxi bosses had initially dismissed a R1.1bn Covid-19 relief offer from the government.
Instead, they threatened to bring SA to a grinding halt unless the government coughs up billions more.
The proposed R1.bn would be a once-off payment was rejected during negotiations between the South African National Taxi Council (Santaco) and transport minister Fikile Mbalula earlier this year.
Enjoyed reading our story? Download BRIEFLY's news app on Google Play now and stay up-to-date with major South African news!
Source: Briefly.co.za