- The EFF has vowed to bring Brackenfell to a standstill after one of the party's protests descended into violence
- Now, the PAC has signalled that it intends to protest outside of Brackenfell High School on Wednesday
- The Democratic Alliance is unimpressed with both parties, urging the SA Police Service to remember its obligation to maintain order
PAY ATTENTION: Click "See First" under the "Following" tab to see Briefly.co.za News on your News Feed!
The PAC has announced that it will be staging a protest outside of Brackenfell High School on Wednesday.
This comes after anti-racism protests held by the Economic Freedom Fighters descended into chaos with parents and residents confronting the Red Berets and the situation turning violent.
In response to the numerous protests planned in its Western Cape stronghold, the Democratic Alliance has called upon the SA Police Service to closely monitor the area as 'dangerous rhetoric regarding these protests already seems the order of the day for both these parties'.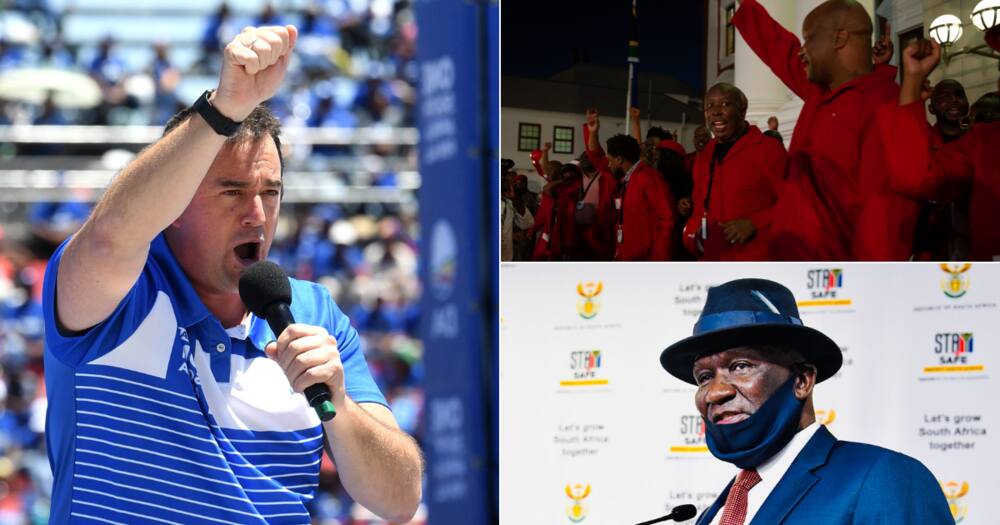 Okkie Terblanche, DA Shadow Deputy Minister of Police, demanded that Bheki Cele should ensure the protests are kept under control:
"The Minister of Police, Bheki Cele, must ensure that the SAPS investigate both the PAC and the EFF for possible incitement to violence and intimidation in the run-up to their planned protest action. The police has a responsibility to maintain law and order and to protect all learners' right to a peaceful education."
Terblanche was not surprised by the EFF's intent to protest, but responded to the PAC joining the fray with dismay:
"While the EFF is well-versed in incitement to violence, as seen with their Clicks protests and in Senekal earlier this year, the PAC has now also joined the band-wagon by making their protest slogan #OneSettlerOneBullet – a clear indication to their members to take up arms."
The Shadow Minister had a dim view of the EFF's involvement of the situation, commenting further that:
"As seen with previous protests, the EFF has no qualms to intimidate and harass people, sometimes going as far as harming them, and destroying property in an effort to remain relevant in a country where the Covid-19 lockdown has shown them for the headline-seeking one-trick ponies they are. Without their race-baiting and violent protests, the EFF has no political play."
This, in his view, should serve as enough of a deterrence to the PAC with Terblanche concluding that:
"The PAC would do well to take heed and not buy into the perpetuation of race-baiting in an effort to buy relevance. Bigotry and racism as a means to scoring political points in the hopes of garnering votes, is a dangerous road with no happy end in sight."
Earlier, Briefly.co.za reported that the calm experienced by Brackenfell residents following dramatic events last week was evidently just the silence before the storm.
The Economic Freedom Fighters have mobilised Red Beret members to march in Brackenfell on Friday.
The party had earlier threatened a 'complete shutdown' of the region last week after violence broke out during a peaceful protest.
Enjoyed reading our story? Download BRIEFLY's news app on Google Play now and stay up-to-date with major South African news!