Exclusive: Sandwich King speaks out on cops confiscating his goods
- A Johannesburg street vendor has shared his views on cops confiscating street vendors' goods in an exclusive interview
- According to the young man, he became a street vendor after realising how scarce jobs are in SA
- He now employs four other young men who he says are always worried about police officers confiscating their goods
PAY ATTENTION: Click "See First" under the "Following" tab to see Briefly.co.za News on your News Feed!
Being a street vendor in SA is no easy feat. A young Johannesburg street vendor, Itumeleng Lekomanyane, recently took the time out to describe how the lives of street vendors are being made extremely difficult by cops who take their hard-earned goods.
"It's already hard living in South Africa as it is but it's a whole different story when you try to take charge of your life and making difference in it. Our government preaches "create your own jobs" in order to create an entrepreneurial society but when we do that we are hit with obstacles left right and centre by the same government."
He also describes how he started his business by waking up in the early hours of the morning to prepare the foodstuffs that he sells to the general public on Johannesburg's busy streets. His plans to help himself prosper, he explains were often foiled by police officers who confiscate his food-filled containers and then charge him hefty fines only to hand him the now-early empty containers back.
"I put my faith in it and ran all the way with selling sandwiches and baked goods for only about 5 hours in the morning but I have had many challenges along the way but law enforcement was my biggest one.
"Either confiscating or eating my goods, they refuse to issue tickets, if issued they refuse to count the number of products taken from us and by the time you get to the depo most of the stock disappeared from containers and they still want you to pay R1 700 fine and R200 storage fee to get stock that's already shared amongst officers having a free breakfast."
Itumeleng then shares how he has been struggling to obtain the necessary documentation needed to operate his business lawfully:
"I have been trying to get a trading licence for over a year now since I launched the business but still, nothing has been done, all I get sent from pillar to post, getting sent by government officials from one office to the next, meeting people who will not give you time to even explain why you there or even why you need a trading licence, I swear getting a firearm licence is easier in South Africa," he says with frustration seeping through his words.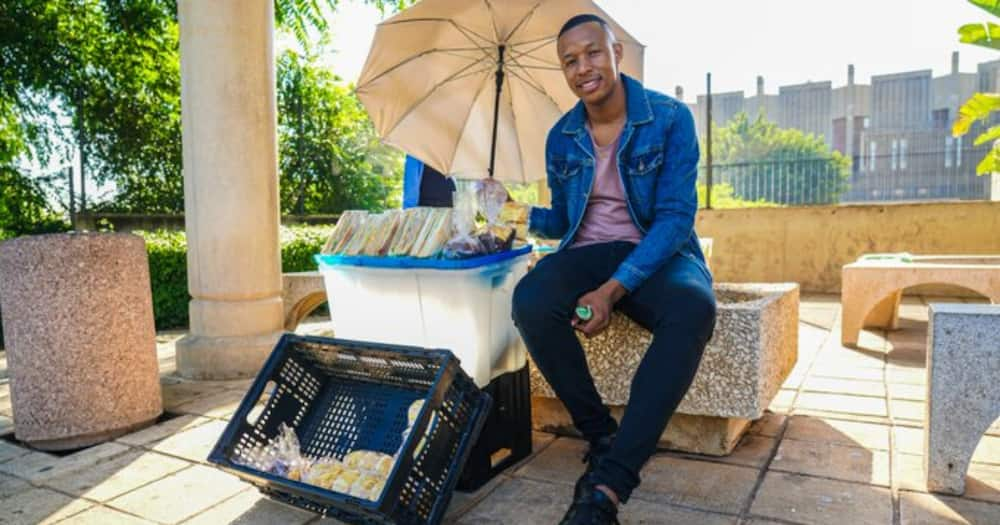 Itumeleng ends off by telling police officers to focus on issues which he believes are way more important than innocent street vendors trying to make a living, such as GBV, the drug trade, corruption and many of the other issues SA is faced with.
In earlier Briefly.co.za reports, the Johannesburg Metro Police Department confiscated sandwiches from a popular young entrepreneur. The seller shared that the cops took all of his stock at one of the four locations he sells from.
He expressed sadness because he uses the money to help support his three-year-old daughter. Briefly.co.za previously reported on how Itumeleng Lekomamyane grew his sandwich business to a R20k a month business with only R800.
He took to Twitter to share how the JPMD took his stock and asked for R1 600 to get it back because the City of Johannesburg was no longer issuing permits since Herman Mashaba resigned as mayor.
Enjoyed reading our story? Download BRIEFLY's news app on Google Play now and stay up-to-date with major South African news!
Source: Briefly News