Brackenfell: Police use water cannons, stun grenades to dispurse EFF
- The Economic Freedom Fighters kept their promise and arrived in full force to protest outside of Brackenfell High School
- A large crowd of Red Beret supporters were brought in with buses to demonstrate against racism
- The situation turned into chaos when police used teargas and water cannons to disperse the crowd
PAY ATTENTION: Click "See First" under the "Following" tab to see Briefly.co.za News on your News Feed!
Economic Freedom Fighter supporters gathered in masses to protest against racism in Brackenfell on Friday.
Hordes of EFF members arrived in busses after leader Julius Malema announced that the party would be responding to the violence dished out against it during an earlier protest.
Police deployed teargas and water cannons on the protesters in an attempt to disperse the crowd.
Covid-19 regulations had seen the protest limited to 100 citizens, but this number was quickly exceeded as numerous people joined the march to hand over a memorandum of demands.
Police had opted to deploy these measures to prevent the crowd from reaching the perimeter of the school.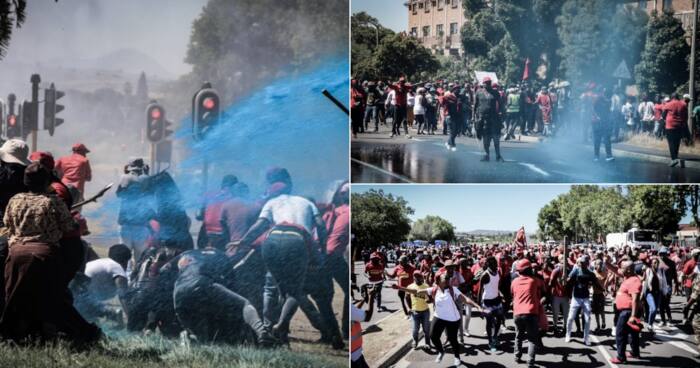 The Cape Party had also attempted to protest in support of students, parents and teachers but had been told to leave as their gathering was deemed illegal due to a lack of a permit.
The party claims that police officials are afraid of white South Africans, taking to social media to comment that:
"The reality is that the police in our country are scared of white thugs and terrorists who continuously undermine Black people. This will come to an end! It's as simple as that!"
Despite the police stepping in, the party is adamant that it remains determined to see the protest through to the end:
"We joined this struggle knowing that it is either death or prison. We are not shaken. We are prepared to die in defense of our rights, in defence of our democracy."
Earlier, Briefly.co.za reported that the EFF had staged a peaceful protest in response to outrage over a matric party that had been viewed as racial segregation.
The protest had turned violent when residents and parents had confronted the EFF party, prompting outrage and a number of arrests.
While citizens were disturbed over claims that the party had been hosted by the school, Western Cape officials had made it clear this was not the case.
Enjoyed reading our story? Download BRIEFLY's news app on Google Play now and stay up-to-date with major South African news!
Source: Briefly.co.za