- The DA leader John Steenhuisen did not mince his words when he called the ANC government "dead weight"
- He claims that South Africa would be better off with the DA in charge and that the ANC has dragged the country down
- Steenhuisen said that the Western Cape is an example of what the rest of the country would look like under DA control
PAY ATTENTION: Click "See First" under the "Following" tab to see Briefly.co.za News on your News Feed!
John Steenhuisen, the newly elected leader of the Democratic Alliance has given a speech today for the Western Cape DA provincial congress.
In his speech, he highlights the success of the DA and the improvements to education and healthcare.
He also refers to the ANC led government as "dead weight" which is dragging the country down.
"That deadweight is our corrupt and incapable national government, hell-bent on centralising more and more control in the corrupt and incapable state."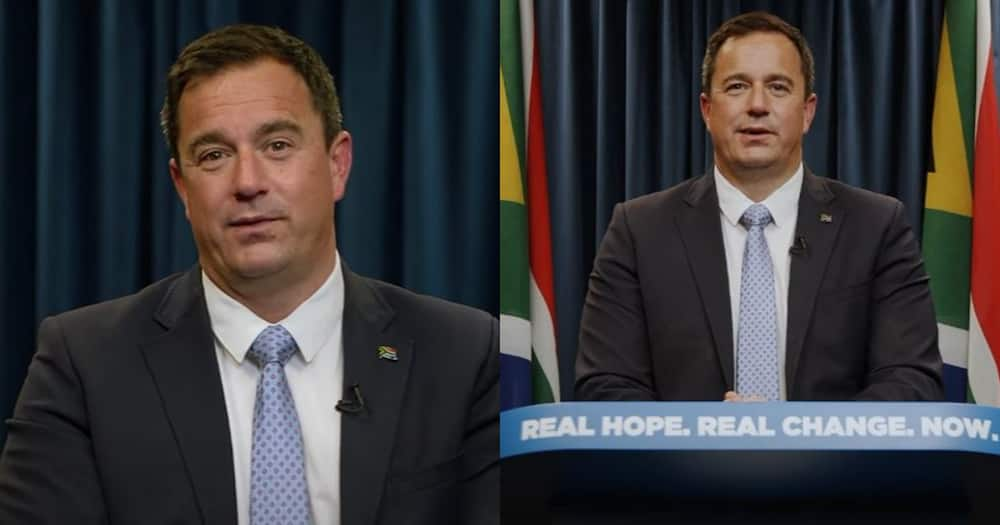 Steenhuisen believes that with a DA-led government that South Africa would be an in better place.
"Just think how much faster and further we could have travelled down the road had the DA been in national government. Poverty could have been eradicated, to have a job could have been a personal choice for people, not some 'geluk', a matter of luck... informal settlements could have been a thing of the past."
He used the Western Cape as an example of what the rest of the country would look like under DA rule.
Earlier, Briefly.co.za reported that t was Martin Luther King, Jr who made the impassioned plea in his famous speech that one-day people could be judged by the content of their character rather than the colour of their skin.
The DA leader, John Steenhuisen, asked South Africa to do the same. He answered questions during a virtual meeting, one of which was about him being a white male and weather that makes him a suitable leader for the party.
He asked South Africans not to judge him by his skin colour, adding that this is what apartheid did - judged people based solely on the colour of their skin. He instead said that he could chose to step aside and do nothing or do everything within his power to address the inequalities created by South Africa's racist past.
Enjoyed reading our story? Download BRIEFLY's news app on Google Play now and stay up-to-date with major South African news!