Homeless farmers turn misfortune into success and land supply contract
- A group of homeless men from Durban who started a farm during SA's lockdown have been awarded a big contract
- The innovative bunch will be supplying a giant grocery chain store with vegetables and fruit to be sold to the public
- The men have all expressed their happiness about being given the opportunity to become even more established as farmers
PAY ATTENTION: Click "See First" under the "Following" tab to see Briefly.co.za News on your News Feed!
While many were sitting back hopelessly during the nationwide lockdown, a group of homeless Durban men decided to sit up and start a vegetable garden to feed themselves. Soon the garden was large and prosperous - not only a source of food but also a source of income for the men, who spent their days nurturing the seeds they planted.
Now their dedication and commitment to their garden have paid off massively. The innovative homeless men have been turned into working-class businessmen after receiving a huge contract to supply vegetables to Boxer Superstores.
According to reports, they will be supplying Boxer with spinach, tomatoes and peppers; it is a bright start for the men, who started off their farm only hoping to feed themselves during a hard time.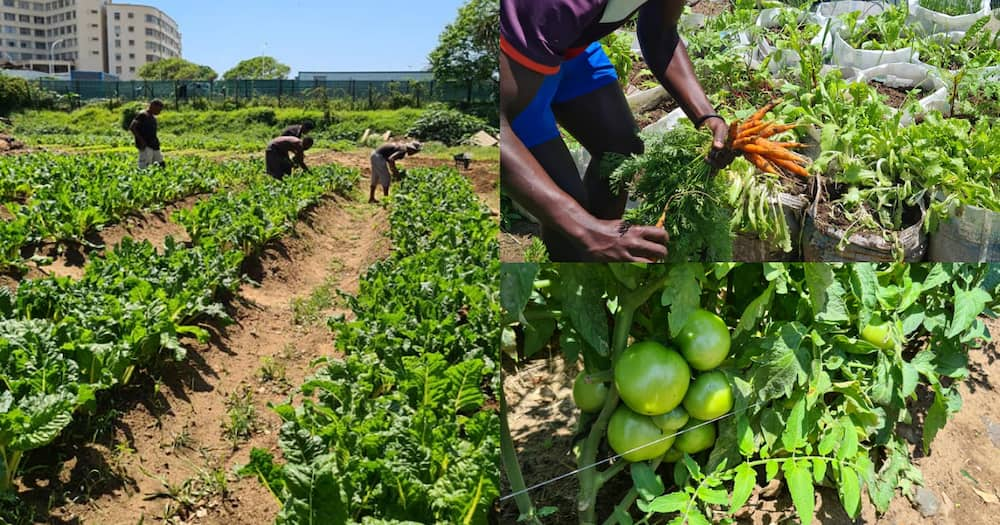 Sizwe Mbatha, one of the gardeners, said in an IOL article:
"We are very excited because we never thought that within a few months we would get a deal like this, it doesn't happen all the time."
Meanwhile, Boxer has expressed excitement at working with the farmers and will also be donating much-needed equipment such as more seedlings, boots and cleaning products.
Earlier this year, Briefly.co.za reported that if there is one good thing that came from South Africa's lengthy lockdown, it is that people learned how to find a way to survive when it seemed like there was no way. This group of homeless men from KwaZulu-Natal, Durban recently proved this to be true.
The men, who had survived from begging and scavenging for food in the street, found themselves wondering where they would find something to eat since the people they usually counted on were no longer out and about.
This is when one of the homeless men, who is a Zimbabwean national, decided to put his farming skills to use by teaching his fellow homeless men how to farm. Together they decided to grow their own vegetable garden, which is now pretty much a small-scale farm.
Journalist and author Sue Derwent recently stopped by the farm to make a purchase and she was left nothing short of impressed by the men's innovation and determination, even encouraging others to head down to the farm and show some support.
Enjoyed reading our story? Download BRIEFLY's news app on Google Play now and stay up-to-date with major South African news!
Source: Briefly News