- Foreign nationals are once again in the spotlight amid an unemployment crisis in South Africa
- Foreign truck drivers were issued with a warning to vacate their jobs or face mass protests
- The same issue was facing foreign shop owners with calls for them to close down
PAY ATTENTION: Click "See First" under the "Following" tab to see Briefly.co.za News on your News Feed!
Foreign truck drivers have been issued with an ultimatum, either vacate jobs or face mass disruptions.
The All Truck Drivers Foundation is adamant that the industry should employ nothing less than 100% local drivers.
Over 500 members joined the Umkhonto we Sizwe Military Veterans Association and unemployed citizens to protest against foreigners being employed by the industry.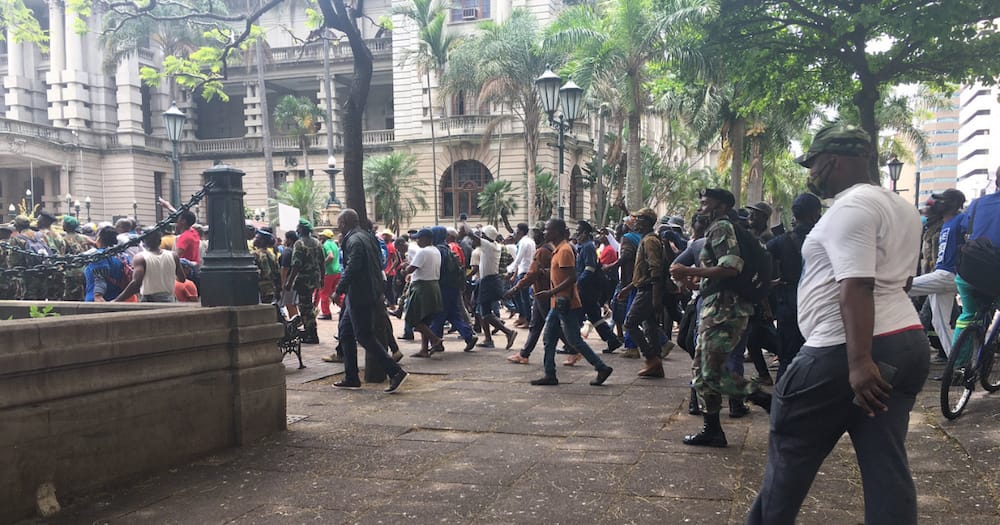 The protestors managed to shut down the Durban Harbour, closing all terminal gates leading to the location.
The memorandum handed over called for South Africans to be employed over their foreign counterparts:
"The foreign registration trucks must be driven by foreign truck drivers, as happens in other countries such as Namibia. This must be implemented as from December 1. Enough is enough."
The MKMVA's Zibuse Cele feels that the state should implement laws that favour locals, accusing foreigners of stealing jobs:
"In all private companies and government departments, we want locals to be given first priority. We have a high number of unemployed graduates and truck drivers in this country, and they need jobs."
Shop owners were also targeted during the protest, with the MKMVA calling once more for the closure of shops that aren't owned by locals.
The association insists that foreign nationals are a corruptive force, adamant that all 'social ills' will end when they have been expelled from SA.
Earlier, Briefly.co.za reported that the MKMVA shut down businesses owned by foreign nationals earlier this month.
The group insists that businesses near The Workshop shopping centre should allow citizens to occupy the busy area.
The association 'removed' foreign nationals who sold merchandise that 'does not bring value to this country'.
Zibuse Cele made it clear that the group only wants South African traders in the lucrative area:
"People who will sell traditional pieces like ubuhlalu [beads] things of Zulu heritage, because we do not want people to forget their customs."
Enjoyed reading our story? Download BRIEFLY's news app on Google Play now and stay up-to-date with major South African news!