- Julius Malema and AfriForum will once again square off in court after the civil rights group laid charges
- AfriForum has confirmed that it has successfully filed several cases against the Economic Freedom Fighter leader
- This comes after Malema received widespread criticism for his comments against police officials
PAY ATTENTION: Click "See First" under the "Following" tab to see Briefly.co.za News on your News Feed!
AfriForum has confirmed that it has filed several cases against Red Beret boss Julius Malema.
This comes after the EFF leader prompted outrage with his call for supporters to 'fight with police officers in their homes'.
AfriForum has now revealed that it has lodged three separate criminal charges against Malema over these controversial comments.
The group will now be pursuing a charge of libel, a charge of conspiracy to incite violence and a charge of assault by means of threats.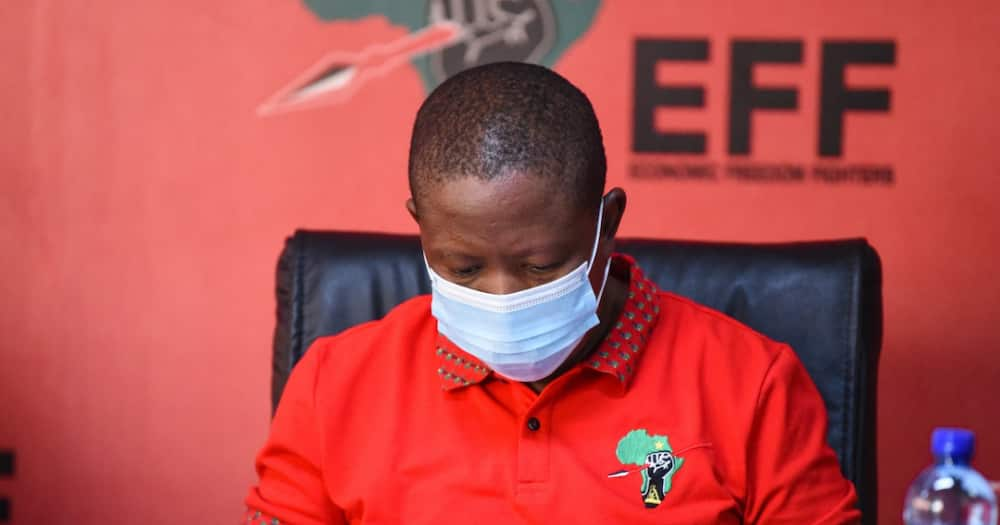 The group released a statement on Wednesday after trade union Solidarity expressed its support for the legal battle.
1 000 Police officers have reportedly lodged complaints with the group, approaching it with concerns over the remarks.
Ernst Roets, Head of Policy for AfriForum, insists that the case must show Malema that he is 'not about the law':
"Today, we lodged criminal charges of libel, conspiracy to incite violence, and assault by means of threats at the Lyttelton police station against Julius Malema, leader of the EFF. It is clear that Malema still believes that he is above the law."
Roets feels that the reason why Malema feels comfortable making these remarks is because thus far there have been no consequences for the EFF leader:
"The reason why Malema makes these remarks in the first place is that to date there have been no consequences for all the previous incidents where he openly incited violence. If the police do not take this matter with the necessary seriousness, Malema will see it as a confirmation that he is indeed above the law."
Earlier, Briefly.co.za reported that Police Minister Bheki Cele has lashed out with disgust at Economic Freedom Fighter leader Julius Malema.
In a statement issued by the SA Police Service in the matter, Malema's call for an attack on police officers was labelled as reckless, irresponsible and dangerous.
Cele assured the nation that the situation will not be taken lightly, adamant that Malema crossed the line:
"I think the EFF leader has crossed the line, you are not going to threaten the police and think they will just fold their arms. The job of the police is clear and is prescribed in the Constitution, which is to protect, prevent, combat and investigate crime."
Enjoyed reading our story? Download BRIEFLY's news app on Google Play now and stay up-to-date with major South African news!