Cassper Nyovest shares an adorable picture of himself with baby Khotso
- Cassper Nyovest took to social media to share a sweet photo of himself carrying his baby son, Khotso
- The rapper was kissing his little guy on the cheek and both were wearing co-ordinated outfits of white and beige
- Fans loved the photo and took to the comments to chat about the father-son duo and also discuss the hat Cass was wearing in the pic
PAY ATTENTION: Click "See First" under the "Following" tab to see Briefly.co.za News on your News Feed!
Cassper Nyovest has shared a cute picture of his little son, Khotso, with his social media followers.
The rapper posted the picture of himself holding his little guy and Mufasa and Simba were wearing matching outfits.
Fans thought the picture was adorable and discussed everything from who they think Khotso resembles to the clothes the father-son duo were wearing.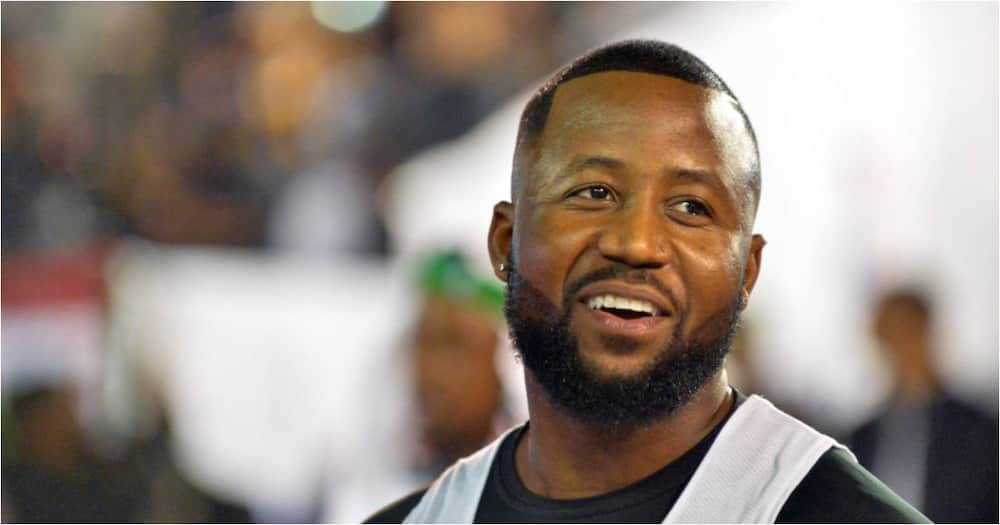 Some fans decided to play detective and check out the price of the Gucci hat that Cass is wearing in the photo. It turns out that it retails for around $590:
@Patrice_ZA: "R8 900 ya batho ba phela Mo lifing."
@Iambrucemash: "Researches already done. The hat costs R8 900."
Others thought they could already tell that the little Simba takes after his dad and wrote:
@Andani_kumbani: "He definitely looks like you, he's growing too fast man."
@AlinahSoetsang: "He looks just like you - especially his cheeks."
Briefly.co.za reported on Cassper asking his fans about their #CassperTopTen so that they sent him rankings of their favourite songs of Cass's from over the years. Any music enthusiast knows that it's a tough decision to have to pick favourites, but that's exactly what Cassper Nyovest asked his fans to do when he took to social media.
The Any Minute Now hitmaker went onto Twitter to ask fans of his work to rank their 10 favourites and compile a #CassperTopTen.
It turned out that fans were prepared for the question and rapidly replied with their lists of songs that Cass has released over the years. Cassper's tweet got around 2 000 likes and stans of the rapper responded with their #CassperTopTen confidently and were able to compare theirs with others.
Here are just two examples:
User @Rapzee11's list went: 1.Doc Shebeleza 2.Baby Girl 3. Malome 4. Egyptian Cotton 5. Gusheshe 6. Remote control 7. Phumakim 8.428 to LA 9. MIMI 10. Amademoni
User @allankaboyo_'s faves were: 1. Doc Shebeleza will always be my number one because it led me to you 2.Destiny 3.To whom it may concern 4.Malome 5. Ghetto 6. Amen 7. Superman 8. Dust to Dust 9. Baby Girl 10.Tito Mboweni
Briefly.co.za also reported on Nando's sending a hilarious reply to the #CassperTopTen. Nando's is no stranger to a joke, and Mzansi has them to thank for their latest funny moment as they tweeted a response to Cassper Nyovest. Cass had previously posted the tweet that asked fans to rank their #CassperTopTen, which was their favourite songs from all his work.
Nando's decided that this was the perfect time to jump into the conversation and reply to the tweet.
Nando's responded:
"Heh ndithi "I just copped a quarter chicken at Nando's Fire 428 To LA ft Casey Veggies"
Fans clearly loved the Nando's response as they liked the tweet and added their own replies to the fun:
@nthato_cibi1: "I once said it will be lit @NandosSA respond"
@qhawe_romeo: "@NandosSA Drops the mic"
@blkniga_: "I just hope & wish that the person running this account is paid well, nje!"
@bassyballz: "Nando's doesn't have beef with anyone they hate it so much that they don't even keep it at their stores haha"
Source: Briefly.co.za