The Fergusons: Shona Ferguson shares how he deals with negativity
- Shona Ferguson took to Instagram to drop some wisdom on his followers about dealing with negativity
- The media mogul posted some advice to his profile about how he manages to protect his peace from the haters
- Fans and followers took to the comments to add their own thoughts on Shona's words
PAY ATTENTION: Click "See First" under the "Following" tab to see Briefly.co.za News on your News Feed!
Shona Ferguson took to social media to share some wisdom on dealing with negativity and protecting his peace.
The media mogul took to Instagram to pen a quick message explaining how he cuts off people who jeopardise or disturb the balance in his life.
Fans took to the comments and most of them agreed with 'Uncle Shona' about the fact that people who disrupt one's life do not deserve to be in it.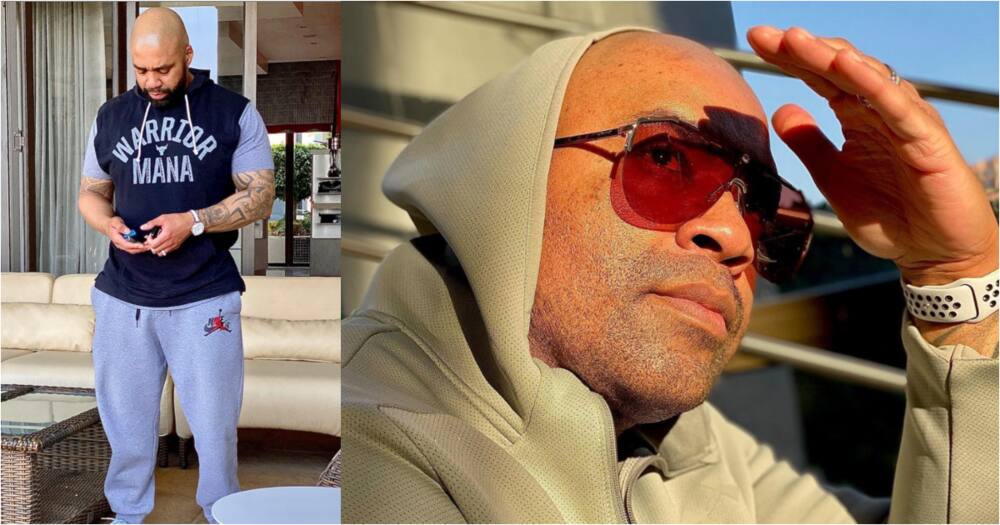 Read some of the followers' thoughts below:
zinzivelelo: Protect your peace at all costs!!!!
neroesjke_ : "walk away from anything that does not give your soul peace"
theycallhermoo: "I like that, say it loud please"
christian_mugisho_mitima: "I wish there is a double like button to this one"
Briefly.co.za previously reported on Connie and Shona's trailer for Kings of Joburg and how fans reacted to the news of the show and what they said in their social media comments about it.
Shona and Connie Ferguson recently announced that Ferguson Films' latest project, Kings of Joburg, will be released on Netflix. Shona dropped the trailer on his Twitter account and fans reacted immediately.
Supporters were complimentary and voiced how excited they were for the show to come out. Some commenters were not that keen. Tweeps decided to respond with memes, jokes and criticism that mostly centred around Kings of Joburg starring actors that fans know the Fergusons have collaborated with before.
Arguments broke out on the platform as people heatedly discussed the couple's company employing performers that they have worked with multiple times.
There were some users who thought it hilarious that tweeps were getting worked up. Saying that Connie and Shona were allowed to do whatever they wanted with their money and that people needed to stop being entitled.
Others argued that the audience's view matters because that is who will be watching the show and determining its popularity.
There were also those who said that Twitter users would get loud about not supporting the show and then watch it eagerly as soon as it gets released. One user responded by saying that criticism is important in order to improve:
@PeeloveNxumalo: "Hau of course we want them to continue prospering. Criticism doesn't mean we want their business to burn to the ground. They must still collect their coins but just improve."
Mostly, tweeps were salty about the fact that they wouldn't be seeing that many new faces on the show.
Enjoyed reading our story? Download BRIEFLY's news app on Google Play now and stay up-to-date with major South African news!
Source: Briefly.co.za