The postponement of SONA 2018 shook the country, but perhaps the decision was for the best, considering the drama that took place at last year's SONA.
Briefly.co.za takes a look at the top 5 memorable moments that made the 2017 SONA a fiasco.
PAY ATTENTION: Click "See First" under the "Following" tab to see Briefly.co.za News on your News Feed!
1. Restricted media
It's fair to say that when government begins censoring the media, there are problems in leadership.
The South African National Editors Forum (Sanef) expressed outrage over the intimidation of journalists covering the president's address.
Sanef called on Parliament's political and administrative leadership to seriously reconsider and review the progressive "heightening of security measures and securitisation" at Parliament.
2. Violence
Parliamentary service officers and members of the Economic Freedom Fighters (EFF) came to blows when the Speaker of Parliament Baleka Mbete ordered the officers to evict the EFF MPs.
As security men dragged the EFF members from the National Assembly they fought back, with some MPs using their trademark hard hats as weapons.
READ ALSO: Group claiming to represent ANC and SACP say Zuma is SA's Mugabe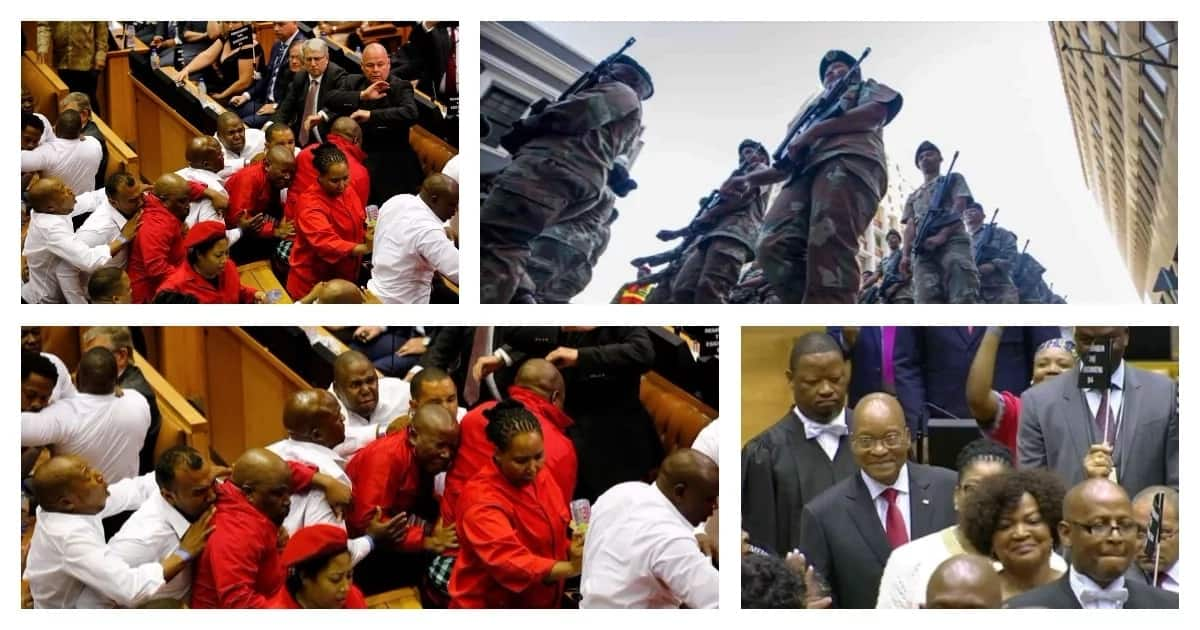 3. Climate of intimidation
Members of the South African Police Service (SAPS), South African National Defence Force (SANDF), and State Security Agency (SSA) including heavily armed military police, were present and on duty inside Parliament.
Their presence created a volatile feeling of intimidation.
4. Democratic Alliance (DA) members left
South Africa's major opposition party, the DA, decided to walk out of the 2017 SONA proceedings.
Speaking outside the venue, leader of the DA, Mmusi Maimane said, "The ANC has suspended the Constitution…Baleka (Mbete) has collapsed this Parliament into a department of the Zuma administration."
5. Zuma's amusement
President Jacob Zuma's was either nervous or amused when the EFF clashed with security. His laugh could be heard over the commotion.
EFF members chanted 'tsotsi' and 'Khwezi' while governing party members chanted 'ANC' as Zuma entered the house.
READ ALSO: ANC's Chicco Twala and Winnie Mandela's EFF niece in house row
Do you think the ANC can avoid a repeat of the events at 2017's SONA? Let us know on our Facebook page and we could feature your story.
To stay up to date with the latest news, download our news app on Google Play or iTunes today.
Source: Briefly.co.za