Haibo: Mpumalanga MEC encourages having multiple lovers to travel more
- Mpumalanga's MEC for Economic Development and Tourism insinuated that people should have multiple partners so they can travel more
- Guests were in shock and jeered at the MEC's comments, he tried to retract his statement
- Mzansi social media users reacted with one saying that if polygamy is legal in the country then what he is saying is not wrong
PAY ATTENTION: Click "See First" under the "Following" tab to see Briefly.co.za News on your News Feed!
Pat Ngomane, the MEC for Economic Development and Tourism encouraged people to have multiple lovers so that they can travel some more. He made these comments in Mbombela on Sunday, speaking at a domestic tourism campaign.
"Even your boyfriends. Visit them at tourism facilities. If you have one try to have two visits... you're promoting domestic tourism," said Ngomane.
His comments were not well received by the audience and he tried to explain his stance even further:
"I didn't mean that you must have multiple partners, but have one partner and more friends so that you can visit them because by doing that you will be promoting domestic tourism."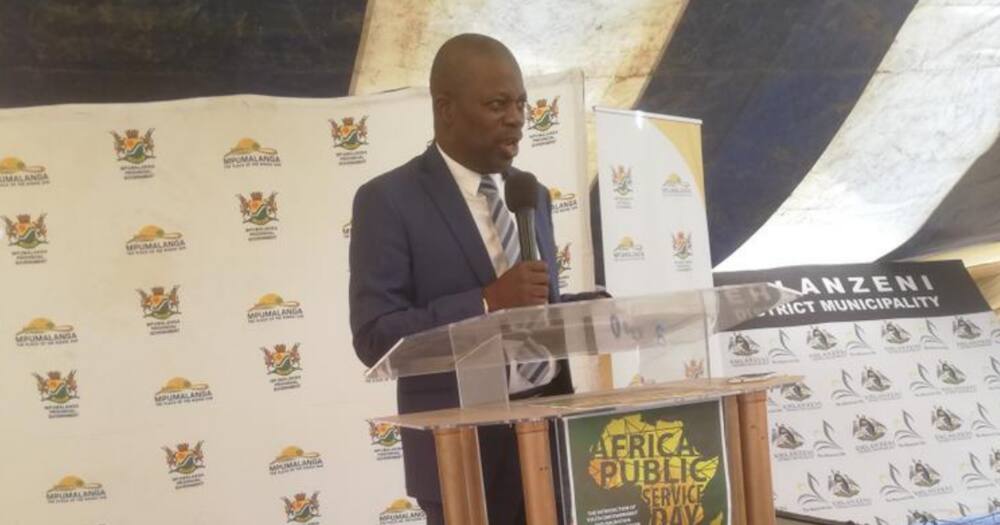 He also said that he wasn't really encouraging cheating because he has one wife and ten friends.
Here's how some Mzansi social media users reacted to the MEC's "advice":
@hlubizer said: "Somehow, we still think we'll achieve HIV/Aids free generation while still have so-called leaders with this level of reasoning."
@TumiDM1 said: "Many people do not think of serial betrayal and entitlement to extramarital affairs as abuse. Withholding finances and making a wife carry the financial burden of a household on their own because the husband is funding a philandering lifestyle is painful and is emotional abuse."
@homulanimav said: "Man was just joking, don't blame him for your dry sense of humor. He continued and said it's just a joke."
@V3ry_Offensiv3 commented: "He's not wrong in saying that... As long as polygamy is still legal in the country, there is nothing wrong with what he's saying."
In other news, Briefly.co.za previously reported that a holiday robbery at a hotel even has Fikile Mbalula in shock. @jabzKay shared the horrific incident she experienced while on holiday. @jabzKay was on holiday in Muldersdrift when her cars got broken into.
According to @jabzKay, there are three gates before you get into the hotel's premises. She went on to say that nobody had heard or seen anything leading up to the incident. Reception had also not seen or heard anything as well.
The shock that this could happen in a gated premises reached many South Africans, including Minister of Transport Fikile Mbalula.
Enjoyed reading our story? Download BRIEFLY's news app on Google Play now and stay up-to-date with major South African news!
Source: Briefly.co.za