Petrol attendant proud of his job, even if some people are rude
- A petrol attendant took to Twitter to explain that he was proud of his job but some people treat him unkindly
- He vented a bit that he didn't mind going above and beyond but would appreciate it people asked nicely
- He made a plea to Twitter users to treat him and his fellow attendants kindly
PAY ATTENTION: Click "See First" under the "Following" tab to see Briefly.co.za News on your News Feed!
Xingwangwa_Temperance, @XingwangwaT, a petrol attendant took to Twitter to let people know how proud he is of his job even though some people treat him unfairly.
He said despite being treated like he was useless, being shouted at and being expected to perform duties outside of his job description, he was proud of his job.
Here is his caption accompanied by some pics of him proudly standing in uniform:
"I am proudly a petrol attendant."
"But it's painful how people treat us sometimes, they are rude to us, treat us like we're sort of useless people, they hey shout at us, makes us check their tires pressure which is not part of our job description, make us check their oil and water."
He went further and added to his post and explained how he gets exploited at work and has to pay for customers petrol who drive away and even gets accused of overpouring petrol.
"Tell us to go and buy ice for them, and anything they desire from the shop. Sometimes they run away without paying and our salary gets deducted. Sometimes they refuse to pay saying that we over pored their petrol, and yet we remain patient to them."
He said that it is difficult to deal with the challenges but he needs to provide for his family.
"It's painful how we're treated and there are more challenges than you can think of in doing this job. At the end of the day you need to put food on the table, some of us are breadwinners, some need to pay school fees."
He finishes with a plea to customers to treat him and his fellow attendants with kindness.
"Doing all those is part of my job, I was just not given full information about my job. But customers should shout at us for such services, besides we always offer them. Whenever you need something please be kind to us. Thank you all."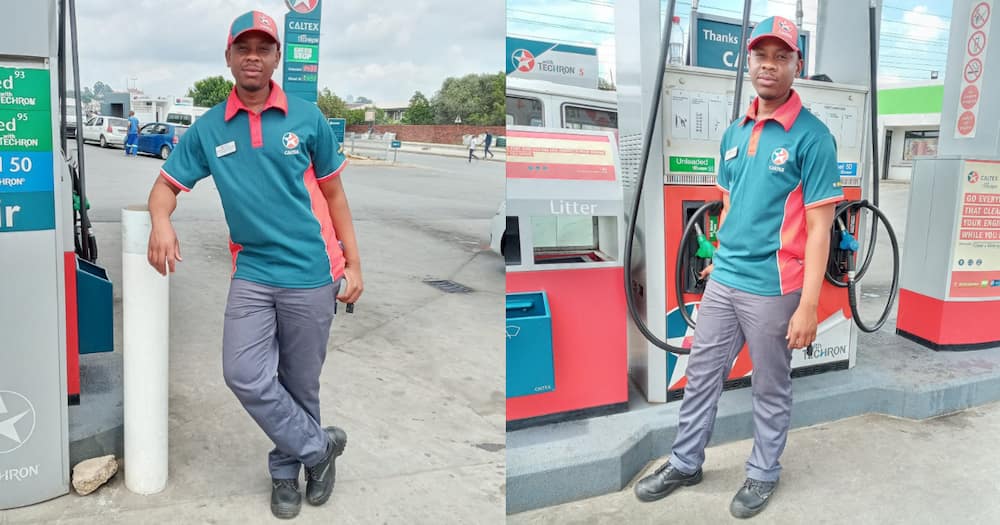 Here are some reactions to Xingwangwa's honest and moving post:
Some people said that he was just complaining.
@lerato_sethusa:
"I agree, all I hear is this guy complaining about tire pressure, and oil checks...if he's so unhappy, why not resign?"
@_WiseySA:
"The guy is not complaining...the only thing he wants is for customers to " assskkkssss" don't command as if u his boss or something."
"What's so difficult to understand that??"
@ThinkAfrica2063:
"They are also not obliged to go the extra mile. You are aware that Flag of South Africa is one of few places where you don't pour your own fuel pump. Wow, all the man was asking 4 was some respect & dignity. Anibaboni abantu"
@geezybeatz145:
"Never mind all the negative comments they're from people who just sit home and do nothing but spread negative energy around Twitter, you have a right to say anything you want to say (Freedom of Speech). Stay strong king, do your job it will get better with time."
Earlier, Briefly.co.za reported that @TharWTF took to social media to heap praise on a petrol attendant who didn't hesitate to help her and fixed her bumper.
Mzansi followed suite and heaped praise on the hardworking and helpful attendant, sharing their relations to the incident.
She captioned the post with the following:
"My bumper was falling and wow didn't they come through for me "
Enjoyed reading our story? Download BRIEFLY's news app on Google Play now and stay up-to-date with major South African news!
Source: Briefly.co.za