LootLove addresses Twitter troll after he posted body shaming comment
- LootLove recently took to Twitter to set a troll straight after he tried to body-shame her post-pregnancy body
- In a now-deleted tweet, the troll zoomed in on a picture that LootLove had posted and mocked the star about her skin not being tight after having had 2 kids
- LootLove came back with an effective clapback and fans loved how she stopped the body-shaming troll in his tracks
PAY ATTENTION: Click "See First" under the "Following" tab to see Briefly.co.za News on your News Feed!
LootLove was swift and effective in clapping back and educating a troll after he mocked her post-pregnancy body.
The troll had zoomed into one of LootLove's pictures that she had posted from a weekend with friends. The zoom was in order to focus on the area around her belly button and mock LootLove about her skin not being tight after having had two kids.
In the now-deleted tweet, the troll managed to body-shame and mom-shame in 2020 and Lootlove was not here for it. She responded by explaining that moms' bodies grow life and that they change during pregnancy to accommodate for growing a human.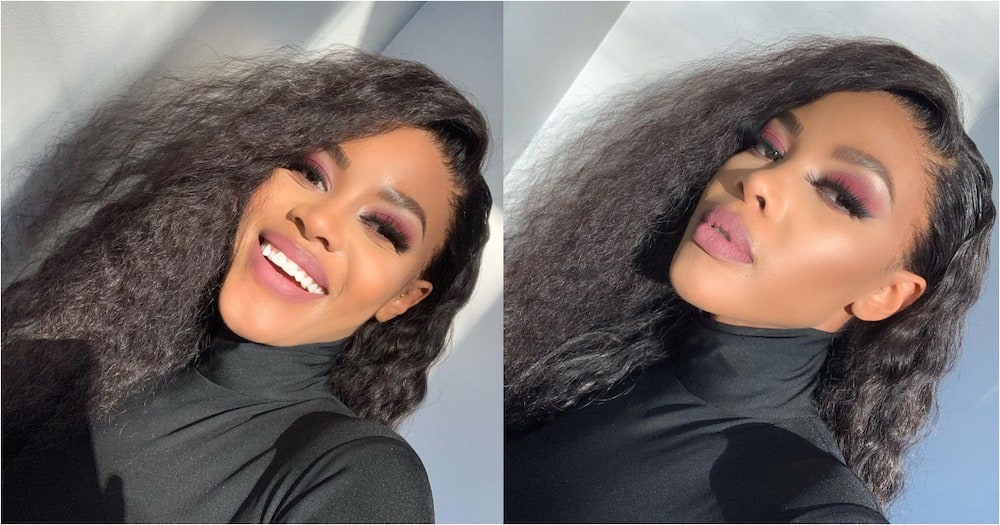 LootLove ended the troll's negativity and said that moms are taught to be insecure about their post-pregnancy bodies but that Loot refused to do so.
Tweeps applauded her response and took to the comments to add their takes:
@Khensi_Mal: "There are entire industries profiting off of our insecurities so f** 'em and just do you and keep soaring. You and your body beeeeeeeeeeeeeeeeeeeeeeen banging. Do you babes!
@KaywitzSello: "Only childish fools will ask such nonsense."
@sibolelo12: "This person went out of their way to zoom in on your stomach...yhuu haaa!!!...it does not get any lower than that shem."
@SiphoMotloung4: "Loot you are stunning and even more majestic for bring life into this world"
Briefly.co.za reported on how Busiswa dealt with a body-shaming troll earlier in the year.
With all the negativity swirling online people often advise against responding to haters who are just around to antagonise. But sometimes trolls cross the line and they need to be dealt with.
Busiswa recently found herself dealing with a troll after participating in the popular internet challenge "How it started vs How it's going". The star posted a pig's head before and after she had cooked it.
A random hater decided that this was the perfect opportunity to comment on Busiswa's body. He wrote in a comment on the post: "Uzobuyela to your old body futh".
Busiswa was not going to let that slide. The singer clapped back swiftly and, instead of stooping to the troll's level, just told him off.
"Don't stress yourself about my body, young man. No matter how tempted you are, don't do that."
Busiswa's fans loved how she dealt with the hater and told her so in the comments. One user wrote:
@leekadube: "My apologies on his behalf sis @busiswaah. Such men really shame us, actually such humans shame the species. Good response too, l like how you remain polite in rebuke."
Briefly.co.za also reported on when Jessica Nkosi was recently upset by some internet trolls who chose to body-shame her over an Instagram post she made. The post jokingly referred to how Jessica would have loved to be hanging at the gym with her trainer but that, in a very 2020 fashion, she was instead at home in her bed.
Internet trolls then took the opportunity to comment on how Jessica's body looked in the pictures and tried to shame her for her appearance. Jessica was not here for the hate and negativity and addressed the haters head-on, then blocked them for good measure.
Jessica's Instagram story is no longer available but was quoted as saying:
"The vile, mean, horrible things people say though. I'm very happy about the block button. Kodwa nje (But) it really does hurt. Like why would you attack me about my body?"
She continued her response by saying she knows what she looks like and people must mind their own business and worry about themselves:
"I know my body, trust me I look at it every day, and I live in it. Manje wena (Now you) feel a need to point stuff out as if I do not know. SMH. Just live your life. I actually really do not want to hear your negativity here."
It is strange that in 2020 people are still looking to feel better about themselves by tearing down others. Jessica was right in saying people need to deal with their own negativity and take it elsewhere.
Enjoyed reading our story? Download BRIEFLY's news app on Google Play now and stay up-to-date with major South African news!
Source: Briefly.co.za