Rita Ora pays R200 000 fine after knowingly violating British lockdown
- Singer Rita Ora reportedly paid a £10 000 (R200 000) fine for intentionally violating British lockdown rules
- The rules were instated as the country tries to slow another Covid-19 spike and the singer allegedly paid the fine so she could celebrate her 30th birthday party
- Rita apologised but folks took to the comments of Twitter and Instagram to accuse the singer of using her privilege and putting others at risk
PAY ATTENTION: Click "See First" under the "Following" tab to see Briefly.co.za News on your News Feed!
Rita Ora, the singer and actress, has apologised after reports surfaced that she paid a £10 000 fine so she could intentionally violate British lockdown rules.
The star allegedly paid the fine, which amounts to more than R200 000, in order to hold her 30th birthday celebration with all her guests.
Britain had implemented another lockdown as the winter season indicated another Covid-19 spike and citizens were asked to stay home and isolate as much as possible.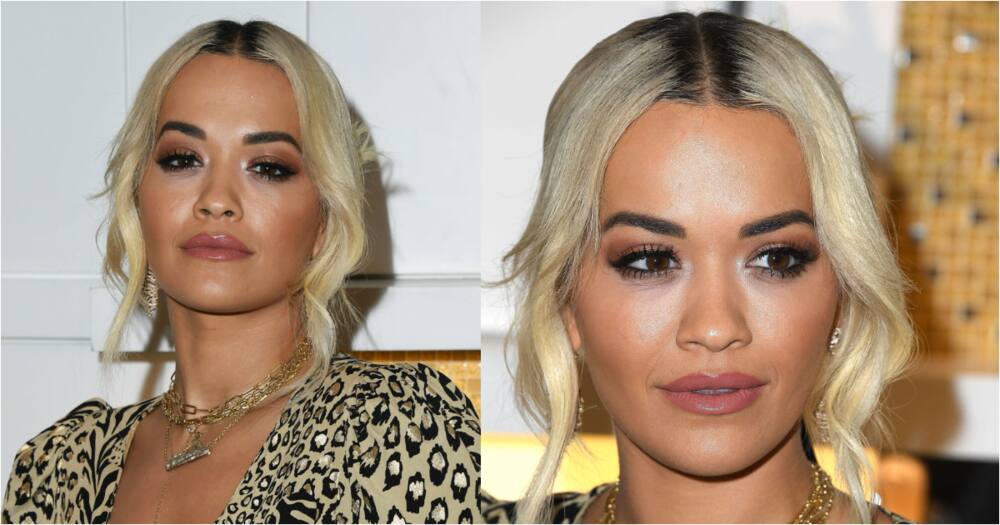 Online commenters got wind of the situation and peeps were not impressed. Many accused the singer of using her privilege to get her way with no regard to others or their health and safety.
Rita apologised on her Instagram story where she said that the party was "spur of the moment" and that she "thought this would be ok". She ended her apology with:
"I'm deeply sorry for breaking the rules and in turn understand that this puts people at risk. This was a serious and inexcusable error of judgement. Given the restrictions, I realise how irresponsible these actions were and I take full responsibility."
People did not think that she was being genuine and took to the comments to vent:
@TazF_R: "I'm so fed up with reading about celebrities breaking lockdown rules. I haven't seen my family since august, but Rita Ora can throw a party and have 30 plus people there. Shows that money means a different kind of lockdown for some."
@JM11NGM: "I turned 30 this year during lockdown too Rita, do you know what I did? I spent the day on my own in my apartment, not seeing a soul. Shameful behaviour from you."
Briefly.co.za previously reported on rapper Cardi B getting called irresponsible after hosting a large holiday gathering to celebrate Thanksgiving.
Cardi B took to social media to send an apology to those she offended after tweets surfaced of the rapper hosting a Thanksgiving gathering with 37 people. Cardi originally tweeted, "12kids and 25 adults over the holidays.It was lit !!", which got her called out for being irresponsible after American citizens were advised not to travel or have large parties over the Thanksgiving holiday.
The Bodak Yellow rapper came under fire for flouting Covid suggestions and tweeted her apology saying she did not mean to offend. Even apologising got her a mixed reaction as some were in favour of her enjoying her family time and others found her actions potentially harmful.
Cardi said that she got everyone tested but, as many followers pointed out, the tests are not perfectly accurate and still require isolation in case of false negatives. Some commenters found it tone-deaf that Cardi would brag about an enormous Thanksgiving when so many people could not be with their families over the period.
Fans were divided about the rapper's apology as some replies said Cardi was entitled to do whatever she wanted and others argued that actions have consequences:
@Ali92588244: "Chica chica you boasting quite often about this and that. Having this and that! Doing this and that! Not following this and that. Disappointing to say the very least. Hope no one at your larger gathering ends up sick. That will be on your conscience. If you have one"
@dkizl608: "Hope you keep this same energy when people end up losing their life. Just because you are rich doesn't make you better, just because you can spend money on getting everyone tested. Most of us are missing our families, losing our loved ones because we care for others, unlike you"
@OliciaKing: "Stop apologizing. You have been following protocols and people would do the same if they could. Some of these people didn't spend the holidays with their family before COVID."
@AquariusThough4: "I'm so TIRED of people making people feel bad about the fact that they have money to care for their family ,and do things they would definitely do if they were in the same position! I know I would if I could. Don't worry Cardi some of us don't let everything offend us"
Enjoyed reading our story? Download BRIEFLY's news app on Google Play now and stay up-to-date with major South African news!
Source: Briefly.co.za