- Two couples got married to the love of their lives, in their 60s
- Neither of the brides had been married before, and it took them years before they tied the knot with their husbands
- Both couples agree that love like theirs is worth waiting for
PAY ATTENTION: Click "See First" under the "Following" tab to see Briefly.co.za News on your News Feed!
Rhonda Joy McLean-Craig (65), and Mona Terrell (62), have just said "I do" for the first time. The two women married their partners after 60 years of being independent and single.
For Rhonda, meeting William "Bill" Craig (71), was instant attraction. She was 44, he was 51, when they met at church, but for two years they didn't interact until a mutual friend formally introduced them in 1999.
After that, it was a slow and steady courtship to the altar, as Bill had been married twice before and wasn't in a hurry to repeat the experience.
For her part, Rhonda was fiercely independent and had made a name for herself in New York, as the first black female attorney at a private firm. She worked her way up to deputy general counsel of Time Inc., the parent company of Essence.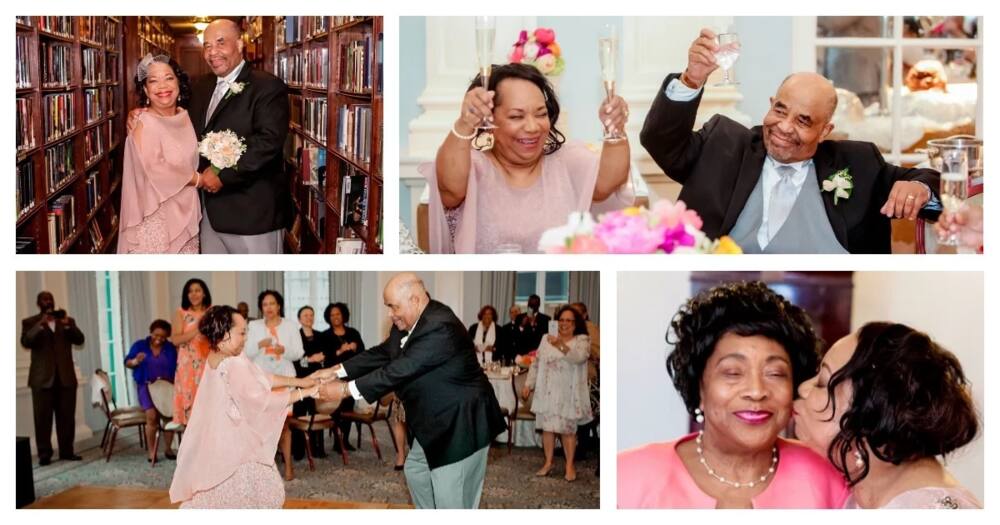 "I realized some time ago that I wanted to make us "official" and proposed several times," Bill said. Rhonda would agree but they never made plans, until last spring.
"It was a quiet conversation after dinner, sitting out on the deck that he had built at his Brooklyn house. That time, the question felt different and so did my answer."
A month later the two exchanged vows at The Yale Club of New York City.
Briefly.co.za learned Rhonda's 91-year-old mother, was the matron of honour.
READ ALSO: Maps Maponyane is on the map with a shiny new Merc G-wagen!
The couple kept the guest list to 80, inviting friends they'd known for at least 20 years.
"He surprised me with a poem he wrote in the 1980's. There wasn't a dry eye in the place. Since then he calls me 'wifey.'"
Mona Terrell met husband Nate Wallace (65), at a leadership conference. The two became friends, although they lived 130 kilometres apart.
"We met at a leadership conference. I'm a research scientist and normally don't attend. I happened to go because it was in my area," the divorced father of three said.
"When I met Nate, I'd kissed enough frogs. In our convo we both were trying not to brag about our kids," Mona laughed. "Turns out that one of his sons attended the same college as my daughter. We realized we had a lot in common."
"It was nice to meet someone who understood the things that I was going through, especially with the kids. Mona was even giving me dating advice," Nate said.
As things progressed, Mona found herself eagerly anticipating their conversations, and sharing her troubles.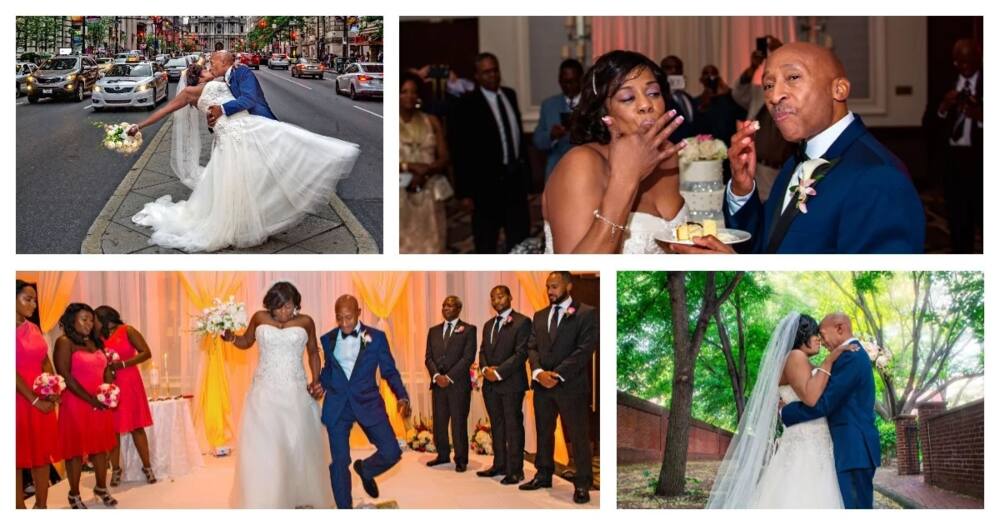 "At the time I was having a health challenge. No one knew, but I decided to tell him." After months of talking, e-mailing and texting, the friends finally reconnected in person for dinner at Mona's favourite restaurant in New Jersey.
"I was attracted to his spirit, strength, and smile. After that date, I said, 'Sorry, I can't help you with your other relationship anymore because I really like you.'"
8 months later, Nate asked Mona to be in a committed relationship.
"That was the defining difference. He asked to be with me versus letting it just morph."
After 12 years, Nate realised he and Mona were in it for the long haul.
"I started thinking, Mona always wanted to be married. I knew this was a woman I could grow with."
"As we passed the jewelry store, he said, 'Let's look at rings.' I thought, Yeah, right, and sat while he looked. He found one and asked me to put it on. We left and continued shopping.
"Later he said he wanted to return to the jewelry store. He proposed to me right there. He'd had the ring sized while we had been shopping. I almost fell out," Mona said of their engagement.
Almost a year later, Mona's 93-year-old mother, Zoma, walked her down the aisle on May 20, 2017.
"From the first date, I wanted this man to be a part of my life," Mona said. "My grandmother used to tell me, 'The heart is like a magnet. You get what you call for.'"
READ ALSO: Dad's kids give him one last chance to be a runaway groom, but love wins
What are your thoughts on love at first sight? Let us know on our Facebook page and we could feature your story.
To stay up to date with the latest news, download our news app on Google Play or iTunes today.