Jessica Nkosi speaks out against gender based violence with a poem
- Jessica Nkosi took to social media to add her voice to the 16 Days of Activism campaign with a poem against gender-based violence
- The actress recorded herself reciting the poem and did her make-up to resemble that of a bruised and beaten face
- Jessica's piece called for an end to the silence and shame that prevents victims from coming forward about their abuse
PAY ATTENTION: Click "See First" under the "Following" tab to see Briefly.co.za News on your News Feed!
Jessica Nkosi has written a poem as part of her participation in the 16 Days of Activism campaign which challenges the violence perpetrated against women and girls.
The actress took to Twitter to share a video of herself reciting the poem and pleading for the silence and shame that surrounds GBV to end.
Jessica had added make-up to her face to give the appearance of being bruised and beaten to drive the message of her poem home.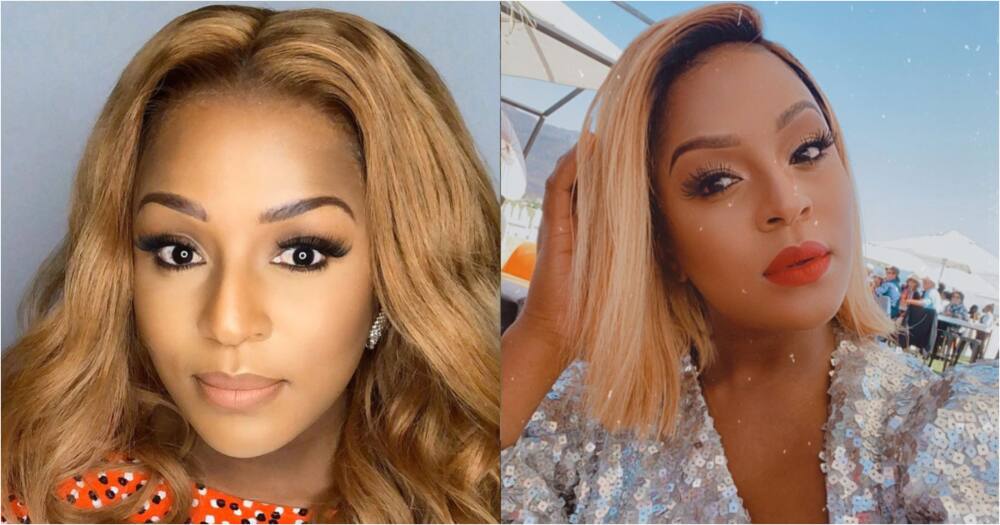 Reports of gender-based violence have increased over the course of 2020 due to the pandemic forcing more people to stay home.
Part of Jessica's poem said:
"I plead to break the silence around gender-based violence. I will break the silence with my words that are my deeds that scream stop! No matter where I am or who I am with until abuse has no place in this land."
Jessica's caption added that she had taken the pledge at POWA, the organisation of People Against Women Abuse, and that she promised to break the silence in order to support victims of abuse and report any that she sees:
"I will cry out for each and every woman until not one more falls to the silent pandemic. I will not fall silent ever again!"
Briefly.co.za recently reported on Unathi addressing men who don't call out other men when they are committing acts of gender-based violence.
Unathi Nkayi, like many other South Africans, is tired of men being complacent when it comes to gender-based violence. Some believe that choosing to say nothing is just as bad as committing the act. Gender-based violence is a huge problem in Mzansi and something that many feel is not being given the attention it deserves. Unathi has spoken out many times on the issue and refuses to keep quiet about it until action is taken.
Taking to social media, Unathi let the men who are protecting other men know that they are as guilty as the perpetrators themselves. Unathi went in hard and reminded these men that women close to them, maybe even their daughters, could be faced with violent men. Facts like these hit hard.
"This spoke to me in both ways......there are so many AMAZING men I know.......and many not so AMAZING. BUT allow me to keep it to ONE specific theme.......Your SILENCE is so LOUD."
Unathi reminded those keeping quiet that nothing good comes from it.
"So as I leave you with the reminder that BAD things happen when good people keep quiet."
The star also tried to drive her message home by using the example of men being examples for their children and how those who perpetuate the cycle of violence are cowards:
"MAY your daughters NEVER meet guys like YOU coz she'll see you for the COWARD you really are and that would SHATTER her world"
Enjoyed reading our story? Download BRIEFLY's news app on Google Play now and stay up-to-date with major South African news!
Source: Briefly.co.za