Phumzile Van Damme furious after Steenhuisen approves unwanted break
- Drama is once again brewing within the Democratic Alliance this week
- Leader John Steenhuisen has placed Phumzile Van Damme on a sabbatical
- Only problem is that Van Damme didn't request it and she now plans to challenge it
PAY ATTENTION: Click "See First" under the "Following" tab to see Briefly.co.za News on your News Feed!
Drama has unfolded in the public's eye after internal Democratic Alliance issues played out on social media.
A furious Phumzile Van Damme has come out, guns blazing, after party leader John Steenhuisen granted her a sabbatical:
"I have been informed by the Federal Leader of the DA John Steenhuisen that he is granting me a sabbatical. I didn't request it. He merely informed me. I could walk away, but I choose to stay, and challenge it on principle."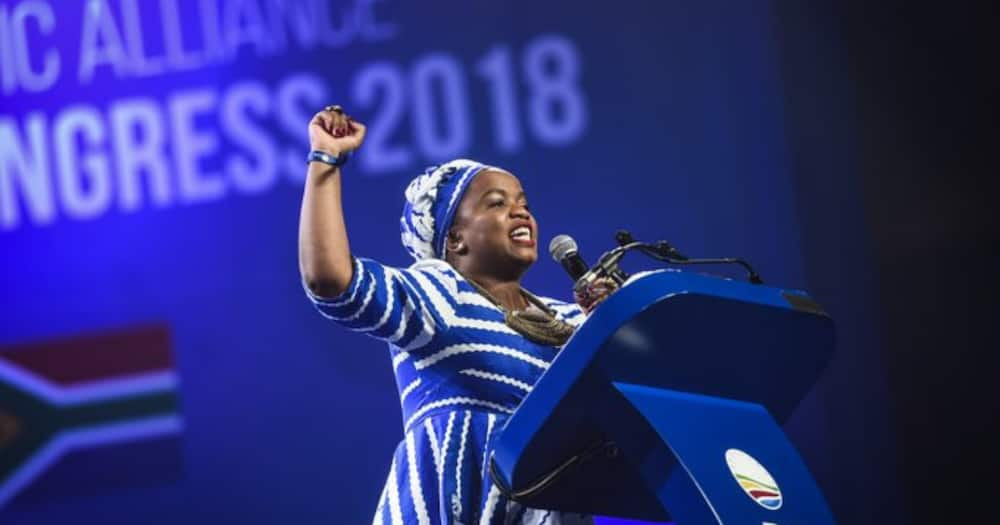 Van Damme insists that she had been honest about being sick, revealing that she had been on leave for 3 months:
"I've been open about being sick. I've been on sick leave for 3 months, ending 15 Dec. I informed the Chief Whip, I'd still focus on my committee work while on sick leave. I disclosed my illness even though I didn't need to. So it is being used against me to sideline me."
Despite this lengthy gap, Van Damme is adamant that she had not failed to perform her duties:
"Did I drop the ball while I was sick? No. Even when I was sick, like I do when I am well, did I still outperform many of my colleagues? Yes. I asked for no sabbatical. I determine my health. My Drs determine my health. Not my employer."
The outburst has earned some rather unsympathetic responses from citizens after Phumzile started trending on social media.
Many felt that Steenhuisen's actions were in line with what would be seen in the corporate world and that Van Damme was expecting special treatment.
Others seemed to feel that the politician was a victim of a crusade to remove her colleagues from the party.
Take a look at a number of responses from social media below:
Earlier, Briefly.co.za reported that Phumzile Van Damme, DA MP and Shadow Minister of Communications and Digital Technologies, says that she discovered the contents of the report concerning internal charges against her after a media report on the matter.
A riled Van Damme says that she has found out all details relating to the issue from external sources and not the party itself:
"What a fascinating story in the Sunday Times today about the DA "purge," wherein I for the first time find out the contents of the report I will be charged on. I've found almost all details about this saga in the press. Not Fedex nor FLC has had the decency to inform me first. We are led."
Enjoyed reading our story? Download BRIEFLY's news app on Google Play now and stay up-to-date with major South African news!
Source: Briefly.co.za