Good Samaritans help stranded lady after her car breaks down
- Vanessa Moura Labuschagne went into a panic when her car broke down on the highway
- A car with four men in stopped near her, she was afraid at first but it turned out that they wanted to help
- They organised a tough truck and made sure she was safe while they waited
PAY ATTENTION: Click "See First" under the "Following" tab to see Briefly.co.za News on your News Feed!
Vanessa Moura Labuschagne took to Facebook to share her amazing story about how four strangers saved the day after her car broke down on the N17.
She was still 30 km from home and was stressed about being a woman stranded on the highway.
It was with some trepidation when she saw a car with four men in stop but she was relieved when the offered to help.
Upon inspection, the car was beyond a simple fix and a workshop was needed, she was about to call a towtruck when the men said they had already asked a friend and he was on the way.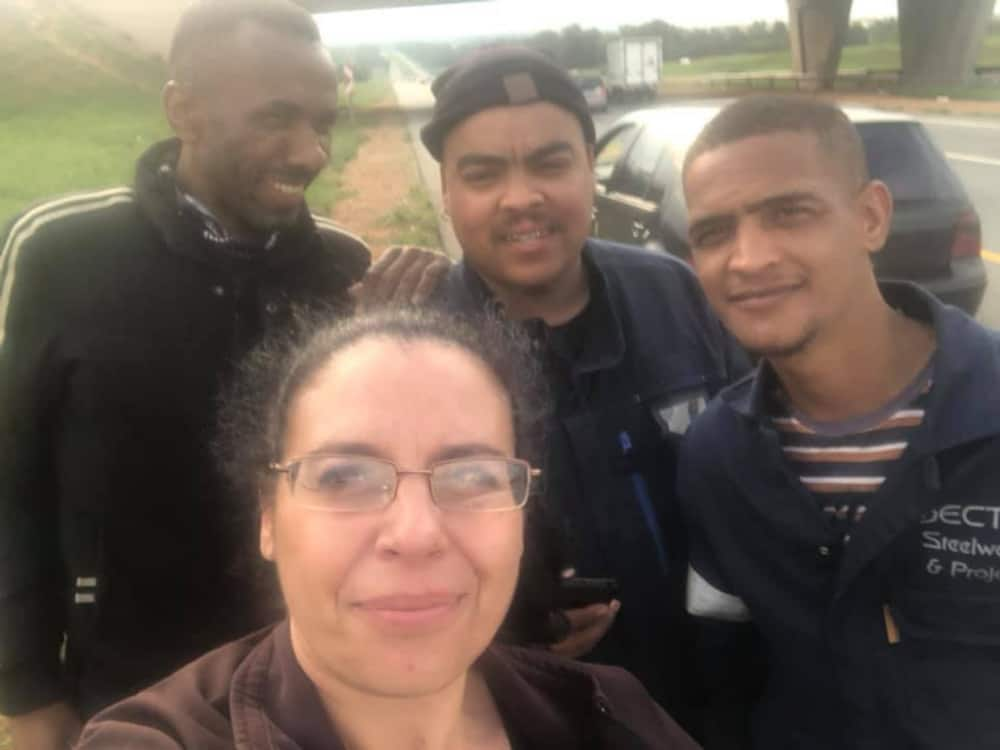 They stayed with her while waiting for the tow truck and chatted with. They asked her to make sure to let them know that she made it home safe.
Faith in humanity restored. She posted her story in the #ImStaying group on Facebook.
"Today I had my #Imstaying moment. My car decided it no longer wants to work right in the N17 highway and good 30 km away from home and it was getting dark. Everyone I called couldn't help me and I had to resort to waving at cars zooming by. "
"After only about 2 min a stunning Golf pulled up to me. I thought only for a second, 4 men in the car, I hope they don't hurt me, but really I was just so grateful that someone stopped to help me. My car was beyond a quick fix and eventually, I realised I would have to call a tow truck. "
"No, they were busy calling someone they knew already! They stayed and waited with me and kept me calm with light conversation."
"Even asking if I could let them know I got home safe. You guys rock! You are the reason people love SA! We are SA! Thank you so much guys, I will never forget what you did today."
"I got home safe and sound thanks to you "
Earlier, Briefly.co.za reported that birthdays are super special, especially for little ones who seem to love the magic associated with the day. Unfortunately, sometimes moms and dads can't always afford to make it as extra exciting as they like. A young SA mom, however, made the most of what she had - that is good friends and work colleagues.
Taking to Facebook, Dineo MaGatsheni shared a beautiful post in which she thanked her mother's colleagues for helping her pull off a simple yet heartwarming birthday celebration for her beautiful little girl.
"Such a good day ❤️ thank you to Mummy and Mumm's colleagues ❤️ my daughter really did enjoy it," she sweetly captioned the pictures of her child sitting near a table that was decorated with a cake and other sweet stuff.
Enjoyed reading our story? Download BRIEFLY's news app on Google Play now and stay up-to-date with major South African news!
Source: Briefly.co.za