Lady congratulates friend on 18 distinctions and graduating Cum Laude
- Tshego Gloria Bogatsu owes her friend Sershen Naidoo a lot, he helped her with her studies even though he was going through a lot
- He lost his dad in his final year at university but still managed to bag 18 distinctions and graduate Cum Laude
- Sershen obtained a Bachelor of Accounting degree and has a bright future ahead of him
PAY ATTENTION: Click "See First" under the "Following" tab to see Briefly.co.za News on your News Feed!
Tshego Gloria Bogatsu took to Facebook to celebrate the success of her friend, Sershen Naidoo, who performed amazingly at university.
She remarked that Sershen was simply born intelligent and most people envy those people but Tshego had seen another side of Sershen.
He was plagued with sleepless nights and tears about his results, worried that he would underperform.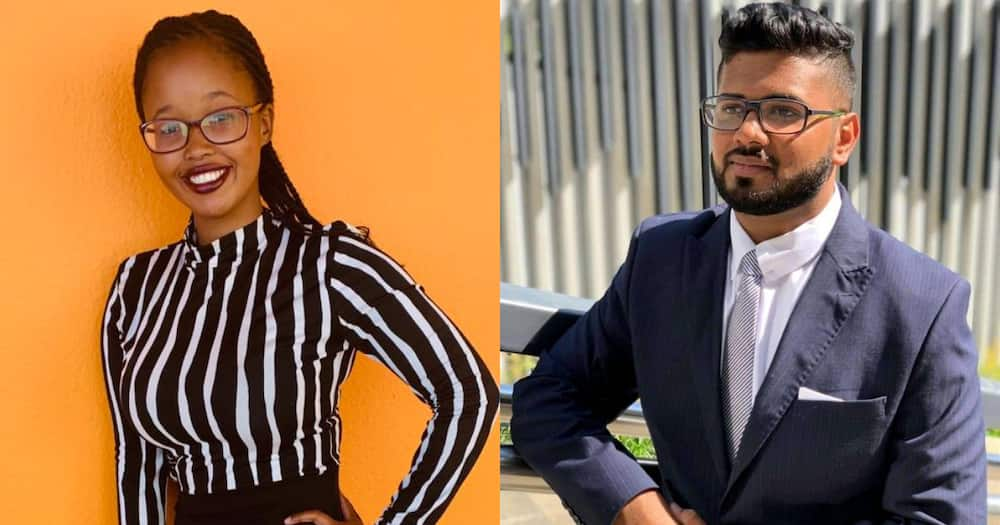 In his final year, he lost his dad, compounding his worries. Tshego considers him a true friend, because despite all this he made time to help her with his notes from class and voice notes and phone calls.
She reveals that he sacrificed a lot for her and taught her the power of being determined, being self-disciplined, being consistent in your work ethic and above all being resilient.
Sershen Naidoo graduated with 18 distinctions and obtained a Bachelor of Accounting (Cum Laude), all very well deserved.
Here is her full post in the #ImStaying group:
"8 MODULES, 18 DISTINCTIONS in Bachelor of Accounting at the University of Johannesburg! My friend, Sershen Naidoo did it ."
"When you look from the outside, you see someone who is just born intelligent. However behind the scenes, he has really been through the most. He has shared tears, he has had sleepless nights, he has had mixed emotions of his results and so much more. The worst was this year in his final year, he lost his father. So, he had to deal with the loss of his father while at the same time having to deal with the academic pressures of his final year through online learning which was not at all convenient for him. On the other hand, he managed to sacrifice some of his study time to assist me in understanding concepts through voice notes, phone calls etc. supplied me with his notes and a motivated me to keep going when I failed my modules. Right now I am progressing to my final year And he didn't just sacrifice his time for me but also for his mentees as well as other friends!"
"Therefore, I am sharing this with you all to let you know that there is power in being determined, being self-disciplined, being consistent in your work ethic and above all being resilient. That power is evident in my friend and so can it be in you! "
"Congratulations once again to you Sershen Naidoo for obtaining Bachelor of Accounting (Cum Laude). I am super proud of you and happy for you #imstaying #Imremainingpositive #Iminspired #Immotivated"
Earlier, Briefly.co.za reported that the matric class of 2020 are well into their final examinations and have received well wishes from many South African figures. Miss South Africa 2020 Shudufhadzo Musida is the latest to send her message in.
The 24-year-old commended the matric class of 2020 for their hard work and their role in preventing the spread of Covid-19. She stressed that celebrations should adhere to regulations set up by the government.
Miss SA went on to wish the matrics well for the remainder of the National Senior Certificate examinations. The video of her well wishes was shared by the Department of Basic Education on Twitter.
Enjoyed reading our story? Download BRIEFLY's news app on Google Play now and stay up-to-date with major South African news!
Source: Briefly.co.za