Halala: Friend repays kindness by funding him during university
- Mafefe Moloko took to Facebook to thank his friend Masilo Mabetoa
- Without him, he would not have graduated from university as he had lost his bursary
- Masilo helped fund Mafefe's studies and even bought him food, a true friend
PAY ATTENTION: Click "See First" under the "Following" tab to see Briefly.co.za News on your News Feed!
Mafefe Moloko took to Facebook and shared his story in the #ImStaying group. He revealed that his friend Masilo Mabetoa came to his rescue at university.
Without him, he would not have been able to stay at university because he could not afford the costs after he lost his bursary.
Masilo promised to help him if his bursary came through and when it did he kept his word.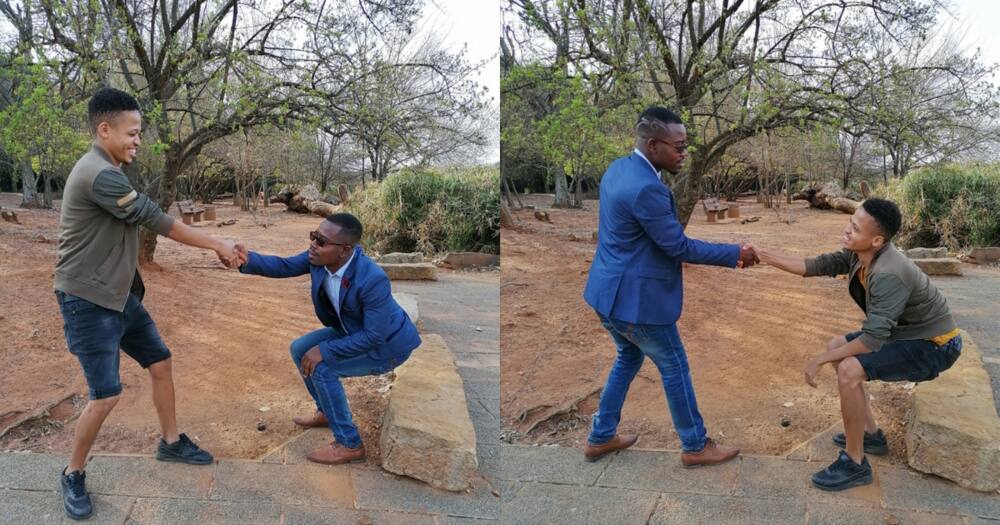 He promised to help Mafefe with food and paying for his studies. Mafefe completed his studies and is an Engineer in Training (EIT).
What is really amazing is that Masilo graduated with flying colours and completed his B.Eng (Civil) Honours degree.
Here is the full post:
"Stayers allow me to introduce to you, my Mentee, Masilo Mabetoa, who saved me from being financially excluded at University."
"I started teaching him Mathematics and Physical Science when he was in grade 10 (2013, during my gap year)."
"I then went to university in 2014 and we continued with the lessons during June and December holidays. Fast forward, he passed his matric with flying colours in 2015."
"Masilo stays just a few streets from mine, in a small Village called Sekonye in Limpopo."
"After obtaining his matric results he told me that he had applied to the same course as me (B.Eng Civil) at UP, Wits and UJ, but he wanted come to UJ because I was studying there. In simple terms he just wanted to be close to me because of my willingness to assist and discipline him."
"While in varsity, during his 2nd year, we decided to be room mates. The unfortunate part was that I had lost my bursary that same year."
"However, by God's grace he attained a bursary in the same year. What stood out the most for me was his act of humility towards me, he said to me, "General if this bursary gives me enough money I am going to help you pay your fees and buy food for us every month." And indeed his bursary came through and he gave me R10k in cash to help pay my fees; also he bought groceries every month just as he had promised. As if that was not enough, he went on to buy me a brand new smartphone (worth R5500) and a Bible for my Birthday."
"By God's grace, I completed my studies and I am currently an Engineer in Training (EIT). But that is not the good news for today."
"The good news is that he has just completed his B.Eng (Civil) Honours degree. To celebrate our achievements and the endeavours we have been through, we are planning to have a braai nyana with close friends and family on the 27 of December 2020."
"We took this picture on the 30th of August 2020 on his birthday. I drove from Limpopo to Johannesburg to show him the car I had recently bought (he had to drive it since it is ours)."
"That's why #Imstaying."
"Thobela."
Eaerlier, Briefly.co.za reported that Tshego Gloria Bogatsu took to Facebook to celebrate the success of her friend, Sershen Naidoo, who performed amazingly at university.
She remarked that Sershen was simply born intelligent and most people envy those people but Tshego had seen another side of Sershen.
He was plagued with sleepless nights and tears about his results, worried that he would underperform.
Sershen Naidoo graduated with 18 distinctions and obtained a Bachelor of Accounting (Cum Laude), all very well deserved.
Enjoyed reading our story? Download BRIEFLY's news app on Google Play now and stay up-to-date with major South African news!
Source: Briefly.co.za