President Trump's lawyer Rudy Giuliani tests positive for coronavirus
- Rudy Giuliani is the latest in President Trump's inner circle to contract the dreaded COVID-19
- Giuliani has been admitted to Georgetown University Medical Center where he is receiving treatment
- Reacting to the news,, the US president wished his lawyer a speedy recovery
PAY ATTENTION: Click "See First" under the "Following" tab to see Briefly.co.za News on your News Feed!
Controversial lawyer, Rudy Giuliani, has tested positive for the coronavirus. Giuliani who is President Donald Trump's lawyer is the latest in Trump's inner circle to contract the disease.
According to Time.com, the 76-year-old former New York mayor has been admitted to Georgetown University Medical Center in Washington.
Recall that Giuliani travelled extensively without wearing a mask to battleground states in an effort to help Trump change the election results through different litigations.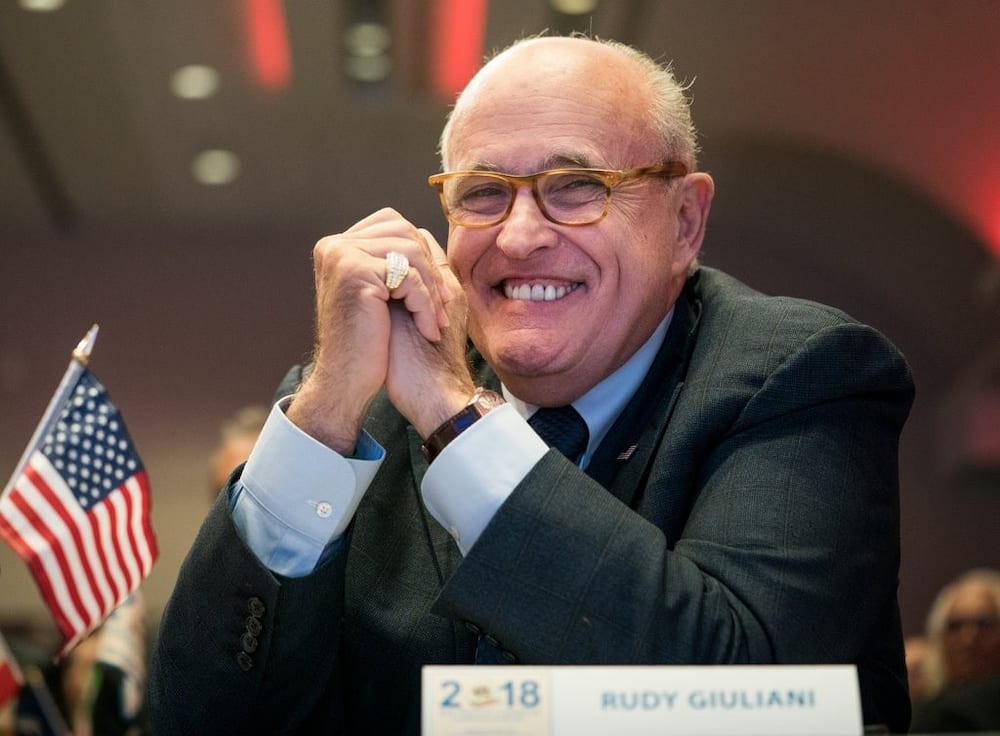 President Trump has also confirmed Giuliani's positive result when he tweeted on Sunday, December 6, wishing him a speedy recovery.
He wrote:
"Get better soon Rudy, we will carry on!!!"
Meanwhile, different reactions have greeted the news of Giuliani's positive coronavirus result. Many people have refused to be sympathetic to him for casting doubt, alongside the president, on the devastating effect of the novel disease.
Here are reactions from Facebook:
Royalene Gustafsson wrote:
"One would not wish Covid-19 on anyone. One can only hope that he will make a complete recovery. What is, however, unconscionable, is that, through his own personal choice of being so cavalier about adhering to the recommended protocols for Covid-19, such as face mask-wearing etc., he has, along with so many others, succumbed to this virulent disease. The greatest travesty and tragedy, is that, in taking this most foolhardy and cavalier approach, he would have, without doubt, been responsible for countless other innocent people's lives who have come within his extensive social orbit, and may well not be in a position to afford the same level of medical care that no doubt this person can."
Regardless, both he and the current POTUS and those within close cycle, have infected countless people by their dismissive, ignorant, arrogant and foolhardy stance.
Ralph Escalante also wrote:
"I hope he gets better but more importantly, I hope he learns from his mistakes, going around downplaying the seriousness of the situation is obviously not the type of thing a smart person would do. I hope he gets some kind of enlightenment from his experience so he can be indicted and prosecuted."
Laurie Maduscha added:
"All the while, our president has been silent on the surge in the virus and the damage to the economy. All we hear from him is about the nonexistent voter fraud. A selfish narcissist, con man and fool."
Yuhon Ho on his part noted:
"I know for sure he will tests positive for coronavirus one day, when he had closed contact with several people, and I have never seen him wearing a mask, that is what happened after being told to practice health safety."
Nicholas Chiodini also said:
"Sorry but at this point in the pandemic, anyone who denies its severity gets no sympathy. It's a shame the cult mentality will take so many lives, but it's a choice they're making at this point. He's spent the last 4 weeks endangering our democracy, and now we knows he's been endangering lives as well. A shell of his former self."
Meanwhile, a report by the New York Times indicates that President Trump's nonstop fund-raising in the month after his loss at the polls has seen his campaign team rake in $207.5million since.
Even in defeat, President Trump continued to raise money at some of the fastest rates of the year, the report noted.
The report further noted that Trump's campaign apparatus has continued to aggressively solicit donations.
Enjoyed reading our story? Download BRIEFLY's news app on Google Play now and stay up-to-date with major South African news!
Source: Briefly.co.za