"Dear Thembisa men, I've got nothing but respect for you," lady says
- A young South African lady recently took to Facebook to share an appreciation post with men from Thembisa
- In the post, she mentions all the things the hardworking Thembisa men do to provide for their families
- The post soon received thousands of likes and comments from people who joined in on thanking the hardworking Thembisa men
PAY ATTENTION: Click "See First" under the "Following" tab to see Briefly.co.za News on your News Feed!
A young South African lady, Christina M Mkansi recently took to Facebook's ImStaying group to share a post that was originally made by Lehlogonolo Mologadi Mathitja which commends Thembisa men for all the different things they do to provide for and look after their families.
"Dear men in Tembisa. I've got nothing but respect for you. Especially you who wake up at 4am to go clean at factories. You who scream all-day-everyday at the taxi rank selling cool time and airtime. You whose back aches every night from a full day of hard labour in the sun ko jarateng ya mlungu.
"You who stand all day with your tools holding a board written "Handy-man" at the corner leading to the "Burbs" hoping for someone to give you a piece job. More especially you who make ends meet for your mothers, siblings, wives and children with an income below the minimum wage.
"I've heard of how you wake up at 3am to go queue at the clinic so your women can get to the clinic at 6am and at least be at the door by 8 when it opens for your children's check-up.s I've heard of how your grocery list only has maize meal and eggs so your family can have rice and chicken on theirs."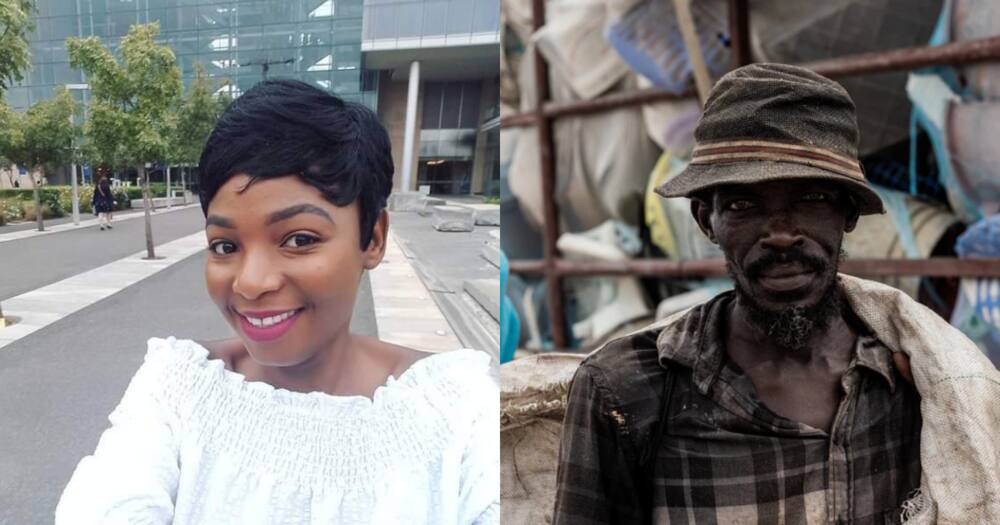 The long post continues as she lists all the things the hardworking men find themselves braving through to make ends meet. Soon it blew up, reaching over 2 000 likes. Speaking exclusively to Briefly.co.za Lehlogonolo had this to say:
"The inspiration behind the post came from seeing so many men walking/standing in the sun either coming from job hunting or a piece job without even a bottle of water as I drive back from work everyday and wondered if they are appreciated enough, I just wanted them to know that we see them and are proud of them.
"The post was also to give men courage and also encourage families to appreciate the men who are doing their best to provide for them no matter how hard it is. Good men still exist.
"As I speak I have had people who are willing to donate towards these men with Christmas hampers for them to share with their families, so far we have bought 11 hampers and more hampers will be appreciated and donated during the course of this week and next week mainly to the men who stand by Suburb corners with their tools looking for someone to just give them a day job," says Lehlogonolo.
Many locals also joined in on thanking the men. Read a few of their comments below.
Pearl Selane said:
"This made me cry so bad! Thank you for telling the story of all our hardworking men so beautifully! You wrote a masterpiece."
Cathrine Rista Cooper said:
"WOW! You guys have all my respect. Wish there could be more people like you guys."
In another touching Briefly.co.za news report, being disabled comes with a plethora of life difficulties but when one is equipped with determination, nothing can hold you back. A young SA lady recently proved this to be true after graduating.
Taking to her personal Twitter page, @Mia_Kes, who describes herself as the world's favourite amputee, recently shared pictures of herself in her graduation gown. Beneath the gown, Mia is wearing a lovely golden dress to celebrate the momentous occasion.
"A whole finance graduate," Mia captioned the inspirational Twitter post.
Enjoyed reading our story? Download BRIEFLY's news app on Google Play now and stay up-to-date with major South African news!
Source: Briefly.co.za