Booksie the Book Troll book exchange gets shut down, locals outraged
- A Cape Town book exchange initiative has been shut down following a complaint made by a lone neighbour
- The initiative saw people exchanging books and making book donations in book stands that were place around the Bothasig community
- While many loved the idea, one person did not, launching complaints with local law enforcement officials
PAY ATTENTION: Click "See First" under the "Following" tab to see Briefly.co.za News on your News Feed!
A lovely initiative was started in a Cape Town community, Bothasig, called Booksie the Book Troll which saw people without access to books finally have the chance to delve deep into the wonder that was a good read.
The initiative was started by Denise Riddle, an avid reader and obvious book lover. How it worked was that people would deposit and collect books out of book cupboards that were creatively decorated and placed on sidewalks for anyone interested in either getting a good read or exchanging/donating an old one.
"The project started on a whim and grew beyond our wildest expectations and we hope to see Booksies in all neighbourhoods, because you will find people who can't get to the library or afford books, and need this support desperately as a comfort during these difficult times."
While many adored the bright idea, a single person didn't, deciding to make complaints to local law enforcement officials subsequently shutting down the initiative - something Denise is unsure how to get around since getting a permit has been quite tough.
"When we started the project we investigated what permits we needed, but because it is an unusual project it came to a dead end. We were told to wait until someone complains about it and now that this has happened support from the councillor's side has essentially dried up.
"It is very frustrating to try and do something good during a time when the world is already in such a dark space and instead of receiving guidance from the City of Cape Town we are just being given the runaround," says a clearly exasperated Denise.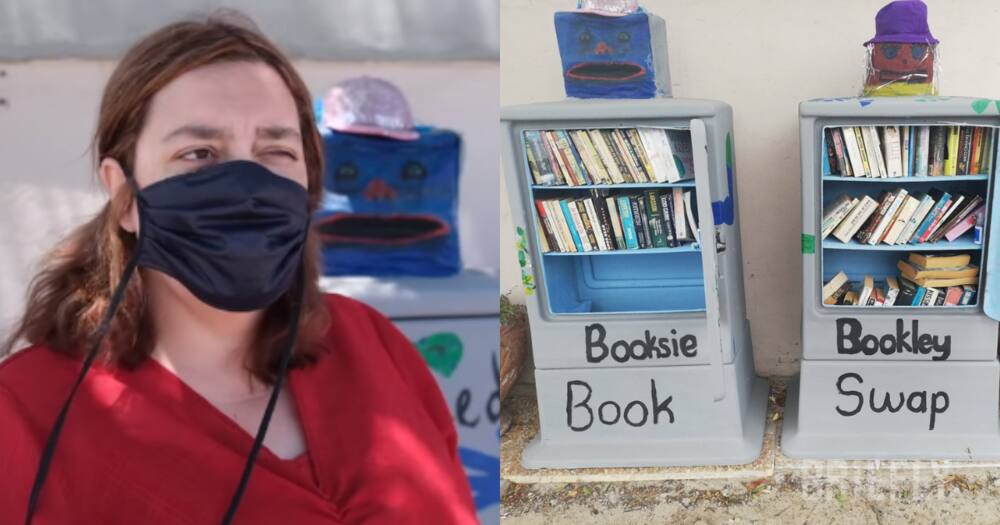 What could possibly be even more frustrating is the fact that many people actually loved the idea and found themselves benefiting from it greatly.
"Despite this immense support, it just took a lone complaint from a neighbour to put the project into this questionable situation. One person told me that if she hadn't been able to access our project during lockdown she wouldn't have made it through," says Denise.
Locals had this to say about the officials shutting down the book exchange:
Quentin Grey said:
"How sad, in Australia, it's normal every day stuff to have books exchanged in certain houses and areas that support and it is great for the community, no problems, only in SA."
Cassey Le Roux said:
"It should stay open."
Jackie Holtshousen van Eden said:
"Shame on the person who complained!! There are so many real issues that can be addressed yet you want to close down an initiative done to improve and assist the community."
In more lighthearted Briefly.co.za reports, the world is continuously evolving and so is Mzansi. A new app has recently hit the market which allows vehicle owners to purchase fuel from the comfort of their homes.
The app, which is called Refuel, works exactly the same as any other e-commerce business. Interested individuals download the app, register to use the app, and then proceed to make fuel purchases, which then get delivered by a Refuel truck to the location that was entered in the app during the purchase.
The bright idea is the brainchild of two men, Ricky Luntz and Craig Dogon, who started operating the business right before the nationwide lockdown. While the business is not available all around SA as yet, Johannesburg and Pretoria residents are lucky enough to have access to the convenient petrol delivery service.
Enjoyed reading our story? Download BRIEFLY's news app on Google Play now and stay up-to-date with major South African news!
Source: Briefly.co.za