- Following Zuma's resignation, the motion of no confidence scheduled for today has been cancelled
- Instead, the timeslot has been allocated to a Parliamentary election of a new President of the Republic of South Africa
- The majority expect the new president to be Cyril Ramaphosa, but opposition parties are considering putting forward their own candidates
PAY ATTENTION: Click "See First" under the "Following" tab to see Briefly.co.za News on your News Feed!
Before Jacob Zuma had tendered his immediate resignation, ANC chief whip Jackson Mthembu emailed MPs to inform them of Chief Justice Mogoeng Mogoeng's availability.
"The chief whip of the majority party has been informed by the Speaker [Baleka Mbete] that the chief justice is making himself available after the motion of no confidence to officiate in the election of the new president of South Africa. This item was scheduled for Friday morning. We are now moving it forward to Thursday afternoon or evening," the email read.
The motion of no confidence is no longer necessary, following Zuma's resignation, so Parliament will instead elect the man or woman who will replace him as the President.
Briefly.co.za learned the Agenda for the Parliament's National Assembly at 2 p.m. has been released, and the only item on the list is the election of a new president.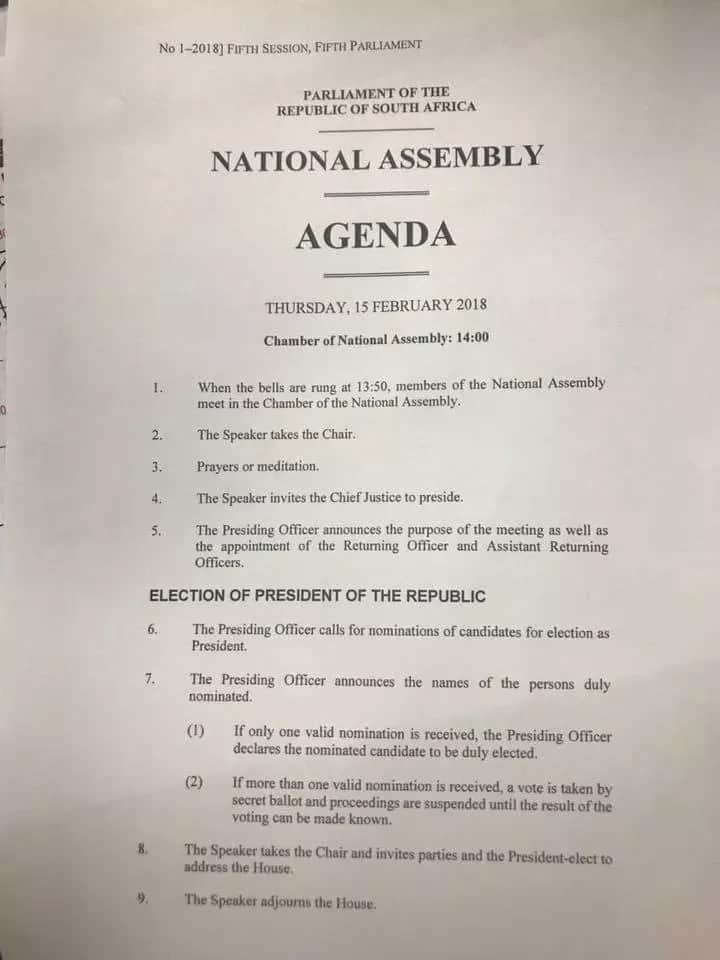 READ ALSO: Farewell Zuma, Hello Cyril: ANC urges members to usher in a new era
President Jacob Zuma resigned as leader of South Africa on Feburary 14, 2018, during a televised address to the nation.
DA chief whip John Steenhuisen said he thought, "the opposition was duty-bound" to offer up an alternative candidate to the ANC's expected nominee, current party president and state deputy president Cyril Ramaphosa.
Should this happen, he said, it would trigger a debate and then a secret ballot by MPs.
"What will be interesting to watch is what the Zuma faction of the ANC does. Will they do to their candidate what the party has done to Zuma? Will there be abstentions, or spoiled ballots, or will they cast their vote for an opposition candidate?" Steenhuisen said on Thursday morning.
However, the ANC statement accepting Zuma's resignation also called on its parliamentary members to cast their vote for Ramaphosa.
Once Parliament has elected a new President, the previously postponed State of the Nation address will most likely take place at the scheduled time of 7 p.m. on Friday.
READ ALSO: Happy Valentine's Day: Zuma's gift to the nation is his resignation
Do you have a story to share with us? Inbox us on our Facebook page and we could feature your story.
To stay up to date with the latest news, download our news app on Google Play or iTunes today.