Khloe Kardashian says no family Christmas Eve party due to Covid-19
- Khloe Kardashian took to Twitter to announce that the infamous Kardashian-Jenner Christmas Eve party would not be happening this year
- The celebrity was responding to fans online when she revealed that the family had decided to cancel the event for the first time since 1978
- Khloe revealed that the Covid-19 pandemic was the reason behind the decision and that the rising number of cases meant health and safety needed to be prioritised
PAY ATTENTION: Click "See First" under the "Following" tab to see Briefly.co.za News on your News Feed!
Khloe Kardashian announced that her family's renowned Christmas Eve party has been cancelled for the 2020 festive season.
The celebrity was on Twitter chatting to fans when she revealed that the famous family had taken the decision not to hold the party for the first time since 1978.
Khloe explained that the Covid-19 pandemic was to blame for the decision and that rising cases in their state of California meant that large gatherings would not be responsible in the current climate.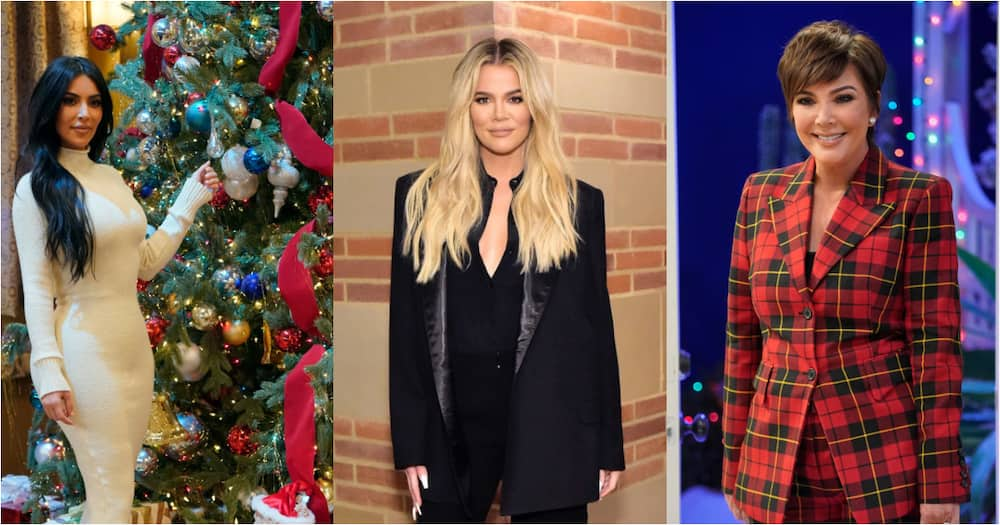 The pandemic's grip on the United States has tightened as the northern hemisphere goes through winter and the strain on the public health facilities worsens daily.
Fans of the reality show were disappointed to hear the news as the Christmas Eve party has been the source of much entertainment and drama over the years, but Khloe noted that health and safety were top priorities and that "taking this pandemic seriously is a must".
Khloe was asked whether the family had taken a Christmas picture yet and replied:
"We have not done anything. No Christmas photos and no Christmas Eve party this year. Covid has taken over."
Khloe responded to another disappointed fan:
"I am so over 2020! (Says everyone) Next year, our Christmas Eve party is going to be so f**ng fire! Covid better be gone by next Christmas."
More tweeps commented their thoughts with mixed reactions to the news:
@demidlove: "OMG. Can't believe this... of course there's nothing is more important than your and your family's health but man, NOT OUR CHRISTMAS PHOTOS, Covid has come too far."
@sanchezochoa_A: "Seriously? This is what you are so upset about? Not having damm Christmas Eve party? How must the families that lost loved ones feel about not celebrating ever again? Get a life!"
@Aussie_Kardash: "Yes Khloé!! We all must stick together to beat this pandemic. Australia has been doing okay so we are allowed our friends and family over for Christmas! So thankful."
@sTiNkCaKeS: "You guys went to Tahoe for three days while there is a travel ban. Quit acting like a f**g martyr. You're still doing whatever you want without a care in the world."
In other Kardashian-related news, Briefly.co.za recently reported on the family pulling a prank on a whole bunch of celebrities and sharing the hilarious reactions with their followers.
Kim Kardashian-West shared a rather odd but amusing prank her and the rest of her family pulled on a few fellow celebrities. If you know anything about the Kardashians and the Jenners, then you know they love a good prank.
Taking to social media, Kim posted a clip of her family FaceTiming a bunch of celebrities. It was no ordinary FaceTime though, the whole Kardashian and Jenner clan were just sitting there staring at the screen.
The called a bunch of celebs from Tyler The Creator, Dave Chappell, Jaden Smith, Jennifer Lawrence to even James Charles. The reactions these celebs gave are priceless. Kim lives for moments like these. Only the Kardashian-Jenner clan could pull off something like this, kante!
Fans took to the comment section to let Kim know which calls they found most amusing, some also let Kim know what they would do if they received the call from the entire Kardashian-Jenner clan.
Enjoyed reading our story? Download BRIEFLY's news app on Google Play now and stay up-to-date with major South African news!
Source: Briefly.co.za