From engineer to pilot: Woman is breaking boundaries in the sky
- Gonda Goulooze has managed to break the mould after securing her wildest dreams
- The stunning woman dreamt of becoming an engineer but needed to serve as a solider first
- Despite the difficult journey, Goulooze has reached her goal and her story is nothing short of inspiring
PAY ATTENTION: Click "See First" under the "Following" tab to see Briefly.co.za News on your News Feed!
By Farai Diza: Freelance journalist
Many people are afraid of pursuing their dreams because of financial constraints. But where there is a will, there is always a way. Some are born great, some achieve greatness and some have greatness thrust upon them.
This famous sentiment by revered playwright, poet and author William Shakespeare in his play Twelfth Night, are best used to describe Gonda Goulooze, who is flying high in the skies.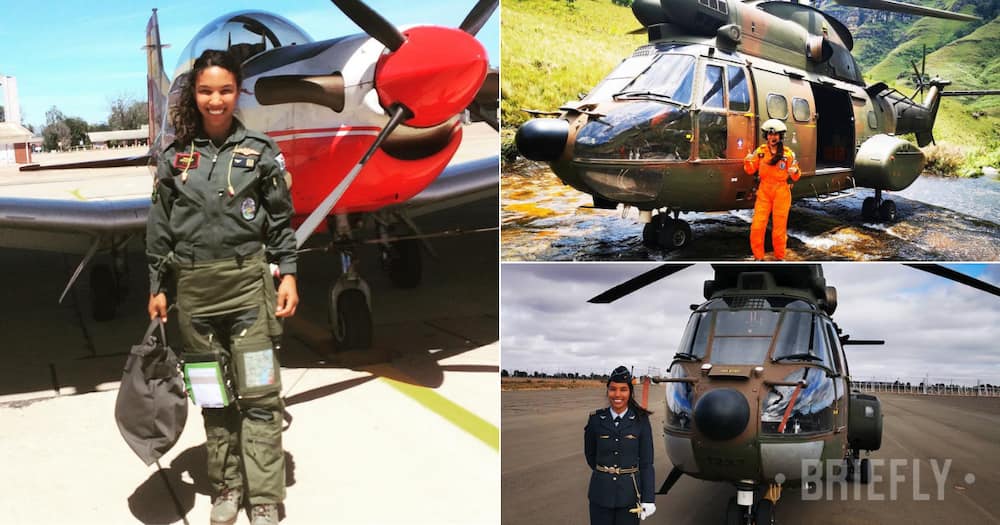 During her earlier childhood years, Goulooze never imagined she would ride in a plane one day. However, today she isn't just travelling in a plane, she is flying planes.
"I still can't believe I'm flying an Oryx! It's powerful and flies like a dream," she said.
In what can best be described as a case of determination meeting destiny, she moved from engineering to being seated in the cockpit.
Goulooze completed her matric with flying colours in 2008 and her dream was to become an engineer. Due to financial constraints, she decided to play the 'where there is a will there is a way' trump card.
"I applied to study engineering through the South African Airforce. But in order to obtain a bursary, I had to become a soldier first," she said.
Goulooze's amazing transition from being an engineer to being a pilot would not have been possible had she rested on her laurels and not joined the army. It was here she found the ticket to overcoming the financial challenges associated with obtaining a pilot's licence.
Her military training journey stretched her to the limits and after completing the basics, she enrolled for engineering.
She managed to beat 300 other hopefuls and in 2013 she obtained her B Eng in Mechanical Engineering from the University of Stellenbosch.
"As part of my bursary contract, I had to work in the Airforce for four years. I often went on flights and I thought it to be cool," she said.
Immersed by the beauty of the skies, Goulooze soon found out that she wanted to actually fly planes. She applied to become a pilot in 2015 and she was accepted at the Langebaan Airforce Base in 2016.
She graduated as a military pilot in 2017 and she has never looked back.
"Becoming a pilot takes a lot and the training was one of the toughest challenges I've ever gone through in life. Focusing on flying is all there is when you are in the cockpit. Flying a helicopter is more intense than handling a fixed wing aircraft."
"A lack of judgement can have dire consequences. You must think on your feet. A lot of lives are at stake. It's scary and it stays scary," she stressed.
Not many young people consider aviation as a career. With a pilot shortage looming, now is the time to encourage a more diverse group of young people to become the next generation of pilots. Goulooze is doing just that.
"I plan to use my success story to help inspire more young people - and girls in particular - to consider flying as a career," she stated.
As a military pilot, she is currently actively involved in tough search-and-rescue missions in mountainous areas. Goulooze also aired her views on the 16 days activism against gender-based violence considering that she is also in a male-dominated world.
"If you are confident, regardless of your sex, you will never be a pushover," she said.
Goulooze has also rewritten her own piece of history by becoming the first woman from Mossel Bay to become a qualified pilot. When she is not flying, she is working on her fitness. She has become a fitness bunny.
She is indeed a true inspiration to those who still hold onto their dreams with the hope of getting that major breakthrough. Meanwhile, Briefly.co.za reported that a young South African man recently made his mom proud.
Taking to Twitter, Mashao Seabela shared a clip of his mom receiving the gift that keeps on giving - a brand-new Mercedes Benz. In the clip, his visibly surprised mom can't hold back her tears and excitement as he walks her to her new whip.
"Thobela! I got my mom her dream car as her belated 40th gift and her reaction is priceless. Thank you for sacrificing so much to afford me the best opportunities and I pray God blesses you with many more years," he captioned the heartwarming post.
Enjoyed reading our story? Download BRIEFLY's news app on Google Play now and stay up-to-date with major South African news!
Source: Briefly.co.za