- Joe Biden has won the bid for the American presidency after winning the US Electoral College once his Califonia votes were counted and officials confirmed it
- The Democratic candidate had defeated Trump in November but the president incumbent had refused to concede the political office
- Biden's victory has finally dashed Trump's hopes of remaining in power beyond January 20, 2021
PAY ATTENTION: Click "See First" under the "Following" tab to see Briefly.co.za News on your News Feed!
The long months of the political battle between President Donald Trump and the US president-elect, Joe Biden, have finally ended as the US Electoral College confirmed the victory of the Democrat in the election.
According to the Daily Mail, the president-elect Joe Biden's Electoral College win became official for the final time on Monday, 14 December, with California's votes pushing him over the 270 vote threshold.
With California's vote in, Biden stood at 302 Electoral College votes, with 306 expected, compared to Trump's 232.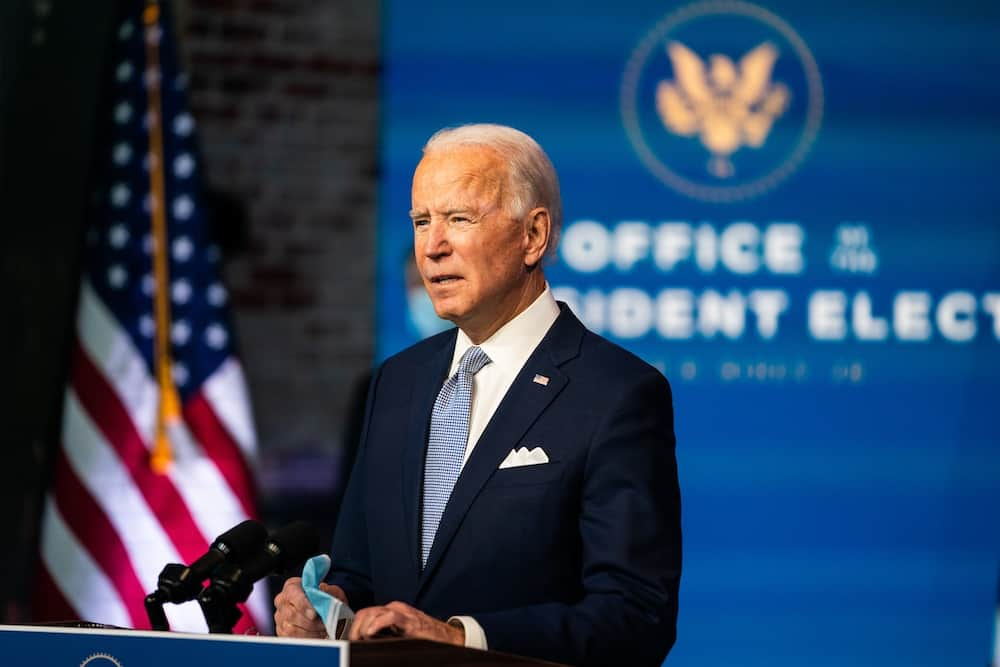 The newspaper said that Biden would address the nation hours later, saying that it's 'time to turn the page' on the election, as Electoral College electors confirmed he was the winner throughout the day.
Financial Times had earlier reported that Joe Biden's US election victory was set for formal confirmation by the Electoral College to further close the door on angry efforts by President Trump to overturn the 2020 vote.
The electors were meeting across all 50 states, often under extra security amid tensions driven by Trump's unprecedented refusal to concede.
The reports said that about halfway through the process, due to finish late Monday, Biden was on course to rack up an expected 306 Electoral College votes against 232 for Trump, adding that as soon as he crosses the half-way mark, hitting 270, his win will already be secured.
Democrat Nancy Patton Mills who presided over the vote held with full Covid-19 precautions in Pennsylvania said she hopes people could see her smiling behind the mask.
The Electoral College is a contentious issue that other democratic nations do not concur with but is a holdover from early days of American democracy.
Soundly beaten by Biden on 3 November, Trump continued to claim, without evidence, that he was the real winner.
Court after court has turned down the Republican team's claims of election fraud around the country and last Friday, December 11, the Supreme Court dealt a final legal blow when it threw out an appeal lodged by Trump allies from Texas and other Republican-led states.
The Independent's report had also shown that the Electoral College is currently meeting in states across the country to cast its votes on behalf of the 50 states and the District of Columbia to choose the next president, formally confirming Joe Biden as president-elect.
He said:
"After today, the results will be final. It's time to move forward."
President-elect Biden is expected to claim 306 votes to Trump's 232 in accordance with last month's election results, bringing the country closer to ending a nightmarish post-election period.
Trump has doggedly contested his challenger's victory through a series of frivolous lawsuits, which have so far comprehensively failed to substantiate his baseless claims of widespread voter fraud.
CNN earlier reported that the president-elect, Joe Biden, has received enough electoral votes to officially clinch the presidency, a major milestone that he reached when California's electors awarded him the state's 55 electoral votes at their meeting Monday in Sacramento.
In California, Biden won more than 63% of the statewide vote, while Trump earned about 34%.
Meanwhile, Briefly.co.za had previously reported that hours before the Electoral College makes its final decision on Biden's victory, President Trump released another bombshell.
It was reported that Trump, in a tweet on Monday, 14 December, questioned why vote counting was stopped in some state in the middle of the night.
Enjoyed reading our story? Download BRIEFLY's news app on Google Play now and stay up-to-date with major South African news!