- The North West health department allegedly has access to almost 40 brand-new state ambulances
- The vehicles have remained parked for 3 months while the department pays millions to private ambulance companies
- The health department is expected to answer to these allegations this week
PAY ATTENTION: Click "See First" under the "Following" tab to see Briefly.co.za News on your News Feed!
The North West health department allegedly spends millions on private ambulances every month, while almost 40 state-owned ambulances remained parked at the department's head office in Mahikeng.
Health MEC Dr Magome Masike said in an interview with Motsweding FM earlier on Monday that "ideally" the province needs around 350 ambulances to operate efficiently but their fleet was at only around 60.
However, officials in the department said two private ambulance companies were paid millions a month to ferry patients.
Approximately 30 new, branded ambulances are parked at the department's provincial head office in Mahikeng, and about 12 are parked at a Rustenburg hospital.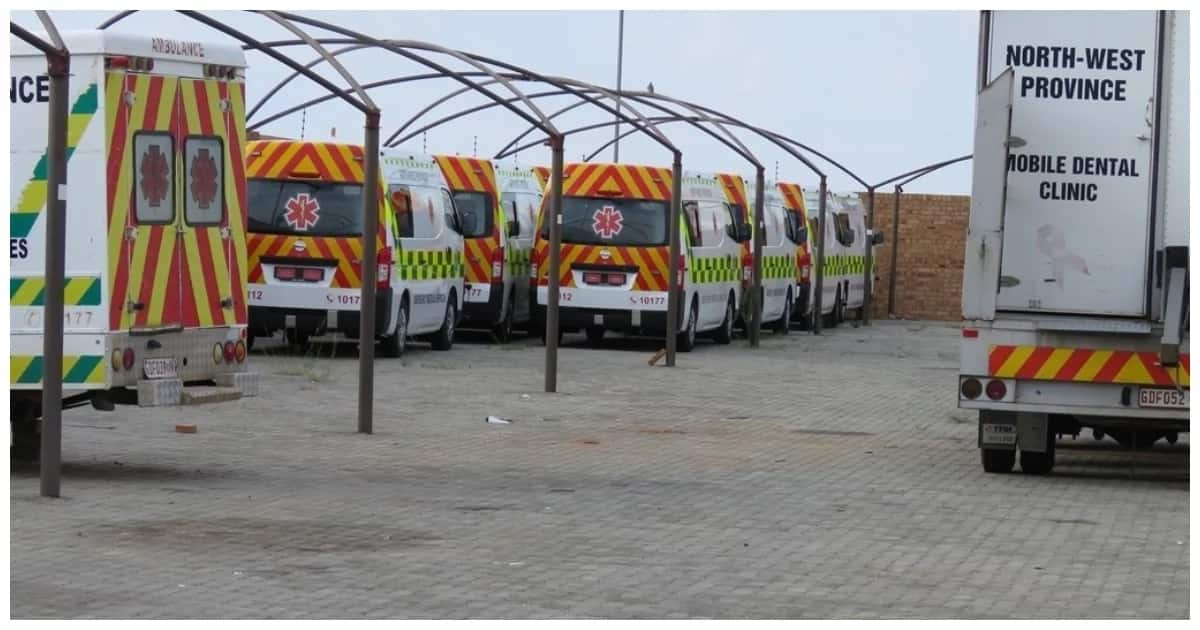 Inter-facility contracts to transport patients between health institutions were awarded to private ambulances, while about 60 state-owned ambulances were responsible for house calls and accident scenes.
Officials said the Buthelezi Emergency Medical Service (EMS) was paid not less than R10 million every month while High Care EMS was allegedly making about R4 million a month on two ambulances carrying about 400 patients every month in the Ganyesa area, .
Documents showed to City Press revealed that High Care was paid about R14 million over seven months last year – approximately R2 million a month.
READ ALSO: Suspicious unattended luggage item leads to the evacuation of OR Tambo International Airport
Briefly.co.za learned the department denied this, and said about R45 million was spent on Buthelezi and High Care for the 2016/2017 financial year (R123 803 a day), and R105 million for the 2017/2018 financial year to date (R280 165 a day).
Buthelezi EMS owner, Thapelo Buthelezi, could not say exactly how much his company was making but denied allegations that he was inflating invoices. He also denied allegations that his company did not meet the requirements of the tender, which sought a company with a base in the area of operation.
Buthelezi said he was awarded the contract "fairly" because he already had a footprint in the province through contracts with Tshepong Hospital in Klerksdorp and a service level agreement with the North West EMS since 2009.
According to officials, a new ambulance costs about R500 000.
"Money spent on private ambulances every month can easily be used to purchase at least 20 ambulances but fewer than 40 ambulances were bought in the current financial year. Money for ambulances is going to private owners," an official said.
"All these millions while new ambulances remained parked and for only one reason which is to allow private operators to make even more money," another senior departmental official added.
Tebogo Lekgethwane, the departmental spokesperson denied this, claiming the ambulances were handed over to the department of transport for registration and e-fuel chips.
"How can they say they are waiting for another department for registration? I mean what happened to synergy where departments are supposed to work together to ensure effective service delivery?" asked EFF member of provincial legislature, Alfred Motsi, who believed there was more to it.
"The reason why this department was placed under administration was for those in political leadership to have direct control over the budget and tenders. Clearly there was no intention to turn things around but they saw a get-rich-quick scheme opportunity in an ailing department."
Premier Supra Mahumapelo's office announced on Monday that there would be a forensic investigation in the department following all the recent controversies.
Mahumapelo's spokesperson said the "investigation will cover Mediosa, inter-facility transfers including Buthelezi EMS and other procurement related matters raised by the public".
The health portfolio committee in the province has asked the department to explain the allegations on Tuesday.
READ ALSO: Is Pravin Gordhan Cyril Ramaphosa's not-so-secret weapon to fixing Cabinet?
Do you have a story to share with us? Inbox us on our Facebook page and we could feature your story.
To stay up to date with the latest news, download our news app on Google Play or iTunes today.
Source: Briefly.co.za