Scandal! teasers: January 2021
In Scandal! teasers for January 2021, Xolile encourages Grace to investigate more about Romeo's controversial death, but Violetta ruins their plans by exposing what Grace is doing. Lerumo's life is a mess because he does not know who to believe after unveiling devastating truths. Lerumo rushes into deciding how Yvonne's future should turn out. Will he ever regret his decision?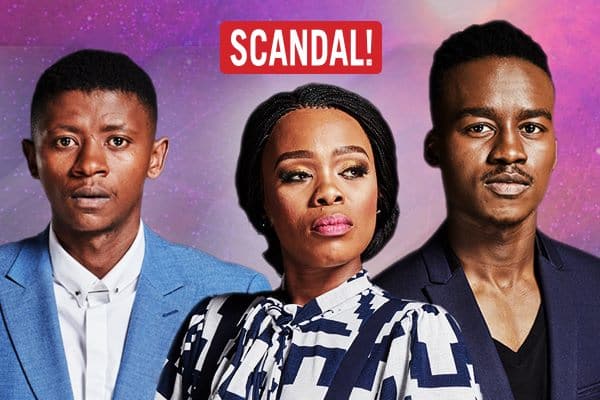 Who among your beloved Scandal actors will find peace in 2021? Time will tell because some of the characters need more than miracles for their lives to change. They pretend to be innocent, but they are the cause of every pain that comes their way.
Scandal! January 2021 teasers
Nothing can convince dedicated Scandal! viewers to quit watching the show. Its addictive story is among the best things they need to calm their minds every evening. You will be delighted with the upcoming mysteries.
1/01/2021: Friday (Episode 3728)
Grace begins the New Year with drama. Her drastic measures in search of the truth almost kill an innocent driver. Dintle receives devastating news via a phone call that endangers her future. Stokkies and Chevonne's plans hit a dead end.
4/01/2021: Monday (Episode 3729)
Gorbachev feels guilty for allowing an innocent person to endure an unfair punishment. Stokkies makes a touching choice after discovering the truth from his mother. Amo takes precautions when he realizes that he might be walking into trouble at his workplace.
5/01/2021: Tuesday (Episode 3730)
Grace's actions stress out Simo, and Violetta gets into a shady deal. A family member pays Stokkies a surprise visit. Meanwhile, Dintle puts in all her efforts to ensure that her dreams come true.
6/01/2021: Wednesday (Episode 3731)
Simo believes that he is in control of the situation when a bullet misses to hit him. Grace's investigation reveals shocking information, and Lerumo is confused by the rapid changes that are happening in his life. Dintle and a colleague face unexpected problems at work.
7/01/2021: Thursday (Episode 3732)
Grace wants to fish out more truth without raising suspicion. On the other hand, Simo changes his plan because time is not on his side. Dintle faces the consequences of exposing the truth while Seipati attempts to find solutions to her situation.
8/01/2021: Friday (Episode 3733)
An unexpected guest visits Seipati and crushes her hopes. Dintle and Amo are in denial after discovering the bitter truth. Grace finds more disturbing information while Lindiwe comes up with ideas that will make her feel less guilty about Romeo's predicament.
11/01/2021: Monday (Episode 3734)
Grace has a perfect plan that will help her get to the bottom of the matter. Javas is disgusted by the discrimination that is going on at work. Meanwhile, Violetta perceives victory. Dintle takes action when she discovers that someone set her up.
12/01/2021: Tuesday (Episode 3735)
Violetta covers her tracks for a few days. Mlungisi gets an insurance policy while Seipati suspects something fishy is going on. Dintle does not acknowledge Chumani's proposal because she believes it will not solve the problem.
13/01/2021: Wednesday (Episode 3736)
Grace suspects she is about to face a life-changing situation. Seipati feels more uneasy as days go by, and Layla's discovery will change the lives of many people around her. Xolile has no other choice but to break someone's heart.
14/01/2021: Thursday (Episode 3737)
Xolile encourages Grace to find out more about Romeo's death. Is she aware that Grace has found out more secrets than what she tells her? Seipati panics but a friend reassures her that everything will fall back into place. Dintle is afraid that her plans might backfire.
15/01/2021: Friday (Episode 3738)
Seipati faces her worst fears, and Dintle is forced to recommit herself after failing to fulfil her end of the bargain. Simo makes a promise when he is caught in action, hoping that the person will not expose him.
18/01/2021: Monday (Episode 3739)
Grace comes up with a devious plan to test whether her suspicions are true or false. Simo makes the next move despite conflicting motives with his ally. Seipati's shocking discovery pushes her into doing something that upsets Tebello. Dintle's loved ones are alarmed by her strange ideas.
19/01/2021: Tuesday (Episode 3740)
A lady sets up a dangerous trap to retaliate the other lady's plan. Simo performs well in the test. Lerumo learns shocking secrets about someone he knows. It seems like Dintle celebration is short-lived.
20/01/2021: Wednesday (Episode 3741)
Lerumo does not know which side of the story he should believe. Dintle might lose her source of income because someone attempts suicide. Violetta exposes the truth that turns Grace's investigation in the wrong direction.
21/01/2021: Thursday (Episode 3742)
Two women realize that the looming change in their lives is inevitable. Simo discovers the truth after believing lies for a long time. Stokkies is manipulated into revealing dangerous information. At the same time, Dintle receives devastating instructions.
22/01/2021: Friday (Episode 3743)
Simo will no longer receive financial support. Will he find a way out of the situation? Seipati explains to her son unexpected changes they will have to accommodate. Layla is sure that the lives she and her colleagues lead will change. Aya commissions herself into playing the detective.
25/01/2021: Monday (Episode 3744)
Rivals draw the battle line while Simo finds it impossible to solve his situation. Seipati feels vulnerable. On the other hand, poor Dintle has limited time to save her career from failing.
26/01/2021: Tuesday (Episode 3745)
Simo is caught by surprise when Aya confronts him with startling facts she has discovered. Chances that Bohang's plans will succeed are limited because of the secrets he has learned. Dintle is fighting for survival rather than victory.
27/01/2021: Wednesday (Episode 3746)
Mamba confronts someone he trusts when an informant whispers in his ears. Lerumo receives bad news after making thing right. Dintle feels like she is provided with a means of escaping from a difficult situation.
28/01/2021: Thursday (Episode 3747)
Mamba gets a conflicting explanation of the discoveries he has unveiled. Lerumo makes a surprising decision regarding Yvonne's future after confronting her. An unwelcome visitor interrupts Dintle plans to make amends with her rival.
29/01/2021: Friday (Episode 3748)
Tebello's hopes for his family are crashed, and Mamba makes an announcement that will change several lives forever. Dintle faces accusations of using underhand tactics at work. How will she prove her innocence?
Dintle
Dintle's life is on the verge of losing her business. She refuses to use Chumani's advice and recommits herself to the promise she failed to fulfil. Someone shows up unexpectedly and ruins her chance to make things right.
Simo
He is lucky that the bullet missed hitting his fragile body. Simo passes that test, but Aya confronts him after unveiling unusual facts about his life. He finds it challenging to prove his innocence in Romeo's suicide case because no longer receives financial support from his providers.
You might be interested in discovering the channel that airs this soapie after reading the captivating Scandal! teasers for January 2021. Watch the show on e.tv every weekday at 19h30. Please do not miss to tune in.
READ ALSO: 7de Laan teasers: January 2021
In 7de Laan teasers for January 2021, Lesedi tries to forget about Fikani when she feels lonely. She and Nozi are emotionless when Marvin tries to scare them. Later, Lesedi cautions Bonita to stay away from making deals with DeWet.
According to Briefly.co.za's teasers, DeWet is grateful for Bonita's support after his ally betrayed him. He visits André in prison to discuss personal issues. What will he do when he finds out that Lesedi tried to talk Bonita out of his plans?
Source: Briefly News