- Basketball star Dwyane Wade loves his daughter Zaya and took to social media to declare that he never wants the teen to forget it
- The happy dad jotted down a cute message on Instagram to describe the kind of unconditional love he has for Zaya
- Dwyane described it as 'agape' love that was unconditional, had no strings attached and asked for nothing in return
PAY ATTENTION: Click "See First" under the "Following" tab to see Briefly.co.za News on your News Feed!
Basketball star Dwyane Wade and his wife Gabrielle Union have done a good job when it comes to parenting.
The two have shown time and again that raising kids is about eternal patience, unconditional love and lack of judgment.
The proud parents moved the world when they stood by their 13-year-old daughter Zaya Wade after she announced that she was a girl and that her pronouns are she/her.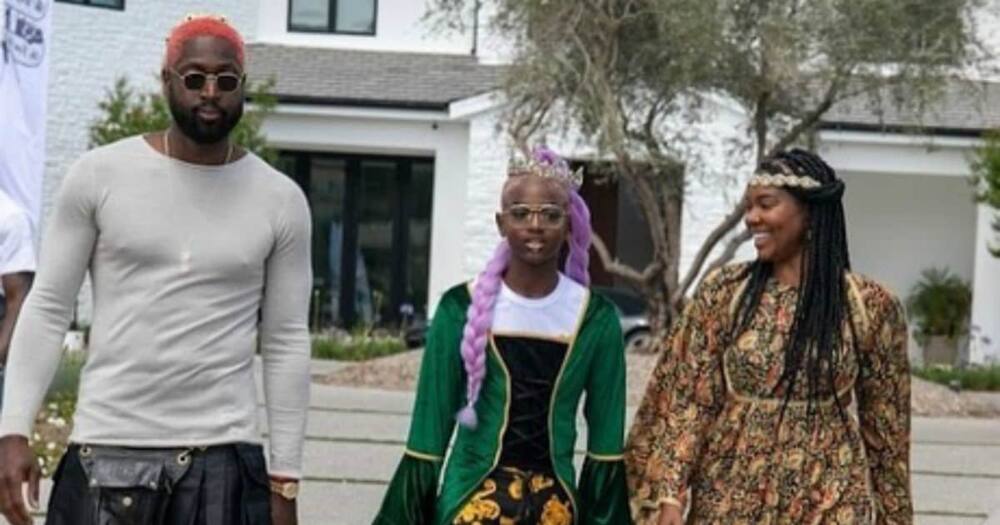 To even add to the beauty, Dwyane dedicated a sweet poem to the young teen speaking about the power of unconditional love, which he also referred to as 'agape' love. 'Agape' originates from one of the Greek words for love and is used to refer to a pure type of love.
The balling legend described what he felt for Zaya and, simply put, his love for his baby girl has no limits.
It is pure, understanding, all-inclusive and non-judgmental. Wade wrote as his caption:
"Unconditional love, simply put, is love without strings attached. It's love you offer freely. You don't base it on what someone does for you in return. You simply love them and want nothing more than their happiness"
As once noted, the American actress and her husband were so proud when their daughter finally became a teenager. The fulfilled parents hailed her for owning and living her truth in an era where people often criticised what they could not understand.
They both reminded Zaya that they loved her and were willing to protect her for the rest of their days.
The Being Mary Jane cast member and her better half wanted their daughter to feel acknowledged and appreciated on her big day.
In related news, Briefly.co.za reported on when Gabrielle and Dwyane tested their other daughter Kaavia, as they joined other celebrities in testing their children's patience through a viral challenge on social media dubbed the Fruit Snack Challenge. Basically, moms place delicious snacks on the table right next to their kids then tell the little ones not to touch them till mummy returns.
Star Gabrielle Union joined the bandwagon but her kid sent her into laughter even before the challenge was over.
Her little princess Kaavia James was placed in a chair and asked not to touch her snacks until Gabrielle returned to the room. The actress left with high hopes that her child would also be among the few who sat and waited till they were given permission to munch on their snacks.
As soon as she turned her back on Kaavia, the little one stepped down from her chair, walked towards the table and picked a handful of the sweet goodies.
When Gabrielle walked into the room, she found the girl snacking and that made her laugh. She had no choice but to ask Kaavia to go ahead and eat the whole lot.
"Kaavia are you waiting? Are you patient? Wait… did you eat the bitsys? Kaav?" Gabrielle reacted when she found her daughter chewing on something.
Enjoyed reading our story? Download BRIEFLY's news app on Google Play now and stay up-to-date with major South African news!