- A young South African lady has recently opened about living life without her mom at a very young age
- The siblings were separated as a result of their mom's death, left to live with different family members
- One of the siblings, Jasmine became a mom to her younger siblings despite not being the oldest of her 5 siblings
PAY ATTENTION: Click "See First" under the "Following" tab to see Briefly.co.za News on your News Feed!
Growing up motherless is perhaps one of the hardest things a young woman can go through. A young coloured lady, Jasmine Jazzy opened up about all the trials, tribulations, and struggles she and her four sisters have had to overcome since losing their mother when they were only little girls.
"Financially things were tough. I helped whereever I could. I always felt like the burden of taking care of them was placed on my shoulders, this became increasingly clear after my eldest sister started using drugs to cope with the pain of our loss.
"At the same time, being depended on in that way kind of catapulted me forward because I was driven to make it so that I could help them. My younger sister also played a part in pushing me, always reinforcing how important it was that I make it in life," says Jasmine
The 23-year old then goes on to explain how she managed to cope after the loss of her mom while she was just a child.
"It was very hard losing my mom. I was only eleven-years-old. But I have always kept myself up, always with a smile on my face, something that people are always surprised by, the fact thar I am so tough."
Jasmine then opens up with Briefly.co.za about the things she has managed to achieve, which she is also certain her mom would have been super proud of if she were here to witness it today.
"I am the only one of all her daughters who has done matric and passed. I studied HR in college and graduated, something that my sisters all look up to. I am also working now and look after my sisters financially.
"Often I think about spending money on myself but I always put them first. They motivate me and push me to be better. While my relationship with my two older sisters has been severed by their decision to use drugs, the younger ones are my babies.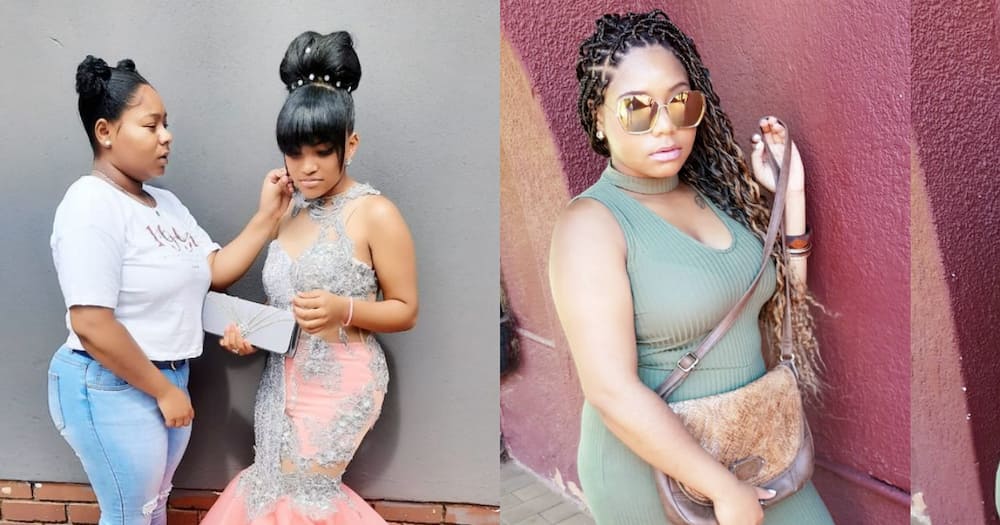 Jasmine ends the heartfelt interview by saying that if there was anything she could do with her mom before she passed, she would just love to have a conversation with her, just to spend some time with her for the last time. She also says the thing she most wants from life is for her sisters to become successful.
Lastly, she hopes to find lasting happiness.
In other heartwarming Briefly.co.za news, Sibusiso Nala, who hails from Baldaskraal, Ladysmith spoke to Briefly.co.za in an exclusive interview about how he got to where he is today. Sibusiso finished matric in the year 2015, after that he did small jobs so that he could save up to do his driver's license.
When he finally passed his driver's license, he worked for Thandi Ndlovu, a woman who owns a funeral service. He worked there for a while until he met a man named Msholozi, who asked him if he liked working there.
Sibusiso decided to move on after Msholozi told him about a new cab-hailing service that had started to get popular in Mzansi.
Enjoyed reading our story? Download BRIEFLY's news app on Google Play now and stay up-to-date with major South African news!