Eish: Mzansi reacts to man attempting to blow out flames in taxi
- A video has surfaced of a man trying to blow out a fire in a taxi
- He fails and the small fire soon erupts into a conflagration, he tried to beat the flames out with his jacket
- Social media users commented on how desperately he tried to smother the fire but to no avail
PAY ATTENTION: Click "See First" under the "Following" tab to see Briefly.co.za News on your News Feed!
Normally people will blow out birthday candles or normal candles when load shedding ends. However, this guy was trying to blow out a taxi seat. The set had somehow caught alight and the man, presumably the taxi driver, tried in vain to blow out the small flame.
You can see the man's disbelief after someone tries to unsuccessfully help him and what was a small flame grows in size exponentially.
The man rips off his jacket and starts to beat at the flames but the taxi continues to burn with increasing intensity.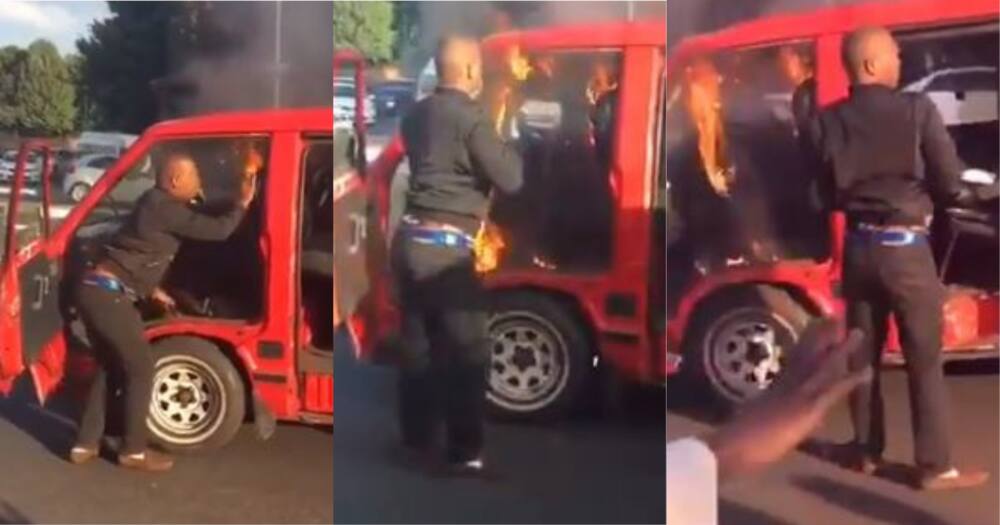 Other members of the public join in to help but when the video ends it looks like a losing battle.
Here are some reactions to the video:
@matsoke444:
"The manner in which this man tries, by all means, to put out that fire says a lot.... no man can face fire like that. "
@matsoke444:
"Desperate measures."
@matsoke444:
"It's a very sad scene to watch...he becomes so helpless."
@TinaMathebula:
"Eish! It's truly hard. He was probably thinking of where he will get his next bread."
Earlier, Briefly.co.za reported that some things in life just don't have an explanation. That seems to be the case with a new viral video on Twitter. The video shows a bakkie seemingly 'parked' on the side of a building while on fire. @RoyTheLeeKage shared the 34-second video to the social networking site with the caption:
"Someone balance me here real quick please!?!?"
South Africans have so many questions regarding the unusual clip. While most are confused about the bakkie's random position and how it got there, others are noticing small yet noticeable things in the video that just doesn't make sense.
In other unusual news, Briefly.co.za recently reported on a loan shark that demanded money by spray painting a wall. The City of Johannesburg recently took to its Twitter page to advise people to budget wisely this December after an angry person demanded to be paid back by spray painting the request on a public wall.
In the hilarious post, the admin behind the City of Joburg's Twitter page also urged Mzanisi to handle their private affairs privately and to avoid vandalism to get their messages across to each other.
"We urge residents to sort out their personal issues appropriately please #BudgetYourDezemba and report vandalism to 0800 00 25 87 #JoburgBylaws"
Enjoyed reading our story? Download BRIEFLY's news app on Google Play now and stay up-to-date with major South African news!
Source: Briefly.co.za